Jellystone Resort
Cave City, Kentucky

It's Memorial Day weekend and we've traveled a couple of notches south to relax near Mammoth Cave National Park. The national park offers only primitive campsites, which means no electricity (horrors!) so we are staying a few miles down the road at an RV resort. In this part of the country, the term "RV Resort" is loosely applied and commonly means a giant family playground with lots of places to plug in a trailer. We've encountered this type of campground before, so a full description of this unique kind of property is hitherto presented.
When camping at a huge family campground without the requisite family in tow, it helps to lower expectations and keep a good sense of humor at the ready. With a name like Jellystone Campground, you pretty much know what's going to be in store for the weekend. Right, Boo Boo?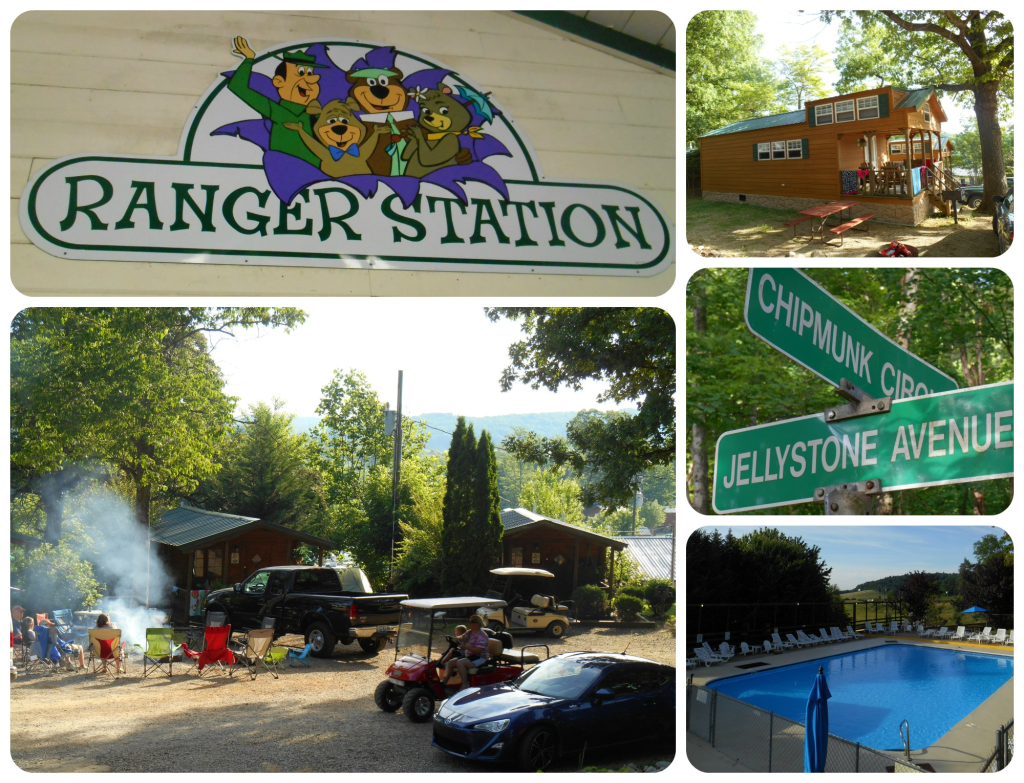 We arrived early Friday afternoon and there were already several campers lined up at the entrance. Standing under a blue and white umbrella, smiling and freckled attendants helped us check in. They passed us a map of the property (130 campsites plus 70 cabins), a list of rules and regulations (pets on leash, proper swimwear), a program of holiday events (all you can eat waffle breakfast at the ranger station) and two bright orange wristbands to be worn at all times (which were promptly tossed into the bottom of my purse).
The entrance road winds up a small hill toward a wooded area. At the top is a large camp store and concession and several activity pavilions. We passed by three pools, a water slide, miniature golf course, driving range, horseshoe pits, and the Jumping Pillow which is a brightly colored inflated mattress the size of a small lagoon. I can happily attest that it offers a dizzying bounce which must performed barefoot.
The campground sprawls downward from the hill in a befuddling jumble of winding roads, cul-de-sacs and circles. Some streets are paved, some are gravel, and cabins and campsites are mingled together in fuzzily outlined sections. Betwixt and between are shady green areas that sport candy-colored playgrounds and bathhouses. Added to this helter-skelter layout are 200 camping families and all the accessories and accoutrements they can possibly carry with them.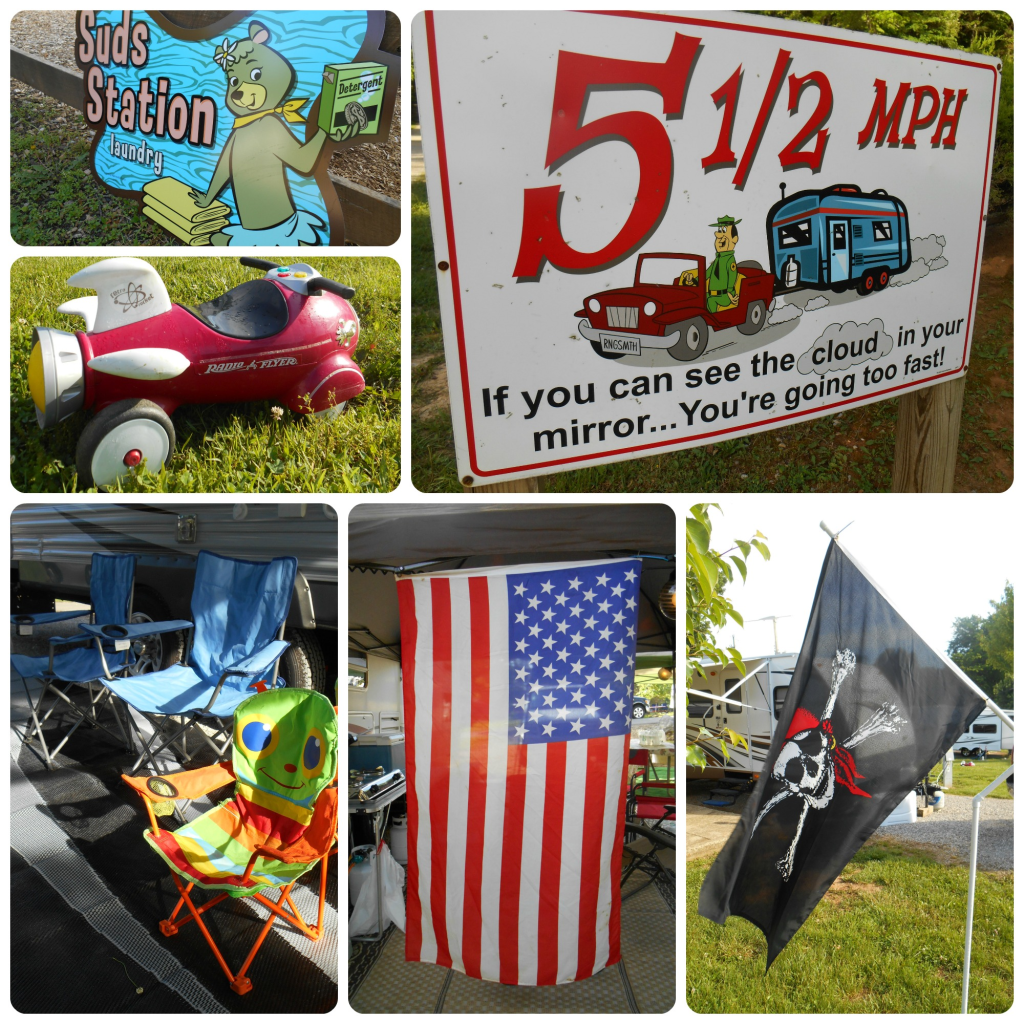 There's cars and trucks, motorcycles and bicycles, volleyball nets, corn hole frames, barbeques, pool floats, lawn chairs and hammocks, awnings and canopies, toys and tools, fire pits and wood, picnic tables and coolers, and lines of wet bathing suits and towels strung between anything vertical. Trailers and motorhomes are parked at odd angles, tents are pitched at random, cabin renters loll on the porches, and dogs of all sizes are leashed to any fixed object. And everywhere are electric golf carts, which can be rented at the ranger station.
For these few days, Jellystone Campground becomes a city of weekend refugees. A conclave of purposefully transient people, peacefully going about the business of summer recreation. And amidst this jumble of trailers and tents a friendly community forms. People wave as they pass by, share a marshmallow over a fire, or help to fix a fussy leveler jack, Kids roam freely and unsupervised – come back when you're hungry – exploring and playing in groups with cousins or friends. And at night everyone quiets down and tucks in early after a busy fun-filled day.
It's really remarkable. And yet in a way, this is how it's is supposed to be. Safe, secure, and peaceful in the company of strangers. The park is well patrolled, the gates are locked after dark, and only campers have the right to be here. This is typical of the family-fun camping resorts to be found in the Midwest. And since we're here, we'll enjoy it.
 Camp Life