Mammoth Cave National Park
Cave City, Kentucky
We like touristy fun. Can't help it, it's a cheap thrill. Old-timey tourist attractions are the best. The splendor of Nature is preferred. Local oddities down a country road where we can easily ride the motorcycle. And all at our own pace, unhurried and rambling about on a whim. Pretty much the opposite of Disney World and ocean cruise vacations.
Here in Cave City, on the fringes of Mammoth Cave, we found just the right mix of ticky-tacky tourist stops and outstanding natural caverns. The local attractions were probably in their prime back in the 60's and now sport a well-worn patina from decades of entertaining tourists. However, the multiple cave attractions in the area have steadily improved their presentation over time, some hosting visitors since the 1890's. 
We've spent the long holiday weekend exploring, and here are the highlights of our adventures: 
Mammoth Cave
This large national park is accustomed to crowds. There's ample parking with attendants directing traffic, a hotel and restaurant on site, and a hefty visitor center bustling with helpful rangers. We arrived for a cave tour early in the morning and the place was already packed. Multiple tours with various levels of exertion are offered, and the rangers are careful to explain how many stairs must be surmounted and whether your hip replacement can handle the workout. We opted for a self-guided tour through the main chamber rooms, skipping the long wait and lingering as much as we liked. It was a good choice, as we had the place nearly to ourselves and we dawdled in the cool cavern air a good long time.
The main chamber rooms are gigantic, immense, and dizzily tall. This is the prime feature of the front section of Mammoth Cave – enormous limestone rooms which are void of any formations, like stalactites. The space is so large that pictures are useless. It's a place that is better felt than photographed.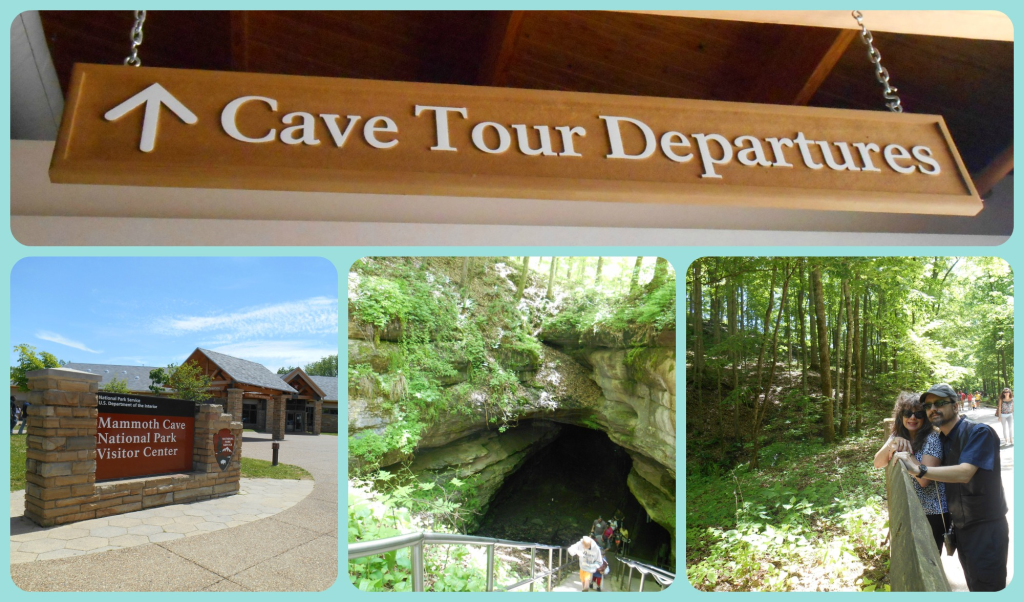 Rock Shops
Since Mammoth Cave is the main attraction in these parts, everything around here is devoted to Rocks. There are rock shops on every corner, in every barn, and all the restaurant lobbies. What kind of rocks, you ask? Anything that'll make a buck – from pricey fossils and geodes to colored glass trinkets and marbles.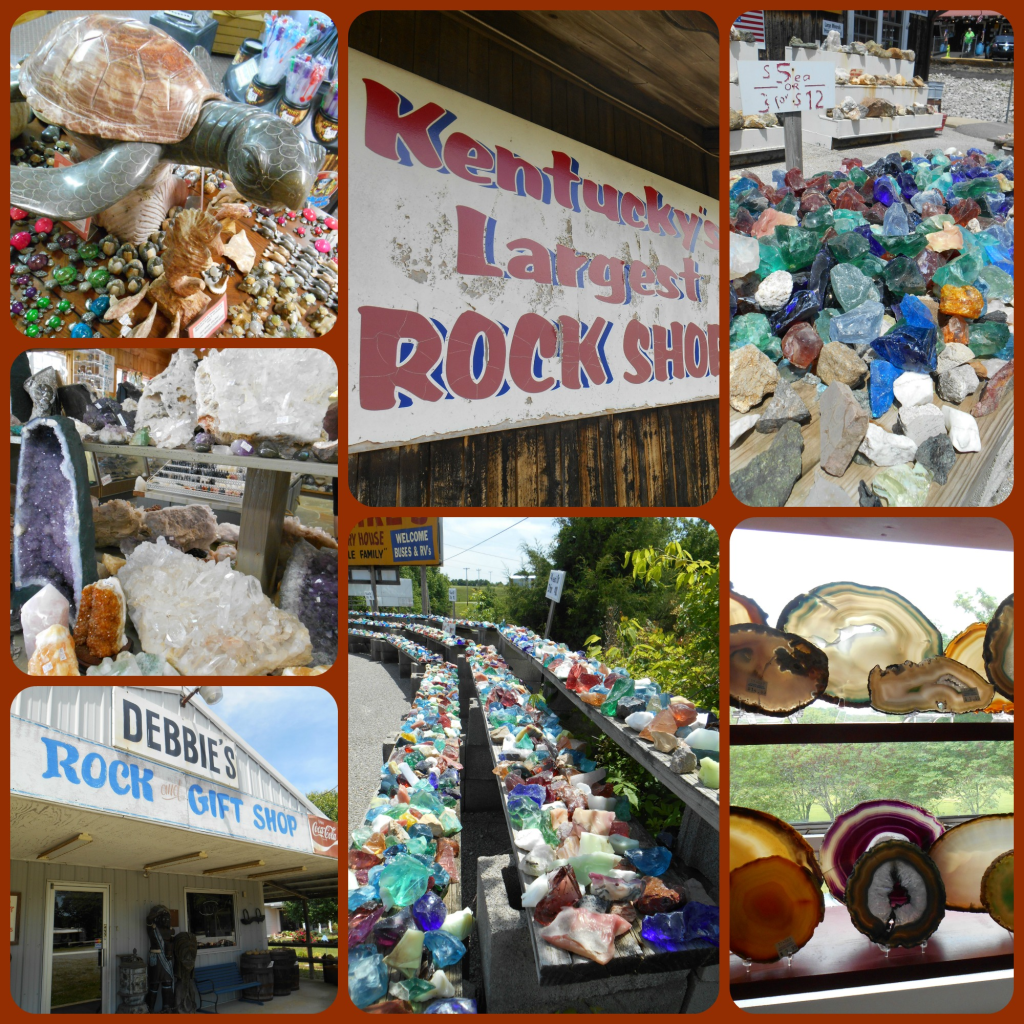 Onyx Cave
Over in Cave City we found the smaller and more intimate Onyx Cave. Privately owned and wet with natural springs, it hosts some unusual curtain formations and rust-colored stalactites. Our tour guide, Missy, was a geologist and she gave a lively account of Kentucky's 4000+ caves. It's her personal goal to visit them all.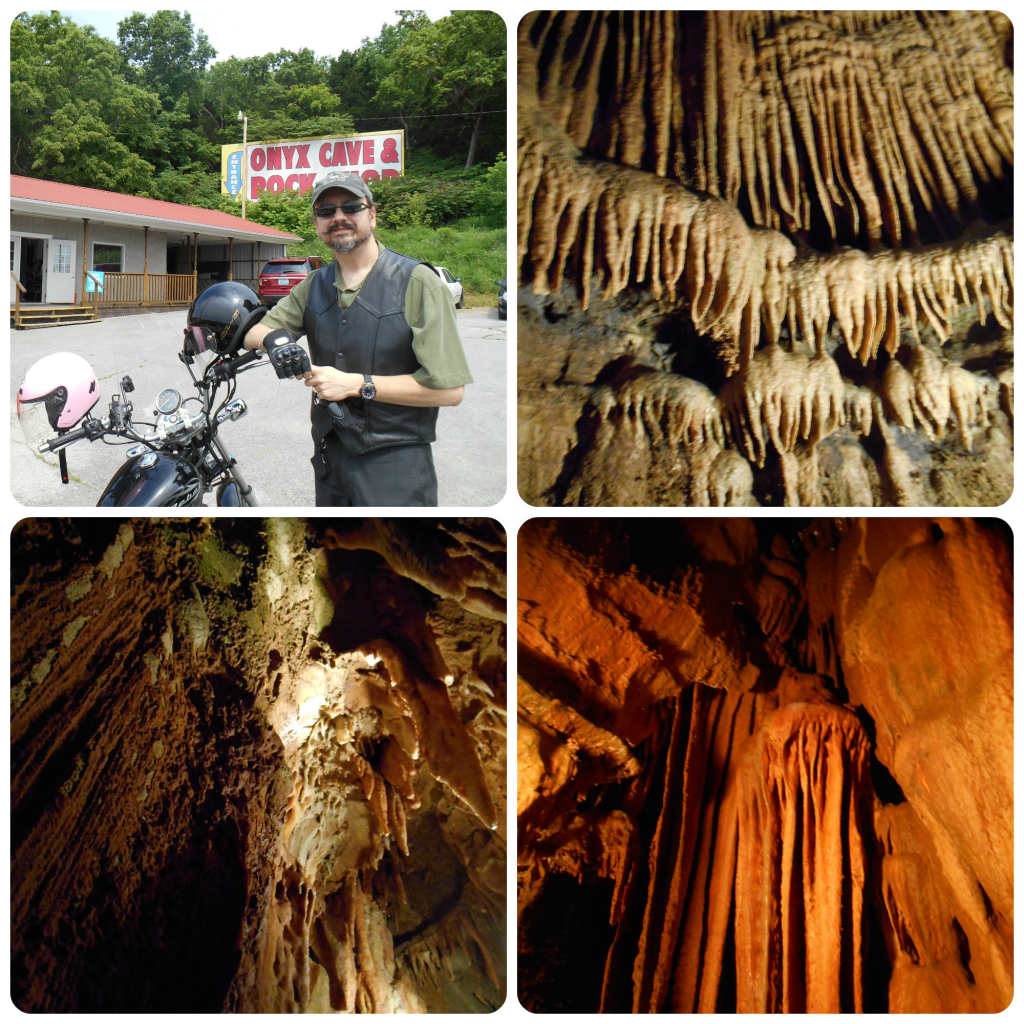 The Olde General Store
Owner Leroy Alvey has spent a lifetime amassing a collection of old-time implements and items. If it's rusty or dusty, it's here at the General Store. His motto: This is no museum. This junk is for sale! Guarantee you'll find at least one item you recognize – hey, I have that!
Guntown Mountain
Back when Tim was a kid, Guntown Mountain was the place to go. It was a wild west tourist town located on a hilltop, replete with dance hall girls and gun-toting sheriffs. The saloon served sarsaparilla sodas and a shoot-out in the street was performed several times a day. You arrived via a chair lift to the top of the mountain, or for the more faint of heart a shuttle bus clambered slowly up the back.
Of course we had to visit so Tim could relive his best childhood memories. The parking lot seemed a bit empty for a holiday weekend, and when I bought the entrance tickets the gal told me, "It's just a ride up and a look around." She even repeated it, but I didn't understand until we exited the chair lift at the top.
The place was deserted. No dance hall girls. No sarsaparilla. Just a bunch of derelict buildings with mouse droppings in the corners. Turns out the park was recently sold and the new owners opened the chair lift just for this weekend. We strolled around anyway, with Tim recounting stories of how lively and fun the place used to be. Nowadays it's "just a ride up and a look around."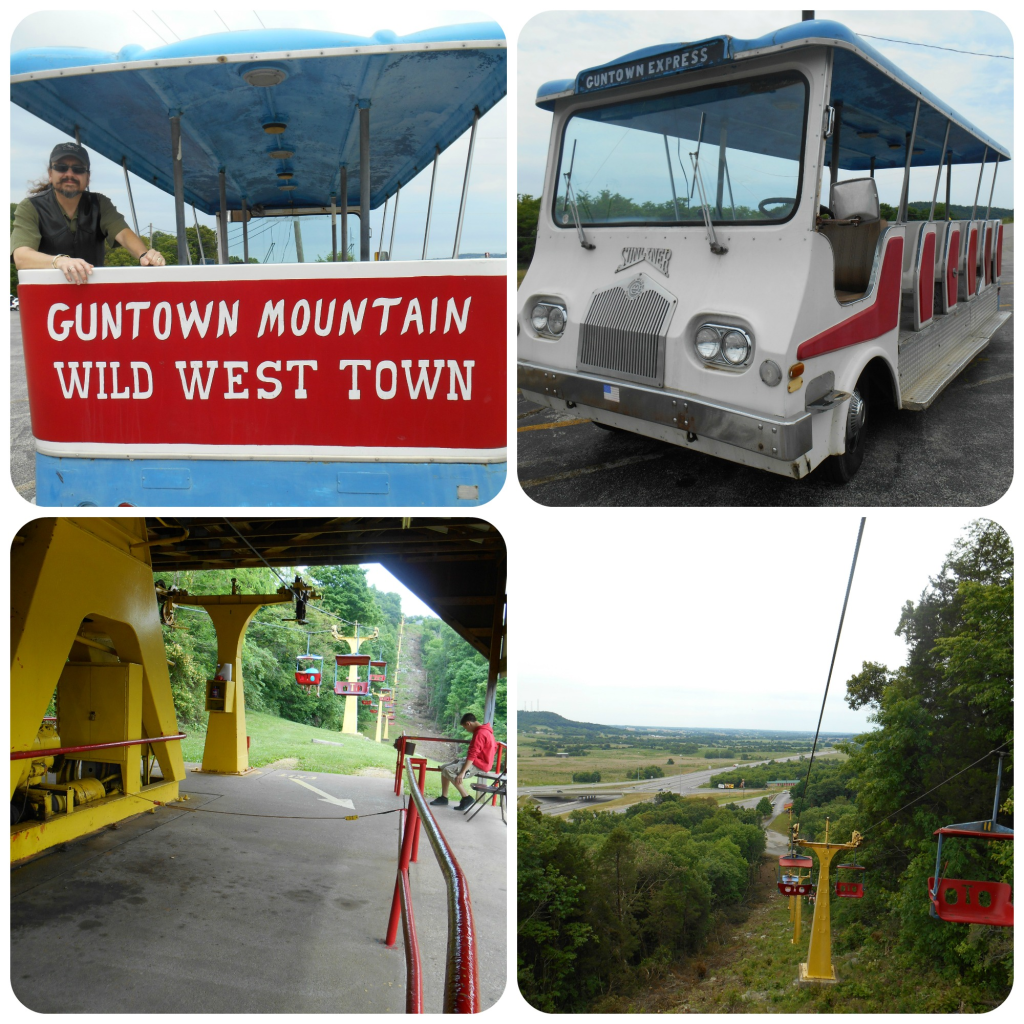 Diamond Caverns
We ended our weekend at the splendid Diamond Caverns, a privately owned attraction within the national park boundaries. This was the best cave yet, with excellent formations and pools, well placed lighting, and surprising turns and twists that made the walk even more interesting. This long-running cave tour (over 150 years!) is certainly the gem of the area, and highly recommended.