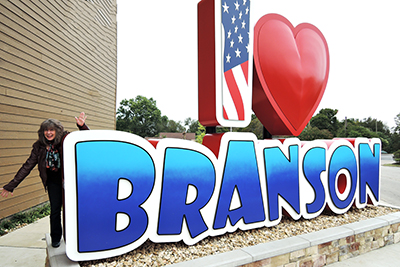 Branson, Missouri
Ozark Mountains
View Map
Branson is one crazy tourist town. If Las Vagas married Gatlinburg and they honeymooned in Florida, that would be Branson. There's everything here!
You take a couple hundred theaters and shows, add in some glitzy tourist attractions, sprinkle liberally with restaurants and shopping, and stuff it all in the pretty hills of the Ozarks and you've got Branson. Best place we've ever been!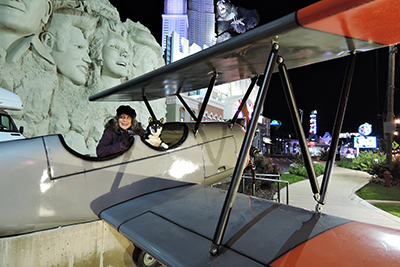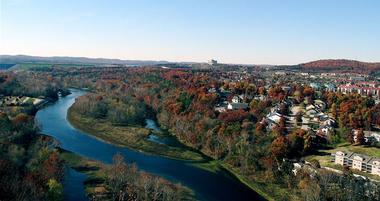 One of Branson's unique features is its location in the Ozarks. The Ozark Mountains are a series of rolling hills with steep sides and narrow, winding valleys. Every road in Branson is pitched and curvy, running up and down hillsides that seem impossibly steep.
Locals don't think twice about building on lots that anyone else would pass up. Branson has mastered the art of terracing these severe grades to something almost livable. Watch that first step!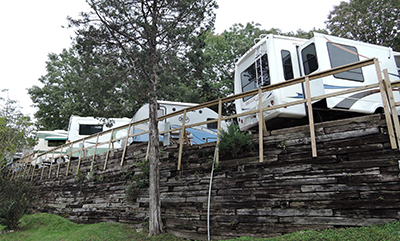 There's about 100 RV campgrounds to choose from in Branson. We picked Musicland Kampground which is right in the thick of The Strip – the main tourist area. The campground is built on a steep slope with narrow roads and turns that are so tricky you must be guided to your site by a staff member. Watching the big rigs stuff themselves in to a campsite barely clinging to the side of the hill has been a week's worth of entertainment. Whoa! That was close!
Branson is all about entertainment. And there's so much here to choose from! Hundreds of professional shows – music, magic, acrobats, trained animals, impersonators, variety acts, outdoor dramas, and Broadway plays. Each show has its own venue or shares a big stage on a rotating schedule. They all have giant marquees with neon lights making the strip a light festival at night. When you arrive in Branson the first thing you're handed is a list of shows – two pages, single spaced.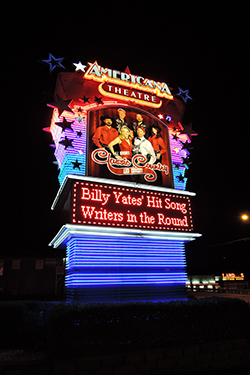 As if all the shows aren't enough, Branson also has a long list of attractions and museums, like Ripley's Believe It or Not, Titanic Experience, wax museums, zip lines and bungee towers, wacky mini-golf, go karts, helicopter and horse rides. There's so much here it's hard to pick and choose!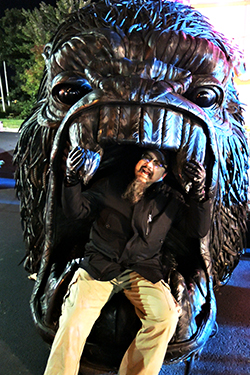 Then of course there's shopping. And restaurants. Just a dizzying array of choices. If you have a hard time making decisions, you'd better let someone else plan your trip to Branson!
Historic Downtown Branson is located on a river that feeds into Table Rock Lake. The downtown area is on a steep hill, naturally, but has some great local shopping and restaurants. Dick's 5 and 10 was so heavily packed with unique and old-timey merchandise that after two different trips inside I still hadn't seen it all.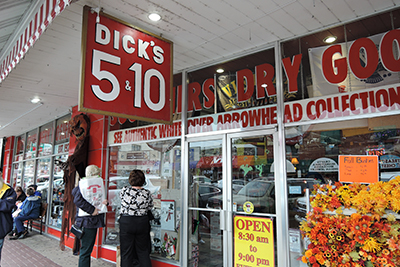 Curving around Branson is Table Rock Lake – another area filled with attractions. There's a riverboat dinner cruise, pontoon rentals, marinas with lake-side restaurants, and a big state park with more camping choices.
Whew! That's a lot of stuff in one town! And I didn't even mention the string of local parks dotted around Branson. If you'd like a stroll alongside a clear running mountain stream there's a choice of city parks. That's the part Coco liked best.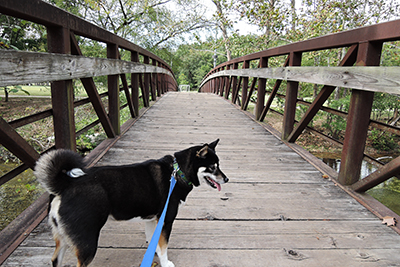 We'll be taking in some of Branson's shows and attractions later this week and I'll be posting reviews on what we find. But I wanted to give you an overview on the whole Branson area first. Did I mention there's a lot to do here?