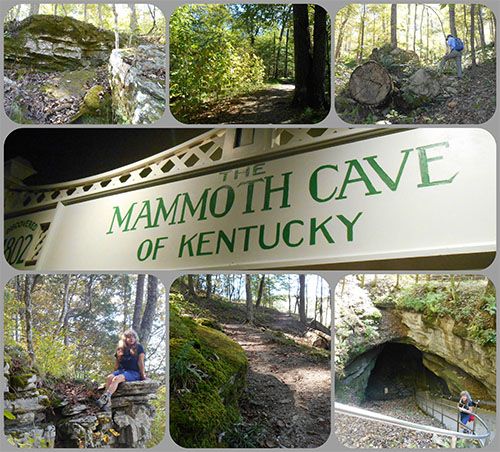 A glorious early autumn day, warm and brilliant, found us hiking the woodland trails around Mammoth Cave National Park. It was an impromptu trip – decided on a whim to throw a few provisions in the motorhome and head out while the sun was shining and skies were bright. 
We bungee'd our day-hike packs tight to the motorcycle and took a short ride from the campground to the park. The summer crowds were gone, the forest was empty save for woodpeckers and blue jays, and we ambled at a relaxed pace down the trail, pausing often to peek under mossy limestone boulders for fox and fairy folk. Instead we found a tiny black snake wearing a gold necklace at the busy entrance to the cave. He was gently guided by a long stick to a more suitable location.  

I chose this small and cozy campground, Singing Hills, for its proximity to the national park. This is a popular overnight stop for folks traveling the north-south corridor. And here, all equally tucked into graveled pads under the stars, is the best evidence of how camping is the great common denominator. Rich, poor, young, old, means and by no means – we are all here. 
There's a French couple living in their minivan who studied maps all afternoon.Two families are crammed into skimpy nylon tents next to the fishing pond, their gear spilling out of open trunks and strewn about the grass. Adjacent is the tiniest A-Liner trailer – small enough to be towed by an electric car. A couple of old school pop-out campers are parked under the pin oaks. There's a freshly rehabbed 1965 Scottie nearby, and an archaic van camper that seems permanently docked, no doubt decades since it last rolled on the road.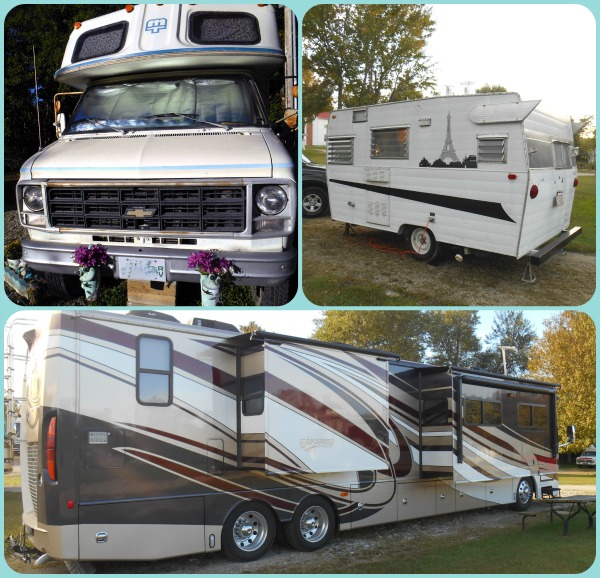 In the back row are the gleaming Class A buses and towering Fifth Wheel trailers, each with half a dozen slide-outs, matching tow vehicles, and his and her bathrooms. These are the full-timers; snowbirds who are migrating south for the winter. And in the middle, betwixt and between, are folks like us just out for a pleasure cruise. 
It's wonderful to see the full spectrum of wherewithal represented in a single campground. And how everyone is having the same shared experience of a splendid autumn day.