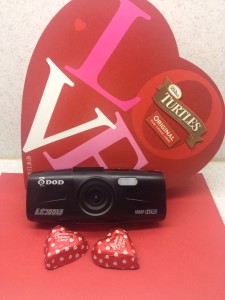 It's Valentine's Day, and nothing says Love like sweet new electronics!
As the Sochi Olympics play in the background, I've been on a jag of watching those crazy Russian dash cam videos on YouTube. Check out Vodka Video – lots of wild fender benders and possibly the world's worst drivers. They slide, they slip, drive way too fast, never use the brakes, and have spectacular smashes and near-misses. Hilarious to watch – no one gets hurt – but some fancy cars get banged up. And the drivers seem pretty calm about it all. Must happen a lot.
Seems like most folks in Russia have these tiny video cameras in their cars. Mounted on the windshield, the high-def digital cameras turn on automatically and record your whole drive. How great would that be when we're touring around in the coach!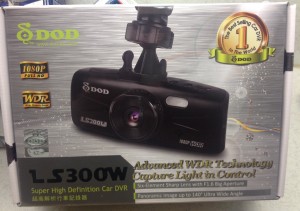 So that was Tim's gift for Valentines – dash cam DOD LS300W. We took it on a test drive tonight – in freezing rain on a dark-dark night, a true test of any camera. The picture quality was better than I hoped for, even under those extreme conditions, and should be truly splendid on a sunny day.
Here's our tame video from the new dash cam (no smash incurred):
We're hoping to capture some good video of the countryside as we travel around this year. And also hoping to avoid any crazy drivers!