Camped at:
Decatur, Alabama
View Map
This morning my horoscope read –
"You're ready for a fearless and freewheeling adventure."
So I threw the dog in the motorhome, kissed the hubby goodbye, and pointed the nose cone south. 
I felt that little tingle of excitement that always rises at the start of a new journey. The sun was shining, skies pale blue, and a wispy half-moon hung low in the morning. It was promising to be a beautiful day, and I knew I'd find myself bored and stiff from the drive later in the afternoon, so I relished the moment. 
Tim has been called up for jury duty, so rather than go adventuring with me, he'll be performing his civic duty in the stuffy Hall of Justice and get paid a whopping $12.50 a day for his trouble. I believe that will cover about an hour of downtown parking and two miles worth of gas.
As I left town the winter grass was the color of shredded wheat at the bottom of a breakfast bowl, and just as soggy after months of snow and ice. A couple hours later, traveling a chippy 61 miles per hour – hey, I'm driving a house here, it's built for comfort not for speed! – I passed a series of little towns and attractions who make their living off tourism crumbs that fall from Mammoth Cave National Park.  
Signs announced exits for Horse Cave, Cave City, Lost River Cave, and Kentucky Down Under – which astonishingly isn't a cavern tour at all, but a zoo filled with animals from Australia. Go figure.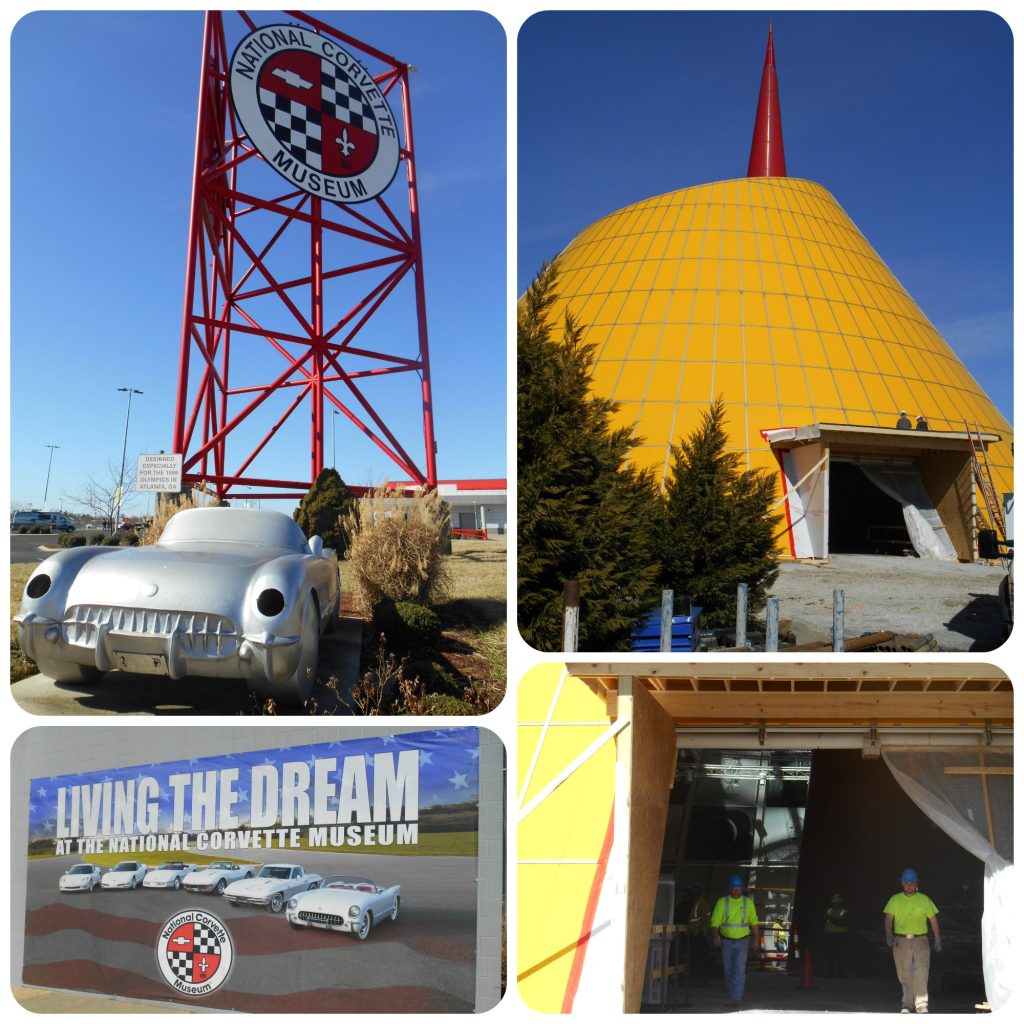 Further down the road is Bowling Green where the Corvette plant churns out swanky sports cars. This is also the home of The Corvette Museum, recently in the news because a giant sinkhole opened up under the showroom and swallowed about a dozen prized and irreplaceable Corvettes. Pictures from the site looked like a gargantuan toddler had thrown all his toy cars in a giant toilet, added some rocks and gravel from the backyard and held down the flush handle. Cars lay jumbled and crunched in a hole of such immense size that the bottom couldn't be found. I'm sure many a serious car collector shed a tear and then scrabbled to his own garage to check the floor for cracks. 
So naturally I had to stop by and see the mess. Sure enough, there were stern looking contractors in hard hats shuffling around the rim of the hole, just barely visible from outside the iconic bright yellow dome where I stood with a couple of other gawkers. 
The directors of the Corvette Museum have vowed stoically to carry on, and will rebuild the showroom – get this – in the exact same location! I can only imagine how this decision was made… 
            Say, Earl, what do you think we should do now? 
            Geez, Bob, why don't we toss in a couple metric tons of concrete and lay some rebar on top. That should do it, don't ya think? 
            Great idea, Earl! Cos' there's nothing wrong with the big yellow dome.
I guarantee if you talked to any farmer in these parts he'd tell you sinkholes don't scab over and heal themselves. They only go two directions – wider and deeper. And usually a hundred feet away a couple of new holes open up and start gobbling up the landscape like country cousins.
While I was standing in front of the Visitor Center pondering all this, a woman came up and requested a picture of the dog. Our Siberian Husky attracts a lot of attention, so this was nothing new. But Shadow, in an uncanny sense of timing, began twirling around on the end of the leash preparing to make a large deposit on the pristine sidewalk. I scuttled him over to some rose bushes just in the nick of time and heard the faint click of a camera behind me. I'm sure she'll be very proud of that picture when she gets home.
The dog and I beat a hasty retreat, not just because we had despoiled the landscaping, but also it crossed my mind that another sinkhole could easily peril the parking lot and the motorhome might be swallowed whole.

We cruised uneventfully through Nashville and then the remainder of Tennessee, stopping for an occasional stretch of the legs and to photograph the colorful redneck population. It wasn't until we reached Alabama that I finally spotted the first true green grass, a good sign that warmer climes are ahead.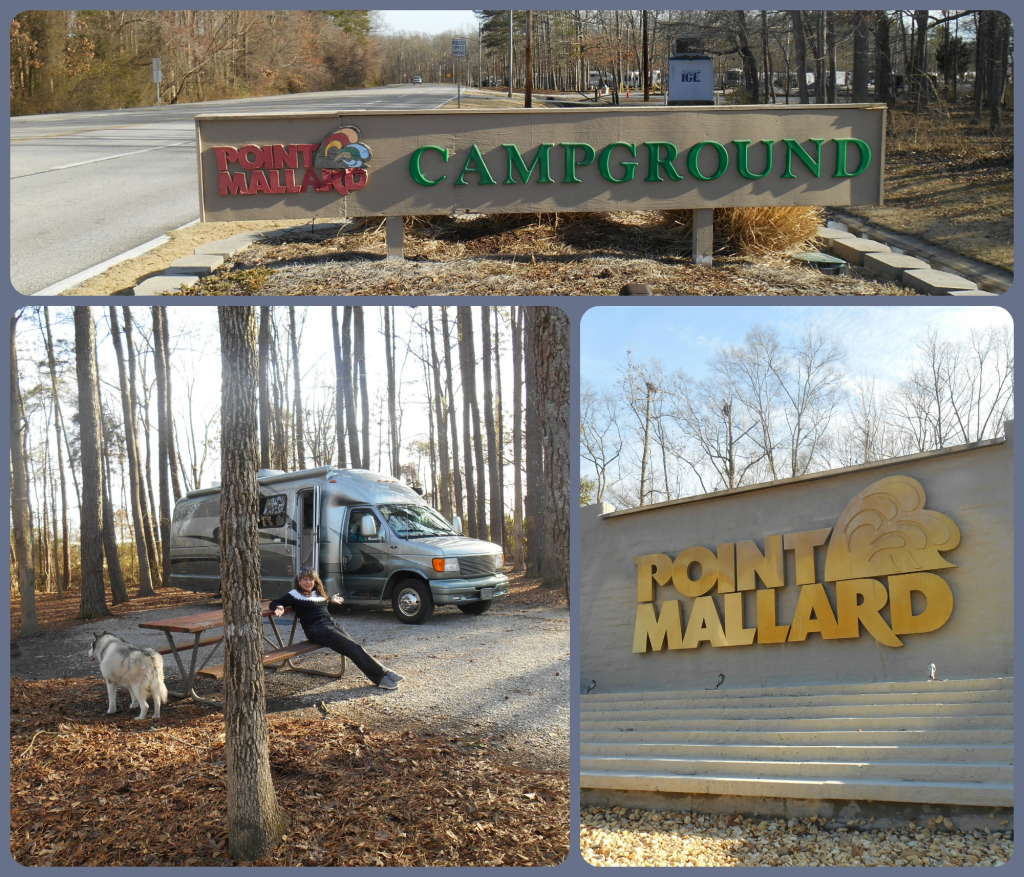 Tonight we are resting in Point Mallard, a swell and pleasingly priced campground near Decatur. Supper has been enjoyed and the Olympics are playing on a crystal local channel. Time to tuck in.
 Dash Cam Highlights: