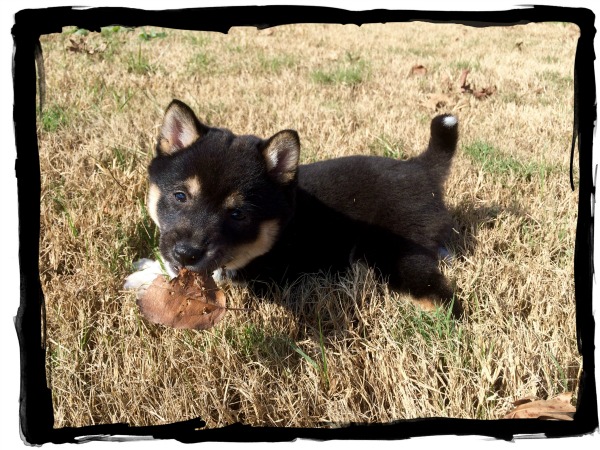 Windsor, KY
View Map
Well we've gone and done it – a new puppy has been added to our menagerie of pets. Meet Coco, our new travel companion.
We took a long drive down to Casey County, home to many Amish & Mennonite communities, to fetch a Shiba Inu puppy. The fall foliage was bright and colorful on a sunny day, and the trip was a page-long series of back road turns and twists, with nary a highway to be seen. Amish farms along the way were neat and tidy and we passed many horse and buggies on the road, each offering a friendly wave to us.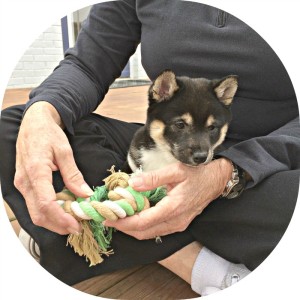 The Showalter family of Windsor, Ky has been breeding Shibas for some time, and we were impressed to see the quality of their dogs and the supreme cleanliness of their kennels. Here we were, a couple of strangers, standing in center of a big barn with a dozen or so dogs in tidy pens and not a yap or whimper was heard. These are calm and confident dogs, not given to high excitement, which is exactly what we were looking for.
It's been almost a year since our dog Shadow had passed, and we were both ready to start again with a new pup. Shadow was half Husky and half Shiba Inu, so the breed and its temperament is familiar to us. Stubborn and Willful! But intelligent and eminently trainable.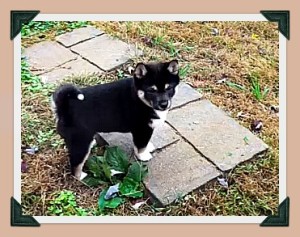 Coco will be trained to be our RV traveling companion, hiking buddy, and all-around farm dog. She's only 7 weeks old now, still very puppy and a bit wobbly. So it will be a few months before I can start taking her on long walks. But already she's proving to be bright and alert and willing to listen.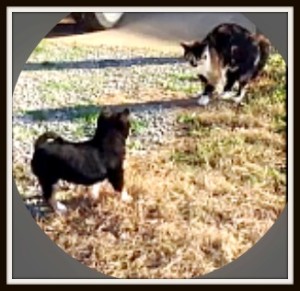 The three cats, however, may take a bit longer to get used to Coco's high-grade puppy energy. They are intensely curious about the dog and hang around draped on railings and over chairs to watch the puppy's antics. I expect everyone will settle in eventually.
Coco will be a medium-sized dog when grown, about 30 lbs or so. Over the next year she'll be enrolled in obedience classes to make her well behaved, sociable, and ensure she's welcomed everywhere. Now if only I could do the same for myself!