Mill Run, PA
View Map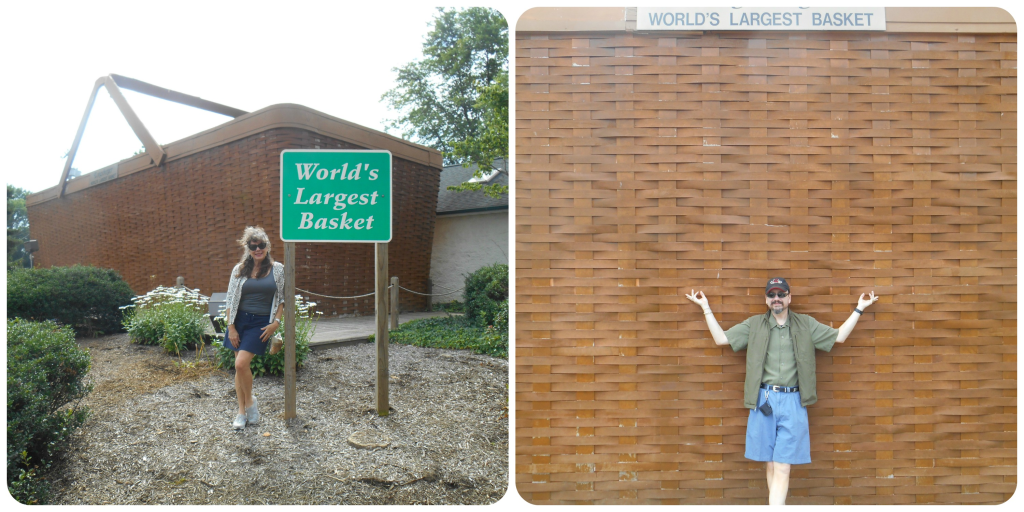 A few miles north of Zanesville, Ohio where we camped last night is the charming town of Dresden – The Basket Capital. Here is where Longaberger baskets are made. Famous and pricey, they are handmade maple strip baskets, and celebrated throughout this region and beyond.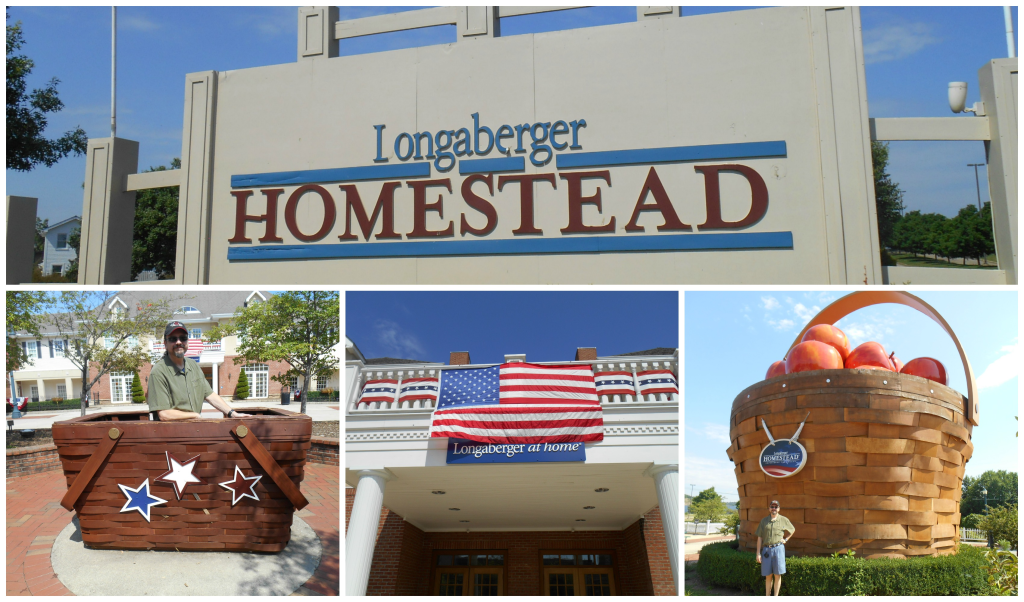 We did a morning tour of Dresden. Bought a pricey basket. And then toured, superficially, the Longaberger Homestead, which is part tourist park, part HQ and basket outlet, and home to their sales reps.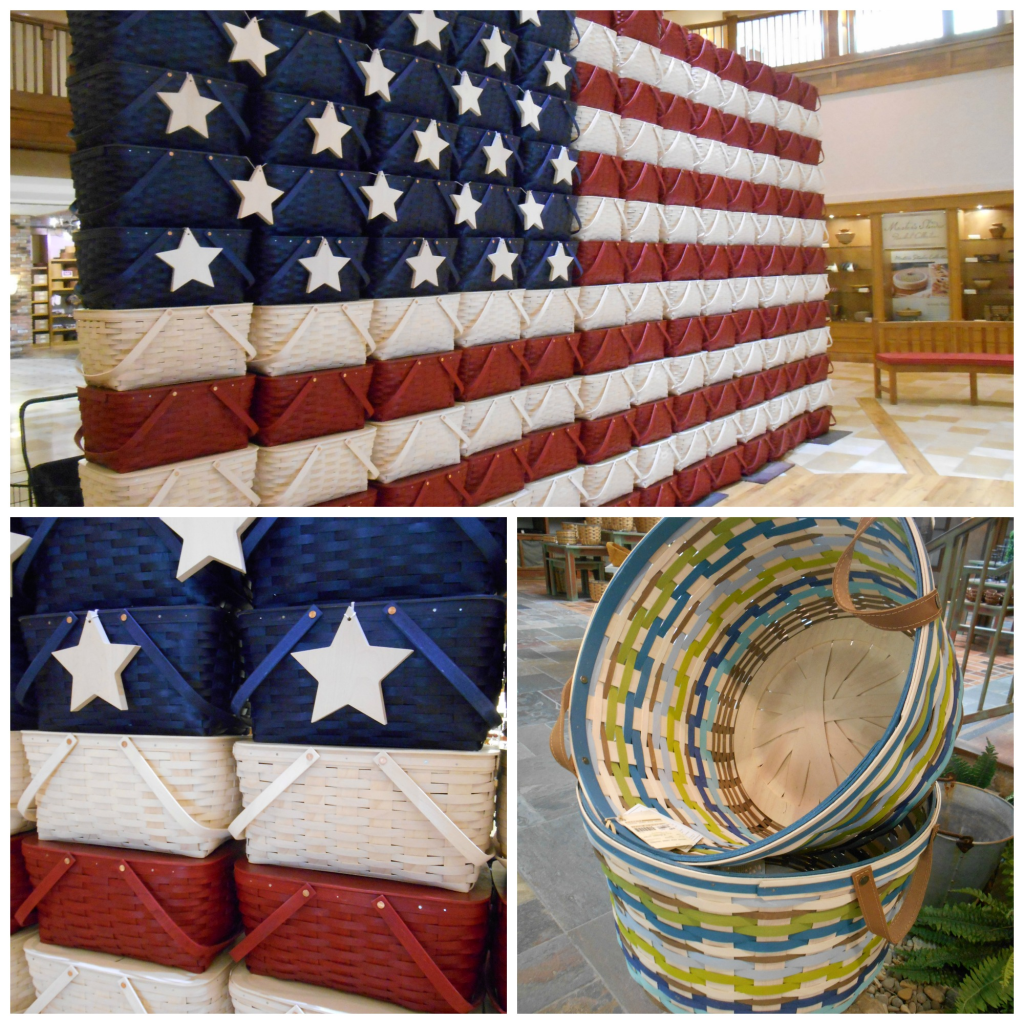 Back about 60 years ago the founder, Dave Longaberger, was kind of a loser. Took him six years to graduate high school. His father was a weaver, making industrial size baskets for the local pottery factories to haul their tiles. Dave had an idea to sell smaller baskets to consumers. His first attempts failed, and then he hit on the concept of door-to-door sales reps, like Avon and Tupperware and Fuller Brush. That business model is still in place today, and it's a billion-dollar company.
After having a splendid and relaxed morning looking at baskets and boutiques, we hit the road eastbound.
In Wheeling, WV a tire blew.
Well, not blew, but rather shed all its tread. There was a lot of vibration at the steering wheel, a loud bang, and then I jerked the motorhome to the shoulder. Tim jumped out to inspect the damage – we thought we'd lost the motorcycle off the back! But it was one of the dualie tires in the rear, fairly new with only 8,000 miles on it. Tim braved the swerving traffic and hauled most of our shredded rubber off the interstate.
We limped to the next exit, pulled into a Rite Aid, and were fortunate that we landed in the "good" section of Wheeling. Triple A was there in about 15 minutes, and a tire store with the right size in stock was only three miles away. All in all, it was only a two-hour delay, but we were both pretty shook up.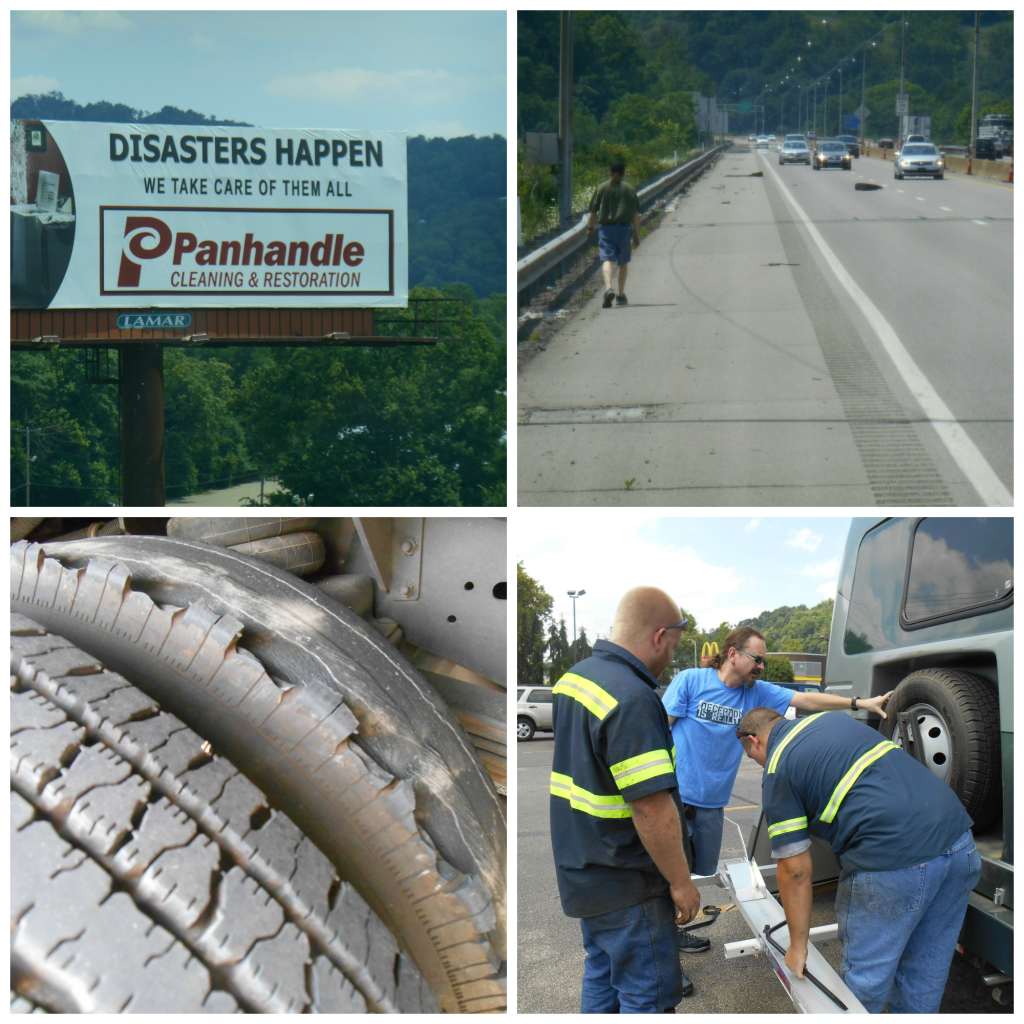 Late afternoon found us proceeding cautiously toward our destination for the evening. All was going pretty well until we got on the back roads and climbed a 2300 ft. mountain. Crawling through Connellsville, PA, I was worried we'd blow an engine gasket next!
We finally made it to our campground aroud 7:00. It's another Jellystone RV Park full of kids. And a big storm has arrived for the evening. But I don't care. Tonight I'm drinking wine and trying not to be a Basket Case!