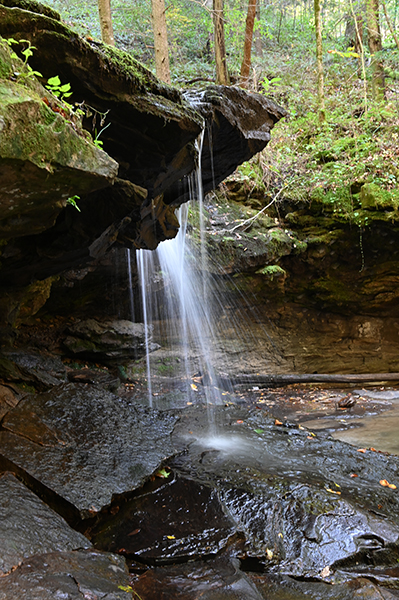 Three days. Seven waterfalls. And a lot of hiking in the Cumberland Mountains.
Who knew that reading a random email from Tennessee State Parks would lead to a wonderful adventure! We signed up for a three-day guided tour of waterfalls in the Cumberland Mountains and hiked all around the Plateau in gorgeous autumn weather.
Our home base was Cumberland Mountain State Park where we parked the RV at their large campground.  Breakfast, lunch and dinner were served at the Park's restaurant where we hooked up with our tour group. Twenty of us, plus three Park Rangers, piled into a couple of shuttle vans and headed for the hills.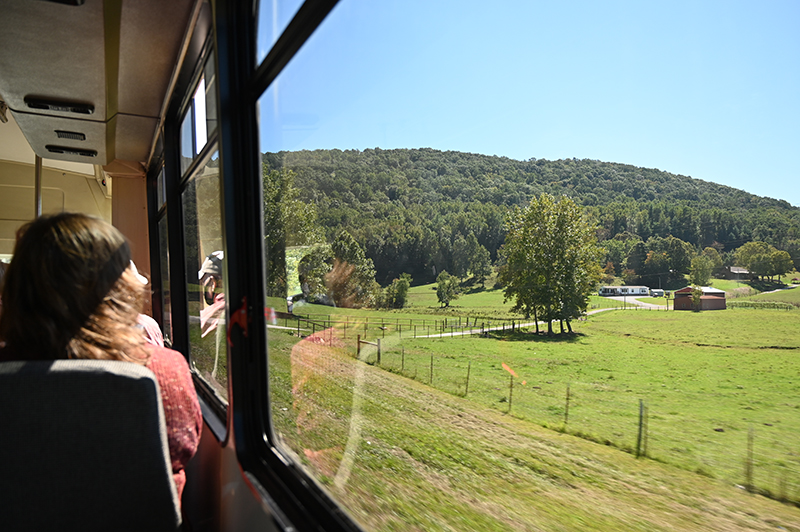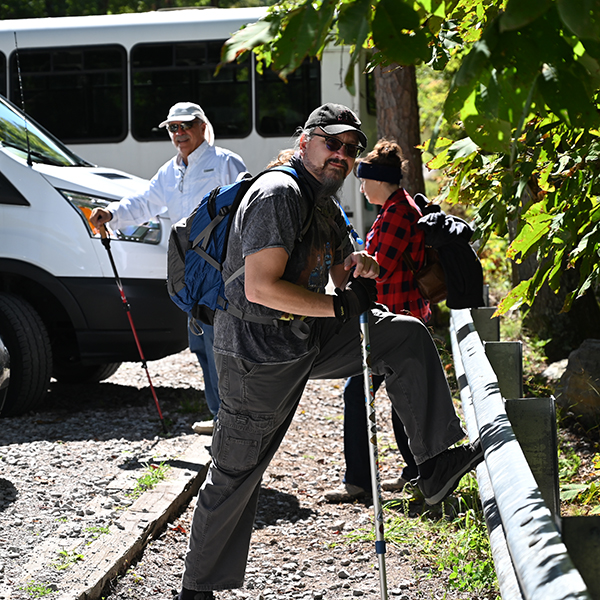 Our lead guide, Ranger Randy, is the head honcho for all the Tennessee state park rangers. He's an enthusiastic outdoor ambassador, a skilled naturalist, and knows all the waterfall trails by heart. Ranger Randy is so well liked that they put his picture on the State Park Beer!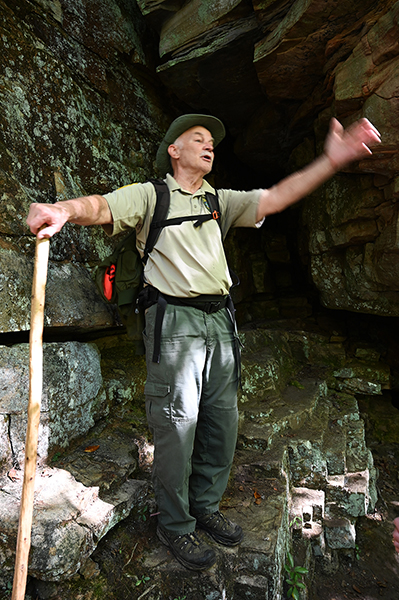 PINEY FALLS
Our first day of the Waterfall Tour took us on an hour-long hike into Piney Falls State Natural Area through old-growth forest along sandstone cliffs. The trail was a little rough in spots, but Ranger Randy gave us plenty of rest stops to catch a breath.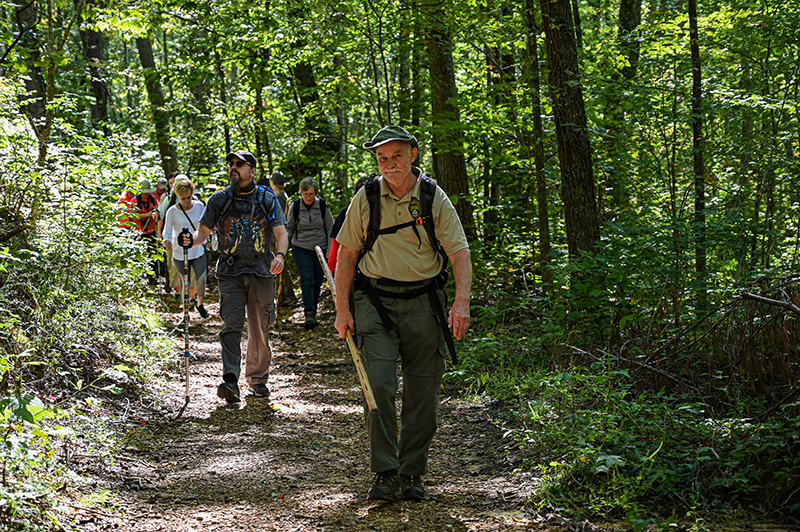 Piney Falls is a free-fall waterfall with a plunge pool some 80 feet below. You can walk right up to these falls and enjoy the cool mist of the water from behind.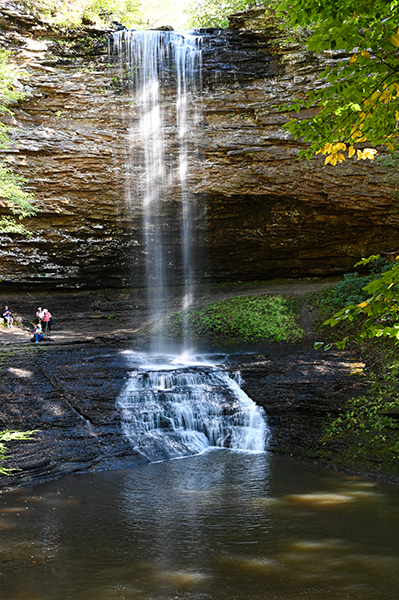 Since this was the only hike on our first day, we spent a long time here and it turned out to be my favorite waterfall of the tour. I loved stretching out on a big boulder to watch the water flow.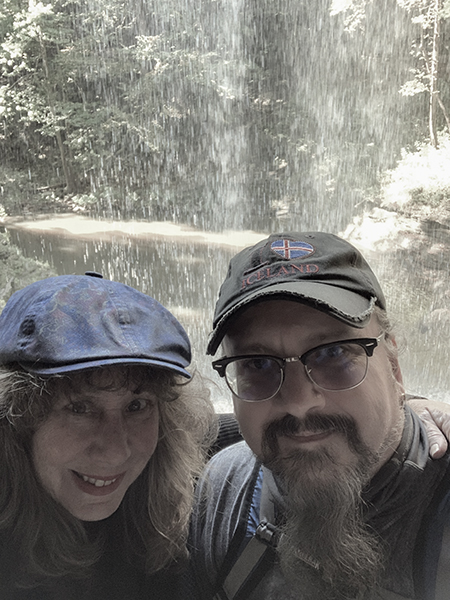 CUMMINS FALLS
Day Two of our waterfall tour started at Cummins Falls. The trail was easy and followed along the top of the cliffs.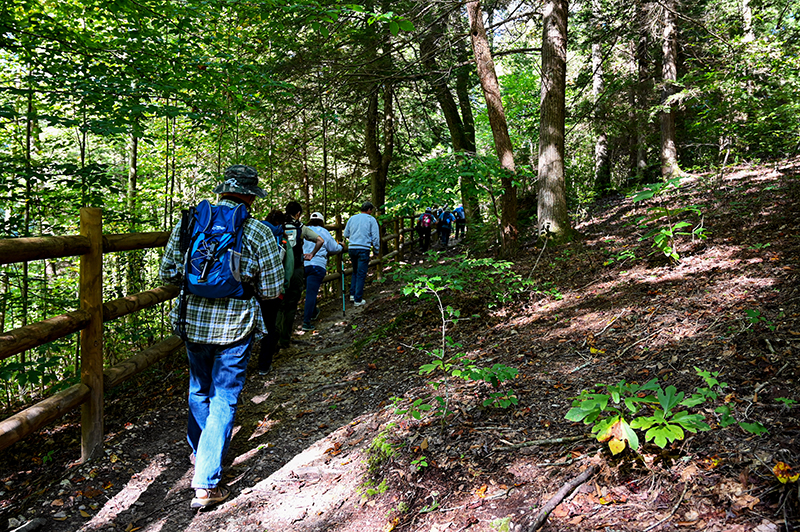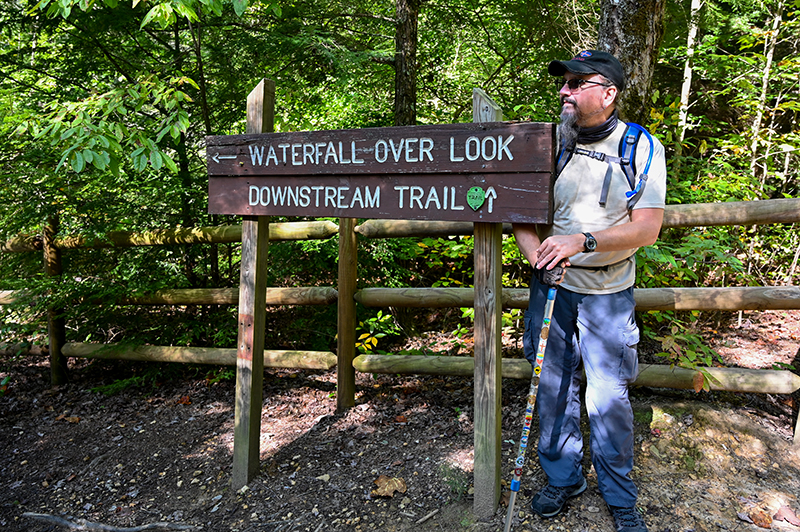 Cummins Falls is a large bowl-shaped cascade nestled deep in a ravine. Way up on the top of the cliffs we crowded onto a small observation deck to take a look. Down below a park ranger had taken a much longer hike to the base of the falls. I could see him with a camera and wished I was down there, too!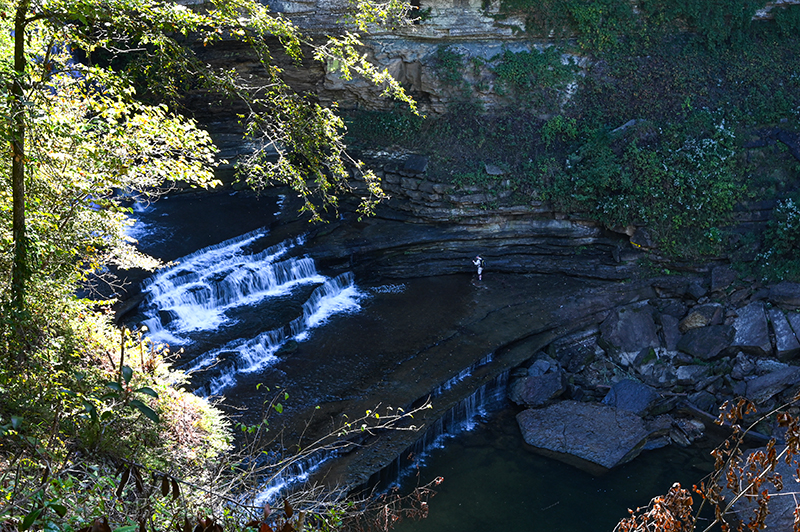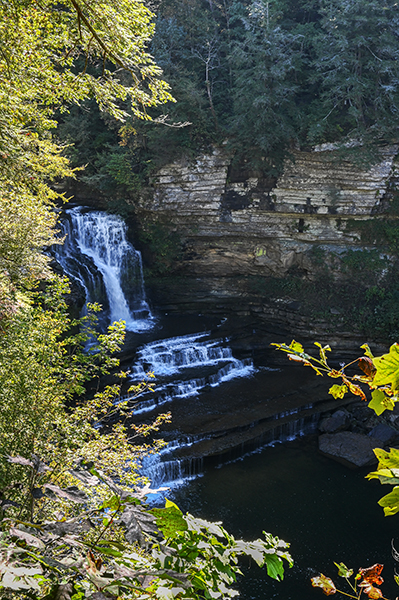 BURGESS FALLS
Next up was Burgess Falls which has a series of waterfalls. Right off the parking lot is a lovely cascade over ledge rocks.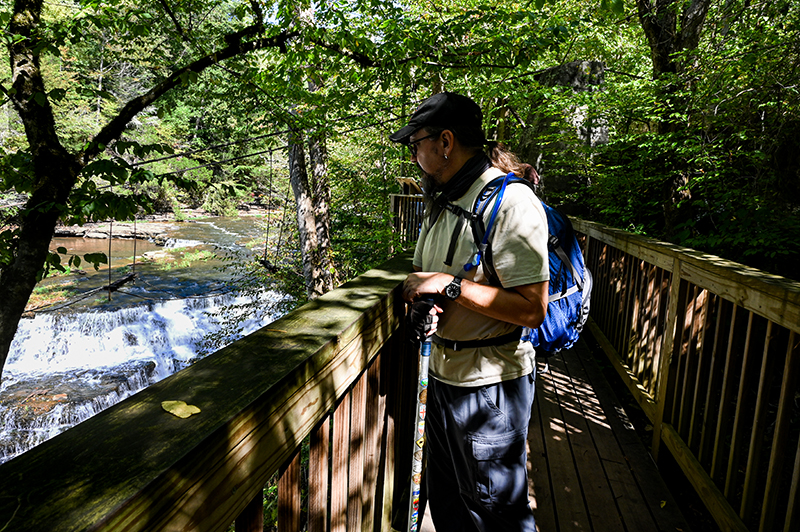 Ambling along an easy trail we came upon Middle Burgess Falls where the water seemed to pick up speed.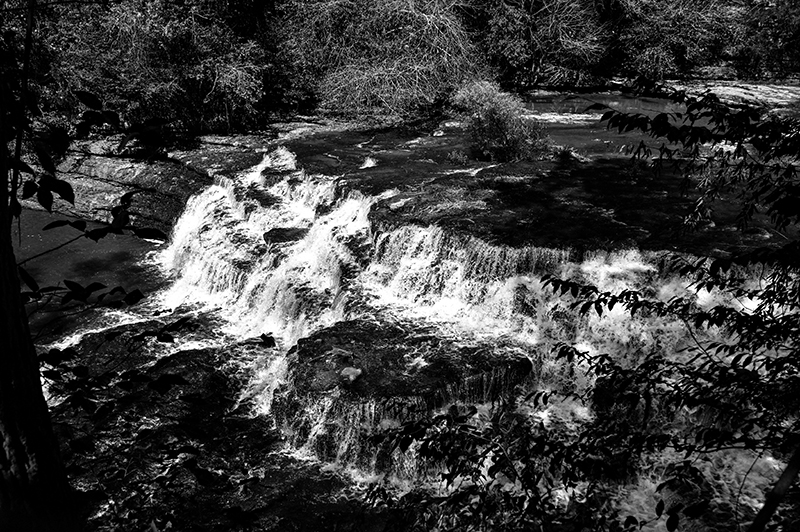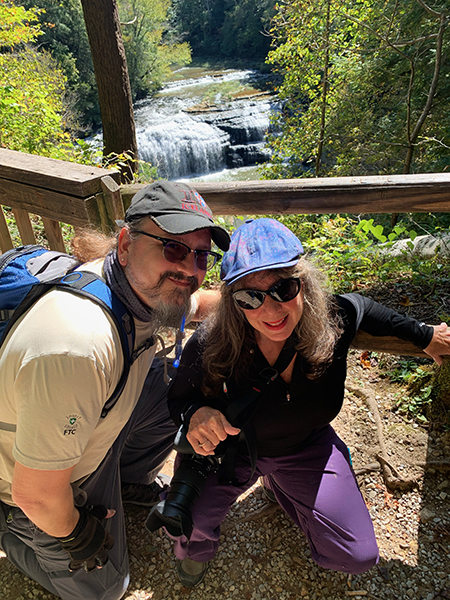 The largest of the falls at Burgess was a tall cascade. But again, we were crammed on a tiny observation point from which there was only one good spot to take pictures. About the time it was my turn at the prime spot our group had turned around and was headed back to the van. Oh well.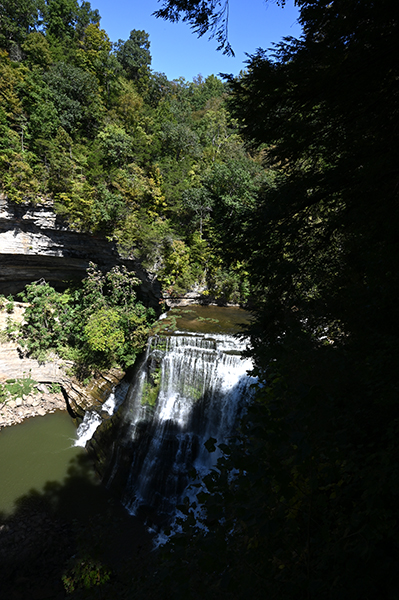 ROCK ISLAND GREAT FALLS & TWIN FALLS
Next was a visit to Rock Island State Park which has two sets of waterfalls. An old cotton mill sits along the river here, and their spring house looked like a little castle.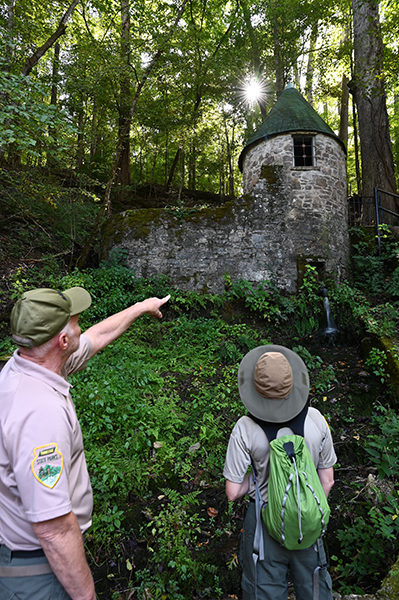 The smallest of the Rock Island waterfalls, oddly called Great Falls, can be viewed from the parking lot.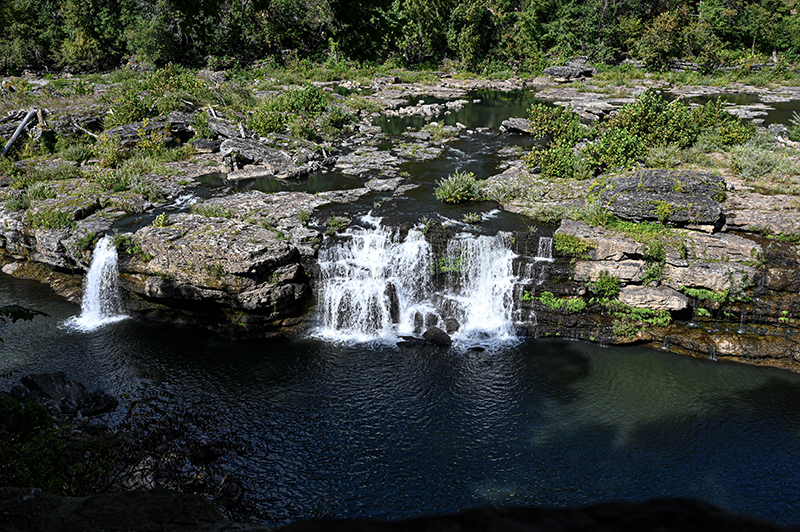 Since it was near the end of the day and we all looked pooped, the rangers decided to drive us to Rock Island's Twin Falls rather than hiking the long distance. Twin Falls is not fed by a river or creek. Instead the water emerges from a cavern deep within the mountain.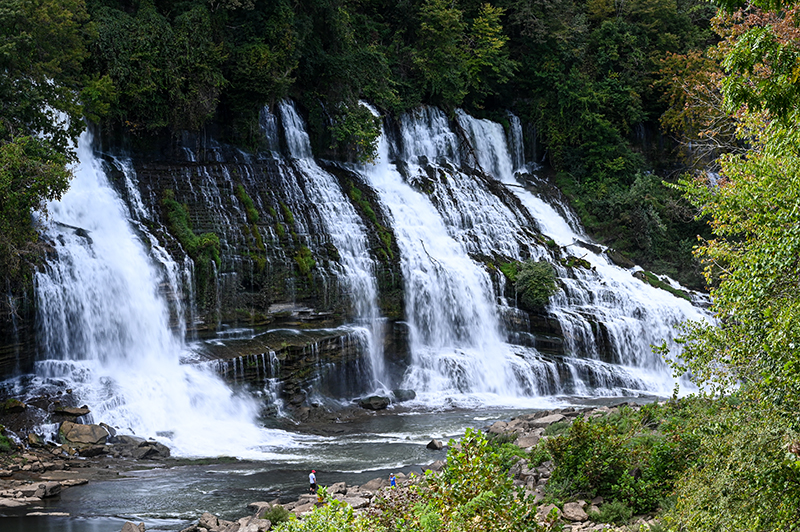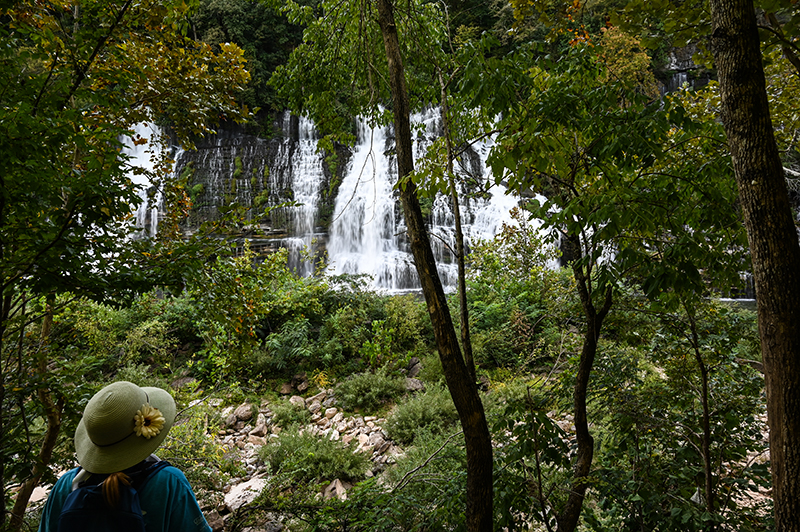 DEBORD FALLS AT FROZEN HEAD STATE PARK
Our final day of the waterfall tour took us to Frozen Head State Park. It was 40 degrees that morning and indeed we all had frozen heads from the 90-minute drive because the shuttle windows had to be open for covid precautions. Brrrr!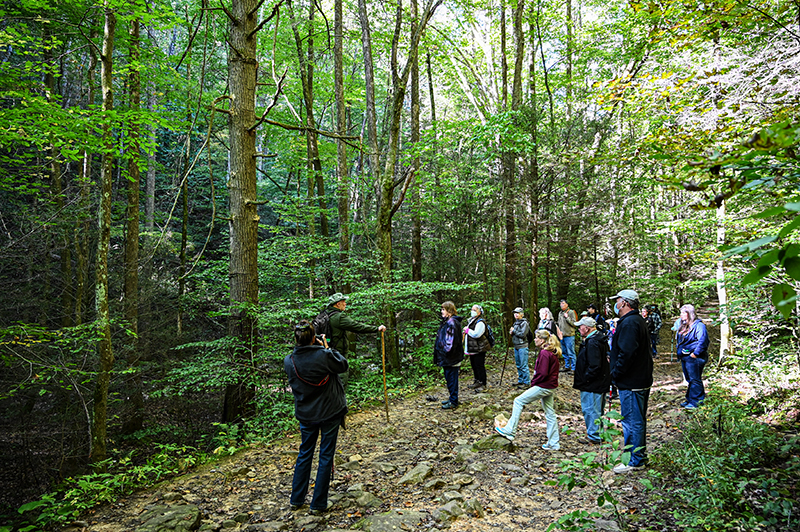 The falls were small compared to what we had seen in previous days, but this hike was my favorite. The road was built in the 1930's by the CCC and wandered through a deep forest along a boulder-strewn stream.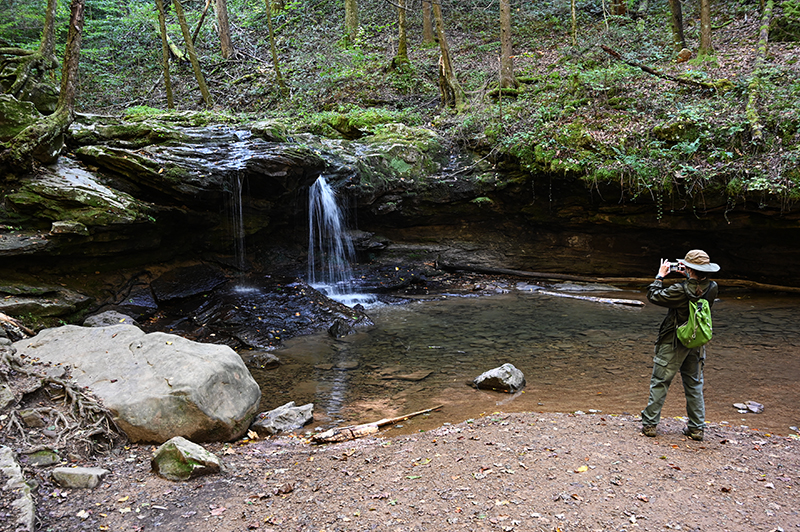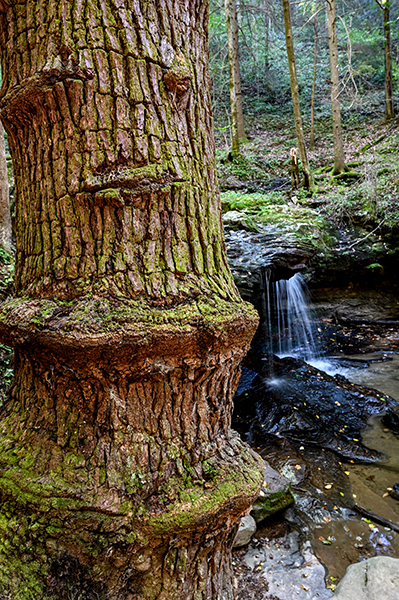 I would have easily lingered here all afternoon, but alas our tour was coming to an end.
So next time you get an email from a State Park be sure to check out what they're offering. Could be your next adventure!