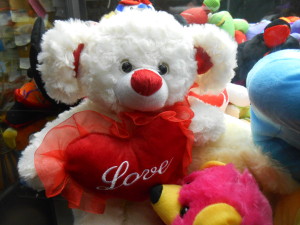 Nashville, TN
It's Valentine's Day and we are headed out for a romantic getaway to the closest beach. The drive will take a couple of days because we move pretty slow and lazy-like in the RV and the nearest spot for sun & surf is quite far away.
Today's trip held a couple of surprises – the first was driving through a dense snow shower in the morning. That storm system wasn't supposed to arrive until evening, but it made an early appearance at the Tennessee border. A bit of a white knuckle drive, especially when combined with the second surprise: A bad tire. Again.
I should hardly be surprised at this anymore. Lately any long-distance trip we undertake has involved emergency tire replacement. Even though we have Six Brand New Tires on the coach.
The tire in question is the same one we had to replace on the fly last August when traveling south. (We got 6 whole months out of it! Not bad for our luck.) The bum tire has gone soft, thumping and wobbling, and is just plain unsafe.
So we aborted the day's drive several hours early to tuck into a KOA campground in Nashville. Being a Sunday, there are no tire stores open today. We selected this overnight spot because it is right beside a giant Camping World service center. In the morning we'll be the first in line at the service counter for repairs.
Meanwhile, this campground is also next door to a favorite crazy restaurant we like – Cock of the Walk. Thus a delicious Valentine dinner was enjoyed there tonight and we managed to make the best of this unintended stop.