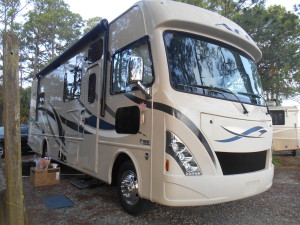 Panama City Beach
Florida
We bought six new tires. They are attached to a brand new Thor Ace motorhome.
Talk about a souvenir from Florida!
We traded in our nearly 10 year old Coach House (Class B+) for this new 29-foot Thor Ace (Class A – gas powered).
The new rig is huge compared to our old RV. It sports two slide-outs and a large bedroom with enough closet space to fit a Hollywood wardrobe. It's fitted on a Ford F53 chassis, which is a bus frame, so it will ride a lot smoother with less road bumps compared to our old "Bread Truck" style frame.
The Ace has a decent size kitchen including an oven, a big bathroom with roomy shower, couch, dinette, and the driving seats swivel around to become a cocktail area with a table between. There's also a motorized sleeping loft above the cab that drops down – a good place to stuff the puppy when she gets rowdy!
On the outside are half a dozen giant storage bins. You could pack a whole band in there. And there's some other outside features that we will probably never use – like an outdoor TV, and a second kitchen with fridge & sink. One thing I do like is the special BBQ grill that hooks up to the RV propane tank – no charcoal needed.
Overall the Fit & Finish quality of the Thor Ace is a bit below the luxury appointments of our old Coach House. But it's roomy and brand new. And after three rear tire blow-outs, I was ready to move into something newer and safer.
So we are spending the rest of the week in Florida camping in the new rig. Quite the vacation souvenir!