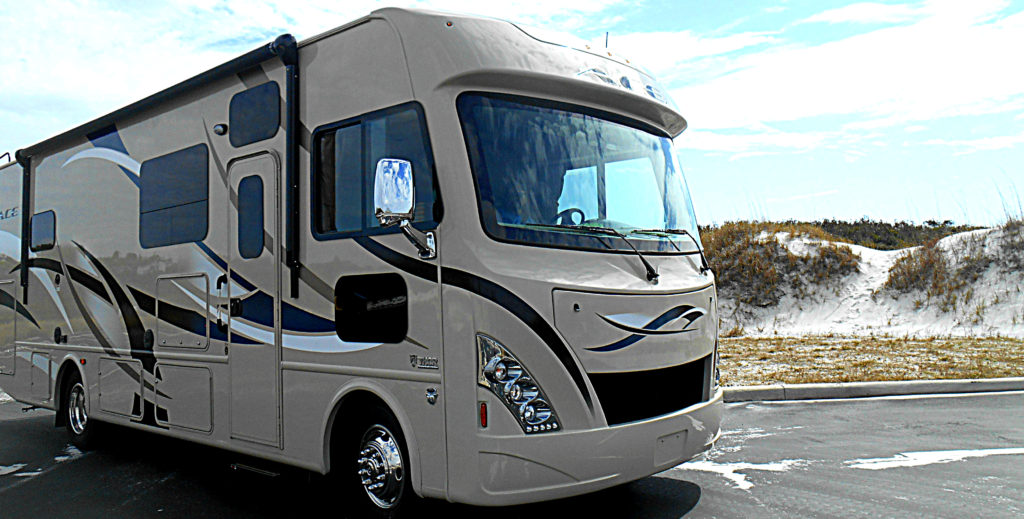 Got a new RV? If you're hitting the road for the first time there's a few essential RV accessories you should bring along.
These are the necessary items the dealer didn't bother to tell you about, but other campers surely will. Or, like us, you might figure it out after a few misadventures.
Electric Power Accessories
What the dealer didn't tell you is that not every campground has convenient or even reliable power. Power surges happen, like during a storm, or when everybody in the campground unplugs on a Sunday morning to beat the traffic. Power surges can fry your tender electrical system and cause expensive damage. A good surge protector will stop that nasty jolt from reaching your rig. You've got one on your computer, right? Protect your RV the same way.
Carrying an extra power cord is a smart idea. First, you'll have a backup in case of failure – and it does happen. Second, when you add a connector called a "dog-bone" you can plug two power cords together to reach a pole that's really far away. We've encountered plenty of campgrounds that have crazy configurations for their power poles – stuck way in the back of the site, or so close to the trees that you can't get your slide out and have to move the rig 10 feet away. In Canada's provincial parks the power pole always seem be planted 50 feet in the woods. So bring two power cords and the right connector to string them together.
You'll also want a house current adapter so your RV can be plugged into a regular home outlet. Plan to camp in your cousin's driveway? Want to cool down the refrigerator when you're packing for a trip? Get an adapter. You won't be able to run the RV air conditioner or microwave on regular house current, but the fridge and furnace will work just fine, along with the TV and lights.
We carry a 50 amp reducer plug, too. Our RV is a 30 amp unit, but once in a while that outlet won't be working at the power pole. So we'll use the 50 amp outlet with a reducer plug.
Water Accessories
Here's an easy one: Carry an extra water hose. Just like the power poles, water faucets can be located too far away to reach with a standard 25′ hose. Why not just bring a longer hose? Because you don't want to be wrestling a 50 foot monster all of the time. It's easier to hook up the extra hose only when it's needed. We carry a spare flat hose that neatly rolls up into a case. It doesn't take up much room in the bin, and sure has come in handy at some oddball campgrounds.
RV water lines are about as tender as their electrical systems One good blast from a high pressure faucet and you've sprung a leak inside. Campgrounds in the Western states are notorious for their high water pressure. Keep a regulator on the end of your hose and you'll keep your lines safe.
Sewer Hose Accessories
Dumping the tanks is a job nobody likes. And how can you tell when all the goo has run out of the sewer hose and it's safe to disconnect? Make that chore a little easier with a clear connector so you can see when the tank has emptied. There are straight line and elbow connectors depending on how your dump outlet is located. And wear disposable gloves when you're handling all those funky sewer lines!
While you're thinking about this nasty business, buy a sewer donut, too. It keeps the sewer hose from popping out of the dump station, and usually is required in long-stay campgrounds.
RV Accessories
All these great RV accessories are available at camping stores or online. Now get out there and have fun!