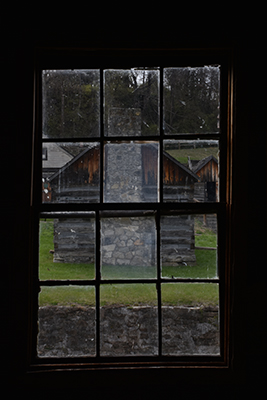 Bardstown, Kentucky
View Map
Old Bardstown Village is a recreated pioneer settlement located a few blocks below the downtown area. Historically this area was where wagons and horse teams staged before climbing the big cliff into town.
There's about a dozen log cabins at Old Bardstown Village situated alongside a lively creek. The buildings are quiet and dark inside with a sprinkling of artifacts on display.
I visited late in the afternoon and had the place to myself. Sometimes these old places can feel kind of spooky, but this village is quite charming. Although the wind kept banging a shutter somewhere – made me jump every time!