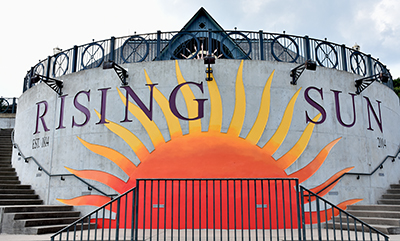 Rising Sun, Indiana
View Map
Help! I'm at a casino and cant leave!  
No, I don't have a gambling problem, even though I'm staying at riverboat casino. I can't leave because the RV door is jammed and I can't get out. 
Weird stuff happens on the road and this morning was a fine example. I was fiddling with some hoses outside the camper and had the dog tied up to the picnic table to keep me company. I stepped inside the coach to fetch something…and couldn't get out. The door jammed shut behind me. Really jammed. No amount of shoving or kicking would budge it loose.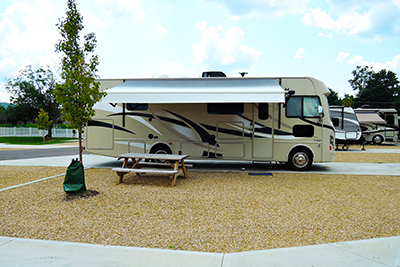 This motorhome only has one entrance door, which I've often complained about. There's an emergency window you can bust out in the back, but it's a long drop to the ground and that wouldn't solve the jammed door problem. I'd just be stuck outside the RV with no way back in.
Fortunately I'm not one to panic. The dog, however, did. She started howling and clawing at the door from the outside. I know she was trying to help, but it didn't work. So I stuck my head out the passenger window to try to soothe the dog and spotted a gent walking across the parking lot. With a lot of whistling and hankie waving I finally got his attention. 
It took us 30 minutes to free up the door. I was able to disassemble the lock and handle mechanism from the inside while he yanked and twisted from the outside. Turns out this door lock – TriMark model 60-650 – has a known failure issue. The zinc rod that locks the door will break, throwing the loose pieces into the striker plate and effectively bolting the door shut. I pulled out all the broken pieces and was able to put the lock back together enough that the unbroken deadbolt portion will still work. A new lock has been ordered – one made with steel, not zinc – and I'm leaving a window cracked open just in case I get locked out and have to crawl back in. Sheesh.
With that solved, let's get back to Rising Sun, Indiana –  Lovely little town with a big casino complex on the river. The casino is called Rising Star and has a spanking new RV Park on the property. It's another riverboat casino, filled with the usual slot machines and glassy-eyed customers, although there was a lively and loud craps game going on downstairs. Rising Star is three levels tall with an atrium in the center that gives it a real showboat atmosphere. They had a mechanized roulette machine where I promptly lost $20, just like at Belterra. Maybe roulette isn't my game.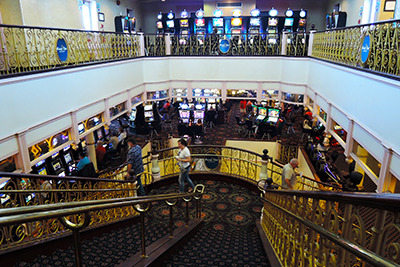 Like all these little river towns, Rising Sun was once a prosperous and bustling port. Sen. Bob Dole's great-great grandfather had a water-powered mill here. There's a plaque to commemorate the spot where the mill stood along the river walk, which is a lovely stroll with thoughtfully placed benches and pretty potted flowers.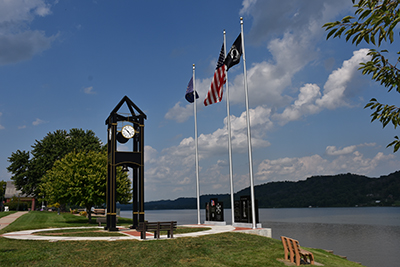 Rising Sun has spent a lot of money improving their river frontage and I hope it attracts tourism. As it was, on a Friday afternoon I had the place to myself and the owners in the little shops said I was their only customer of the day. I felt kinda bad not spending any money in the stores, but there wasn't anything I was interested in purchasing.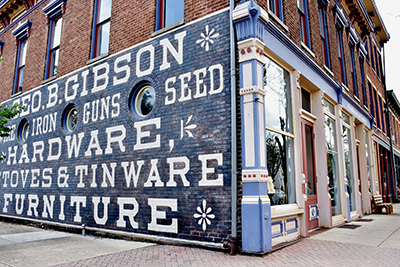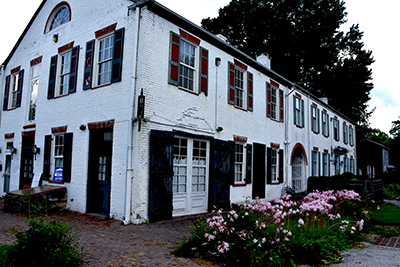 The casino provides free shuttle service from their RV Park to the town, and I was glad for the air-conditioned ride because the weather has warmed up considerably. I could amble over to the casino for one last try at roulette, but the evening will mostly likely find me locked up tight in the RV – literally!