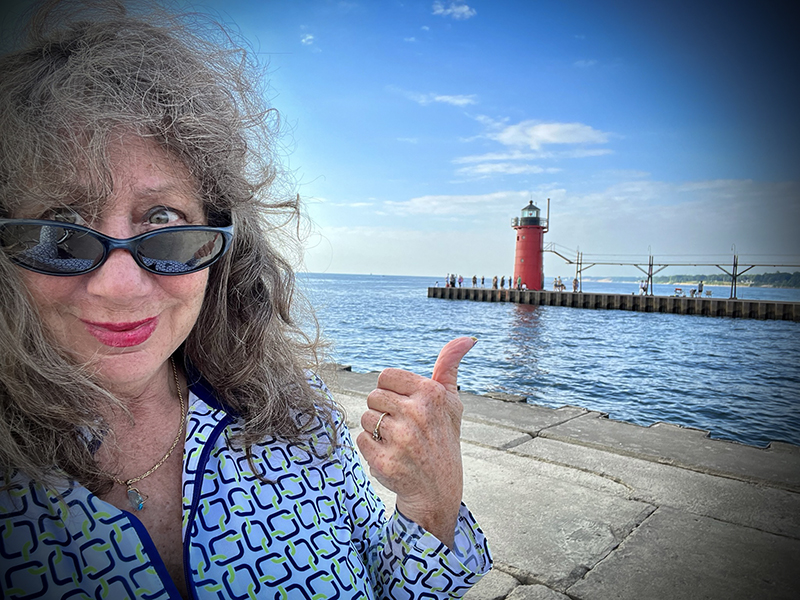 Seems odd to go north for a beach vacation, but Lake Michigan was so good that I may never return to Florida.
Since January, I've been watching the weather south of here, hoping for a beach vacation in Florida's Panhandle.  Each time we settled on a date, some terrible weather event would occur between us and the beach: tornados, floods, killer hail, tree-toppling wind, vicious thunderstorms. All the stuff I definitely didn't want to drive through.
Then I saw a picture of Lake Michigan's beaches.  It looked so appealing; the sand, the clear water, the lack of crowds. So dog and I headed north to explore.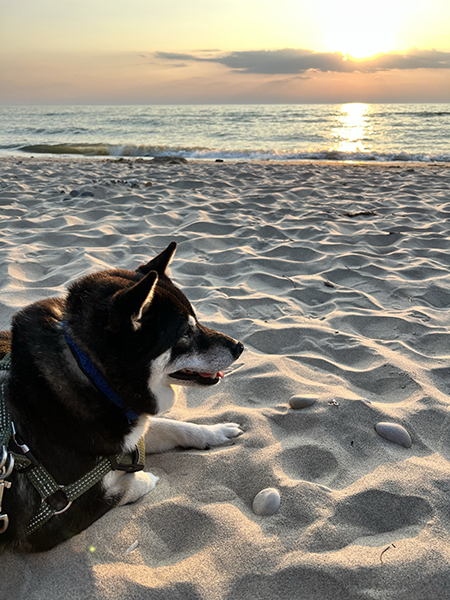 Western Michigan lies against the rim of Lake Michigan. As you know, the lake is a vast freshwater sea that's part of the Great Lakes chain.  And it's dotted with little beach communities up and down the shoreline. No Salt – No Sharks is their catchy motto.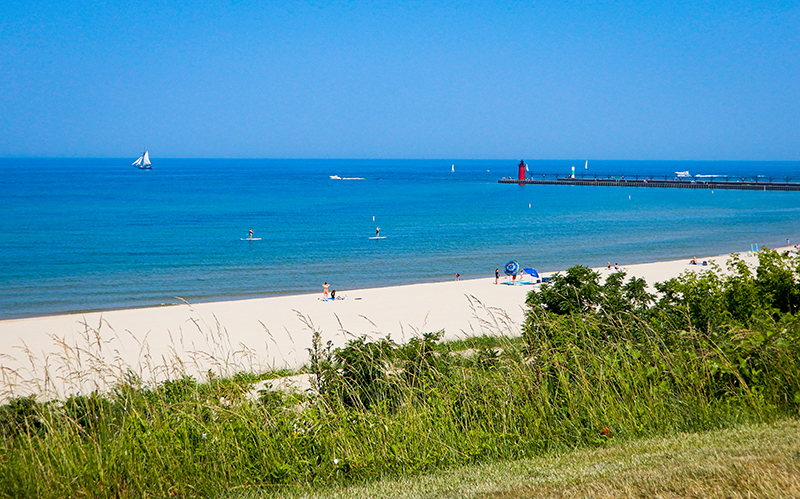 I didn't know what to expect, or where to go exactly, so I visited half a dozen towns to get a good taste of Lake Michigan. I stayed two or three days in each town, camping in a mix of state parks and privately owned campgrounds. It was a two-week excursion that brought me about halfway up the coastline. (I might have continued on to Canada, but that would have taken about a month of travel time, and my tolerant hubby does have limits!)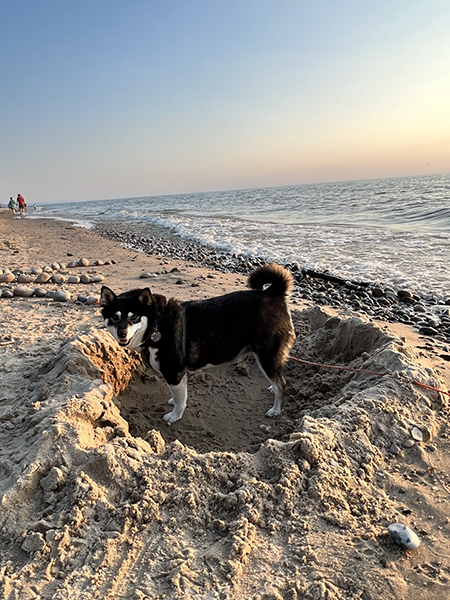 Most of the shoreline in the eastern half of Lake Michigan is dominated by high sand dunes, which roll steeply down to a beach. Some beaches were rock strewn with fist-sized stones of various hues and colors that everyone seemed to covet. Rock hunting along those shores was a big pastime.
Other beaches were wide stretches of soft, fluffy sand that rolled for miles. Super clean!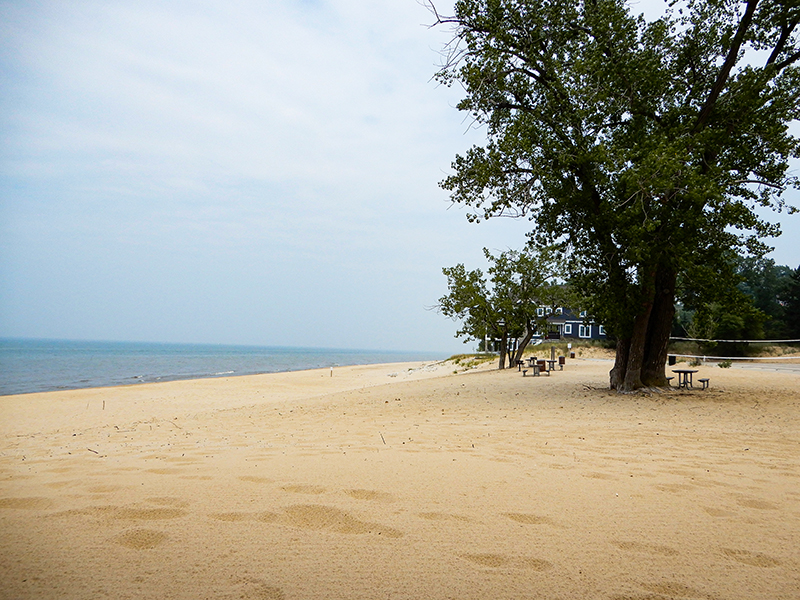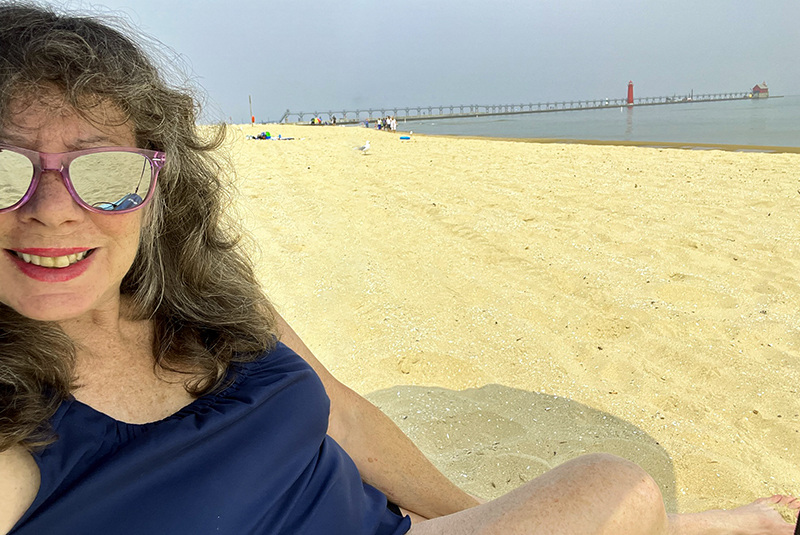 The beach towns are about 20-30 miles apart, located along a series of rivers that empty into Lake Michigan. Wherever a river meets the lake, a little community with a thriving boat harbor is situated there. These are pleasure boat marinas, not fishing harbors.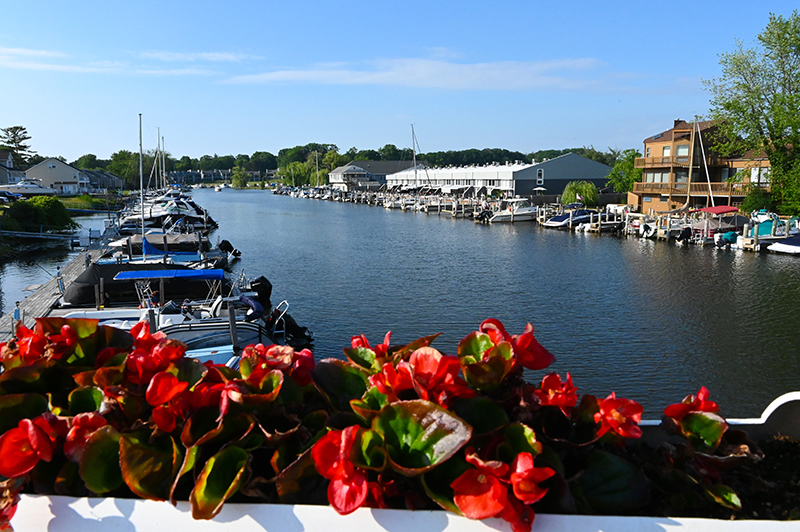 At the confluence of each river, a long pier marks the channel. And every channel has a lighthouse at the end.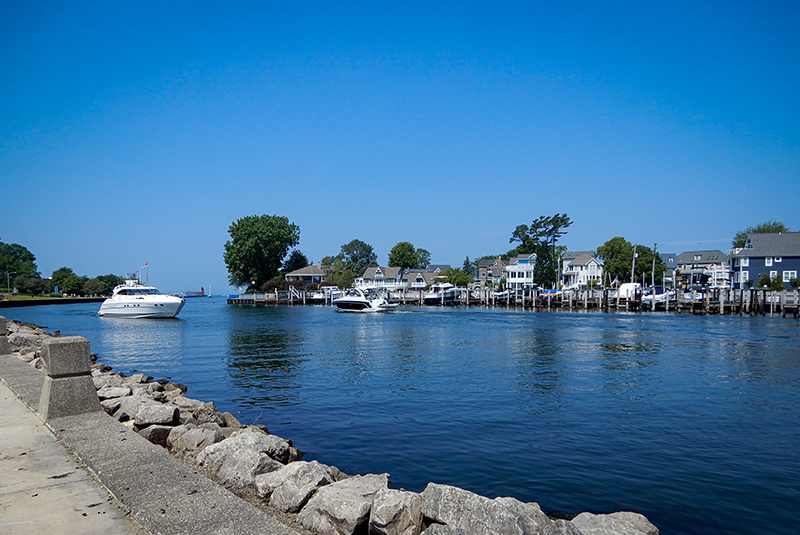 The red lighthouses of Lake Michigan are the signature landmark of each community, lovingly tended and restored. You can walk along both sides of the channel on paved piers to get a closer view.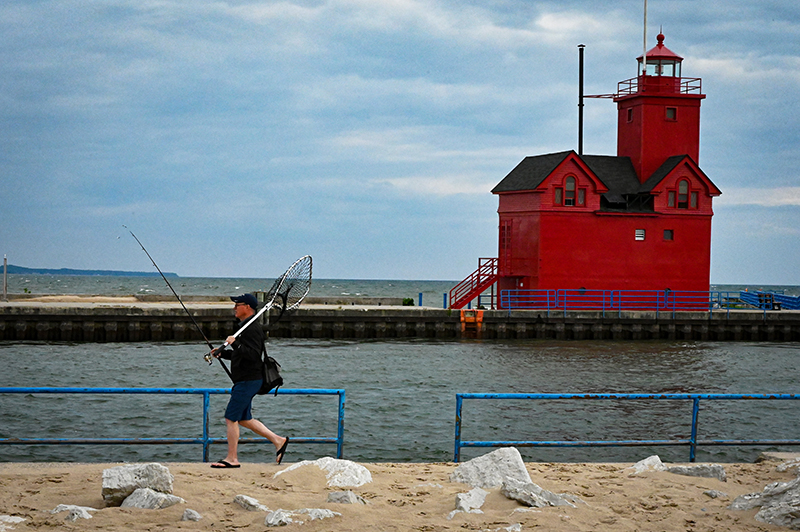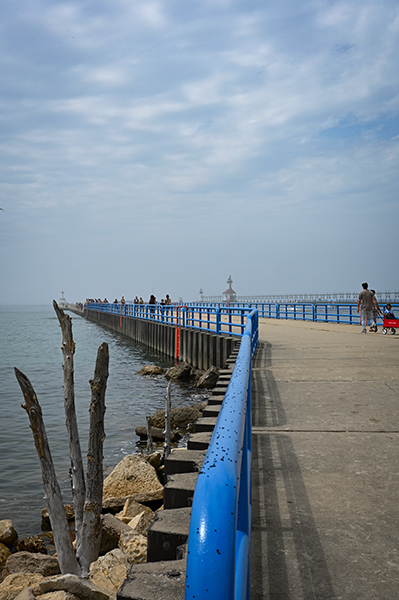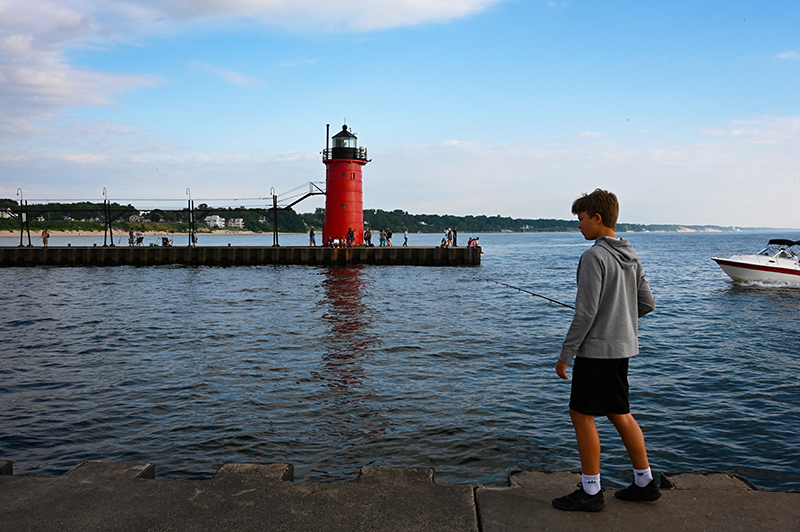 Unlike Florida or the Gulf Shores of Alabama, the beach towns of Lake Michigan are not overdeveloped. They have a sweet, charming atmosphere, kind of old-timey and low key.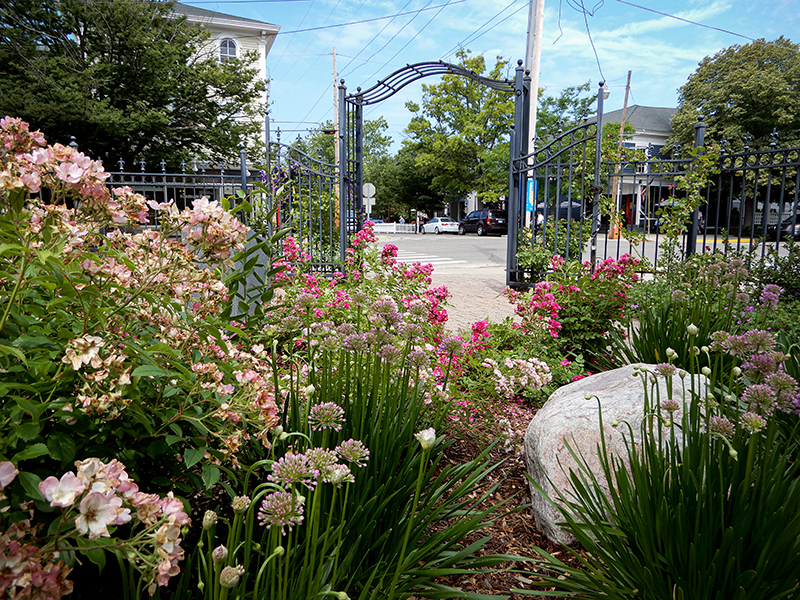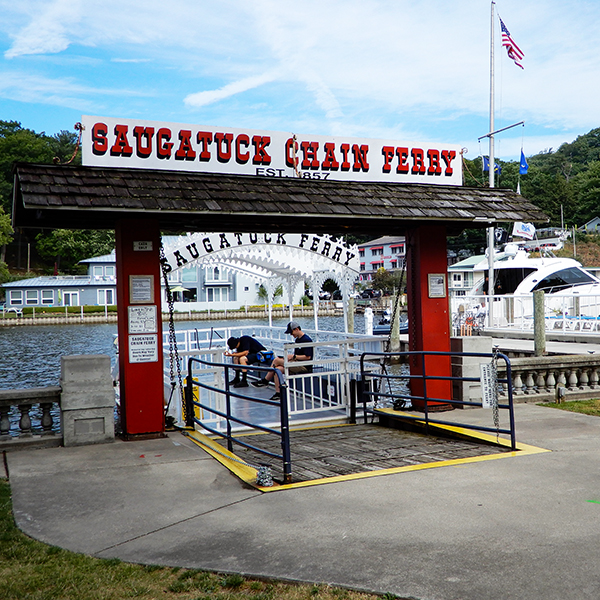 Development here is mostly single family beach homes, mainly historic. What's lacking are the twelve-story condos that dominate the landscape and spoil the view at Florida's Panhandle. It's a welcome relief to see cozy cottages instead.  And these are summer homes only.  Locals will tell you that winters along the lake are just brutal.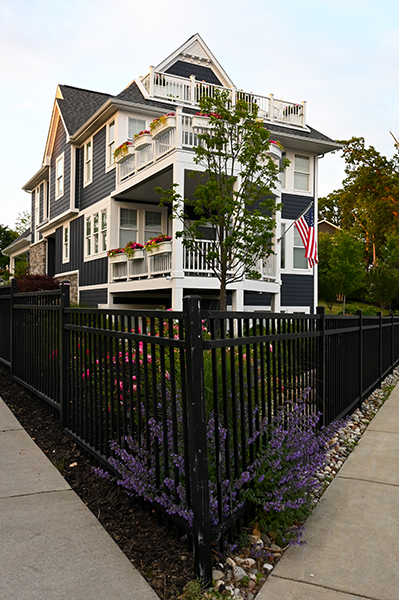 In fact, Lake Michigan probably never warms up to what you'd call swimming temperature. The water was 50 degrees at the end of June, too nippy to wade in very far unless you had a wetsuit. But the sand was nice and warm!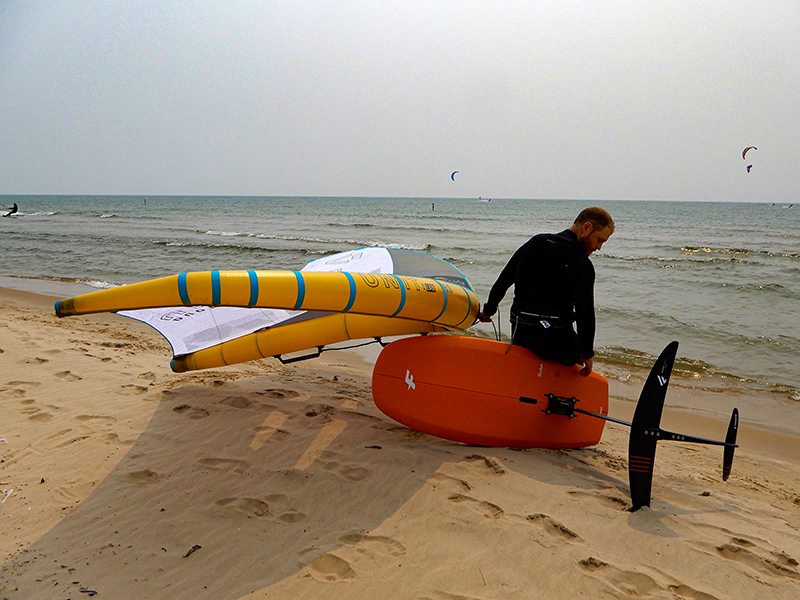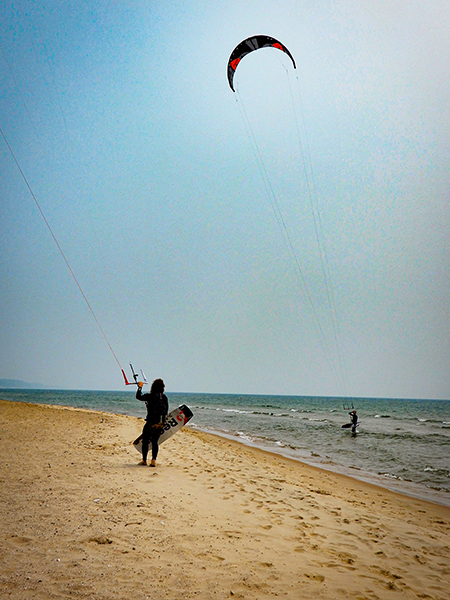 Halfway through my stay, the Canadian wildfire smoke descended into the area. It was a thick, choking smoke, accompanied by air quality warnings. You can see the haze in the pictures. That ain't fog, folks!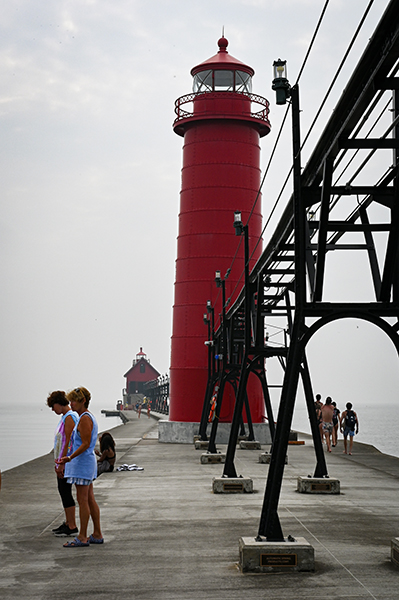 Despite the wildfire smoke, I did a lot of exploring on the bicycle. A new dog trailer attachment meant I had company on long rides.
All the lake towns had wonderful bicycle trails – triple wide, paved, and well maintained. Many connected to other beach towns. We biked the Van Buren Trail, the Kal-Haven Trail, and a host of other shorter paths. Just off the beach, within a stone's throw of the lake, are a multitude of fruit farms. From the bike trail, I got a good look at blueberry, strawberry and cherry farms, and came home with a boxful of jams and jellies.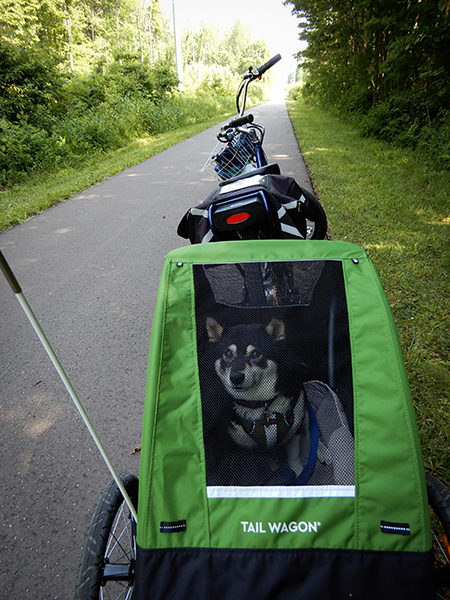 Woods and wetlands also border the lake, and there were nature preserves every few miles. Hofma Preserve had a wonderful long boardwalk across the wetlands, and dogs were allowed to roam off leash. We happily strolled around for a couple of hours.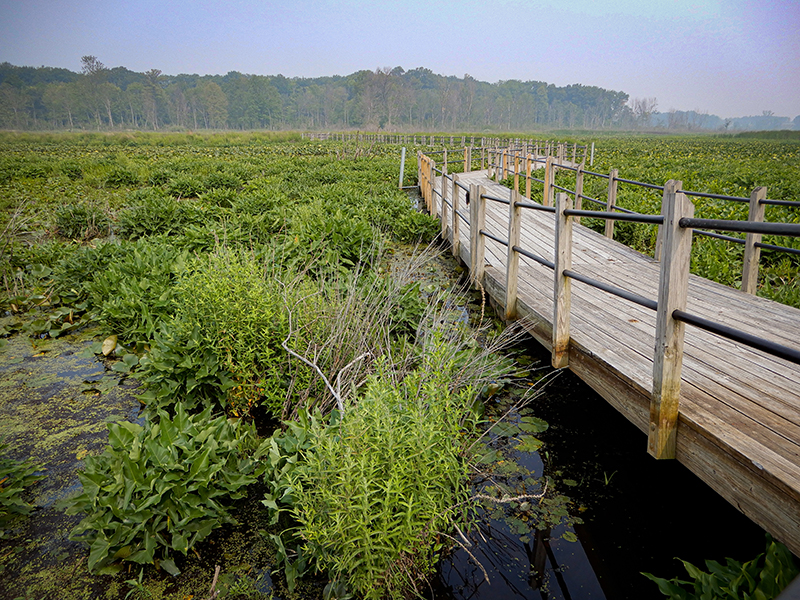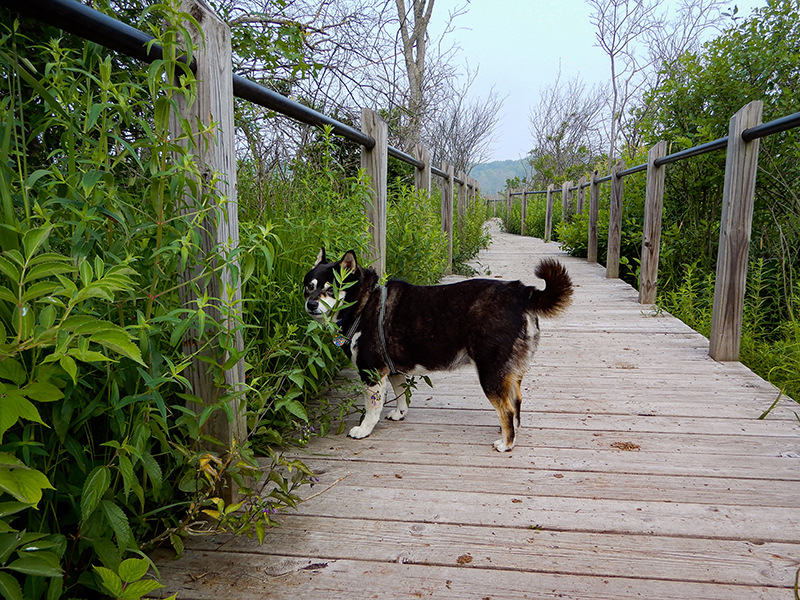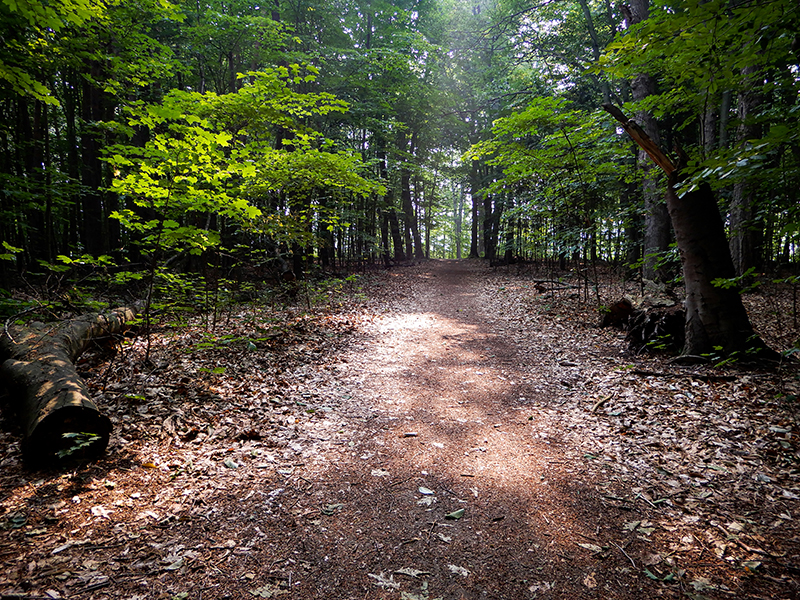 The town of Holland, founded by Dutch emigrants, has a park called Windmill Island Gardens. Also dog-friendly, we spent an afternoon there as well.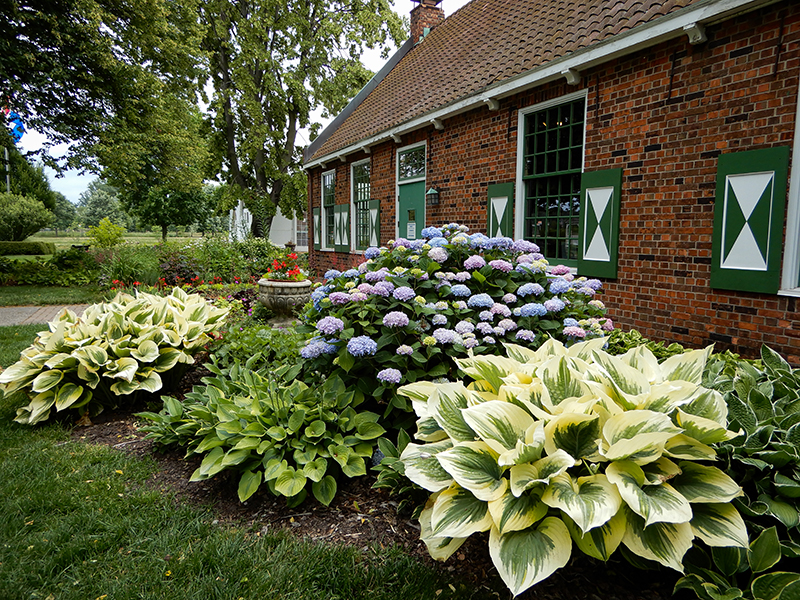 Mostly, though, I was there to enjoy the beaches and the scenery of Lake Michigan.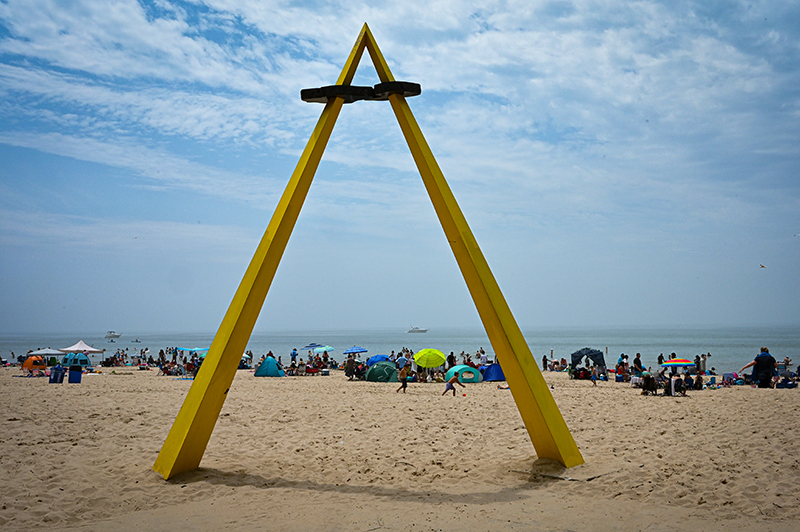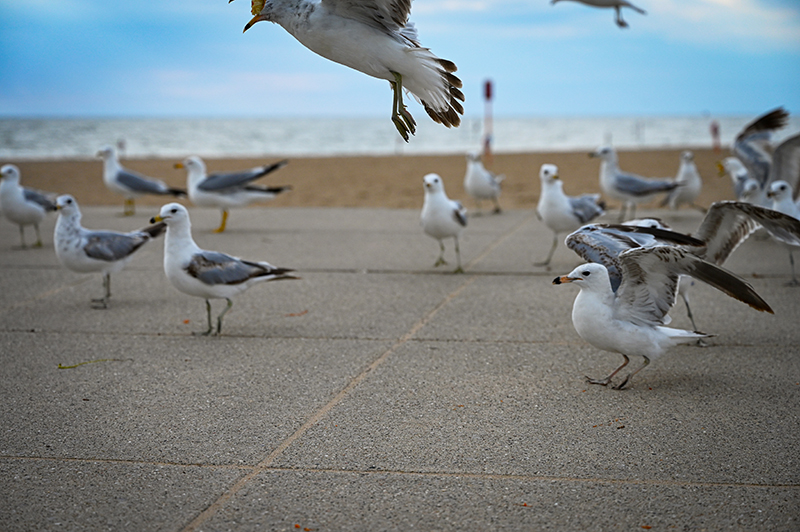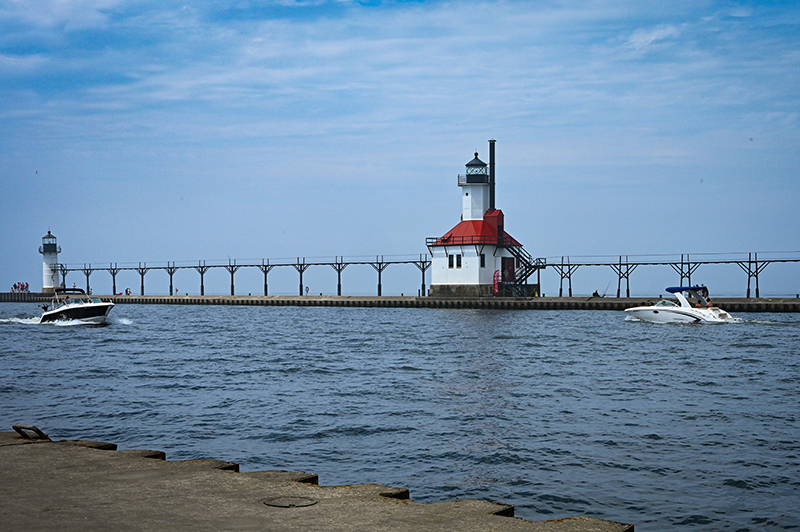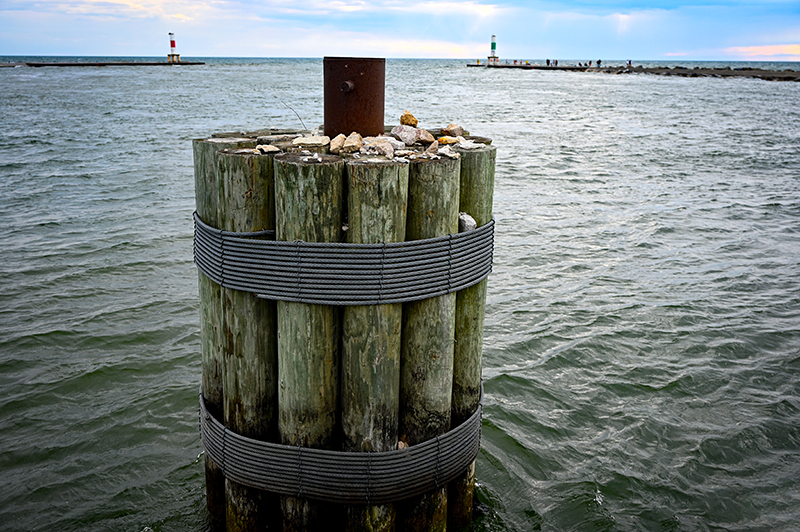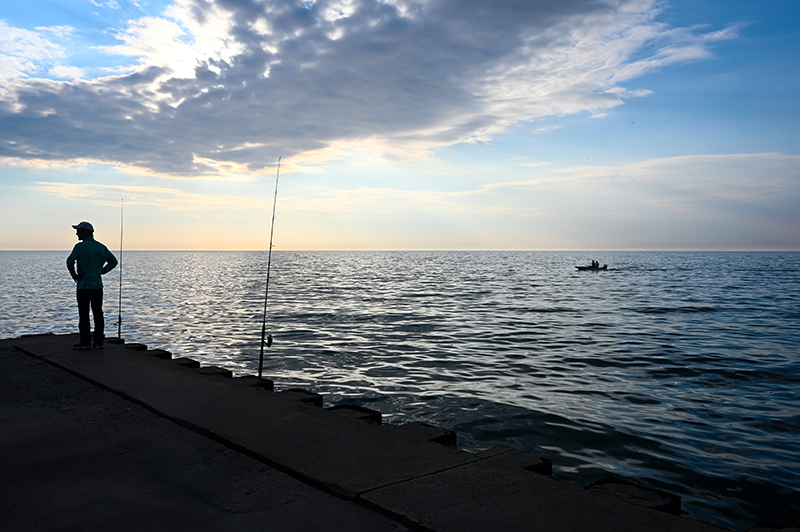 Overall, I liked the little town of South Haven best. It was small, quaint, and friendly. And picturesque.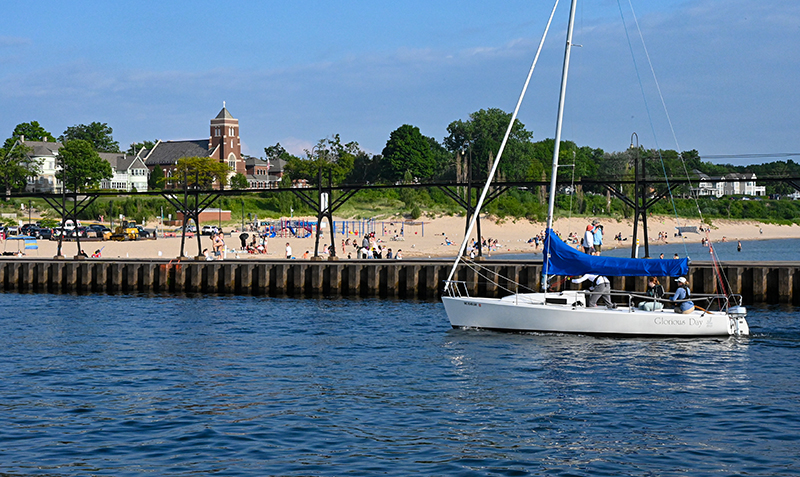 But camping on the beach at Grand Haven was also pretty darn good. Toes in the sand right off the back of the RV.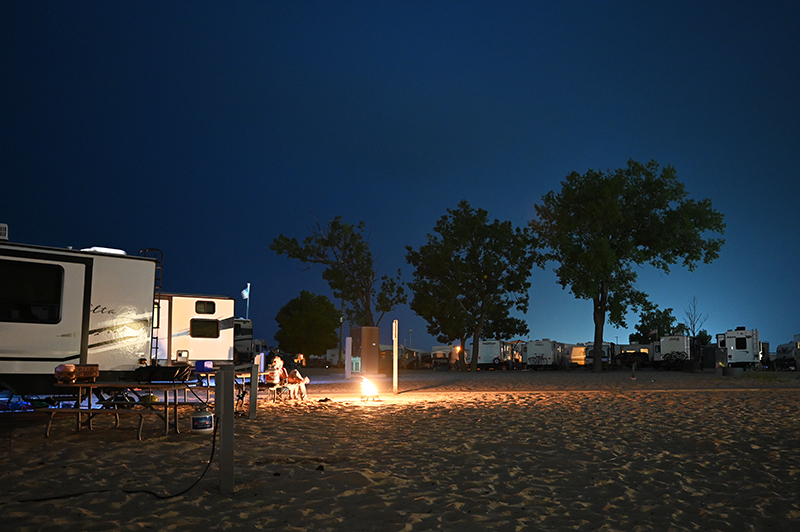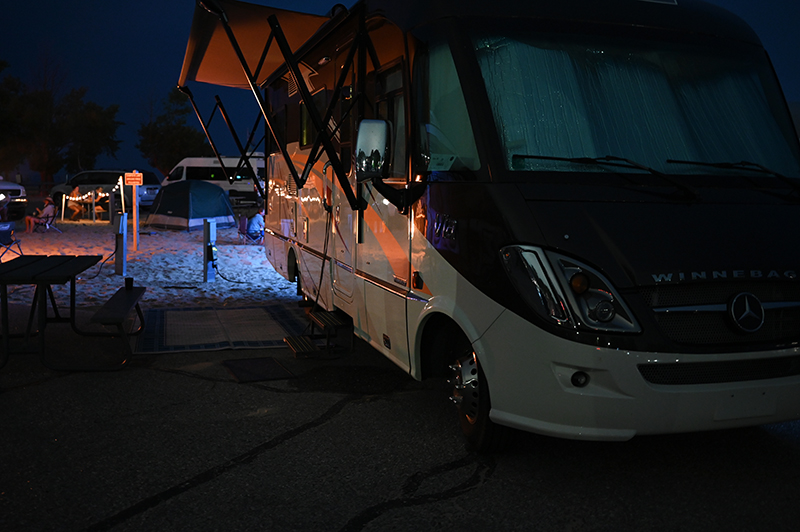 I hope you get a chance to explore Lake Michigan. I know I'll be back.
No Salt! No Sharks!