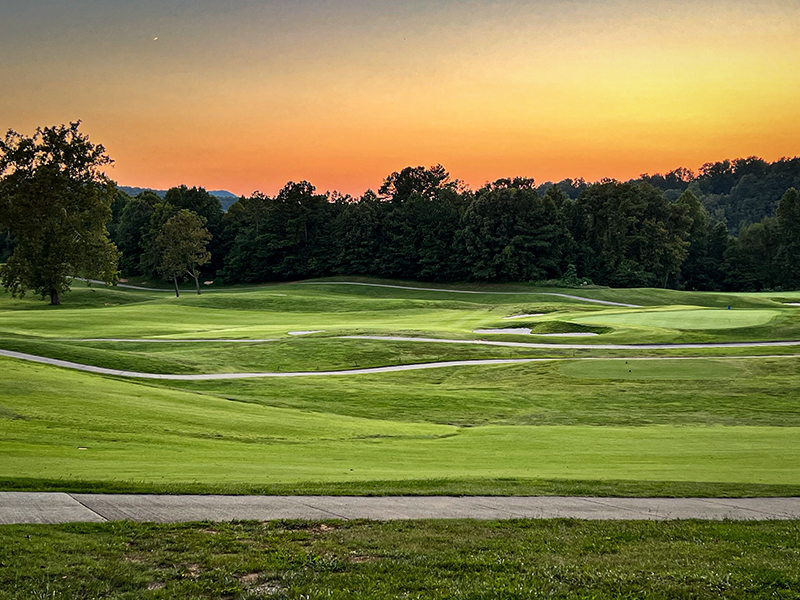 We traveled south to enjoy Lake Cumberland and attend the Kingsford BBQ Festival. None of that happened.
The plan was to stay at General Burnside State Park and ride our bicycles into town for the BBQ festival. But we found a flat tire on Tim's bike upon arrival. He patched it up with whatever glue we had on hand, and then had to wait overnight for the glue to set.
Burnside State Park is on an island. The campground is on one end, a boat launch on the other, and a golf course in the middle. I took my bike around the park looking for access to the water, but found only a lone overlook high on the cliffs. The boat dock was crammed with a couple hundred folks trying to launch their boats into the lake – too busy and dangerous to hang around there very long!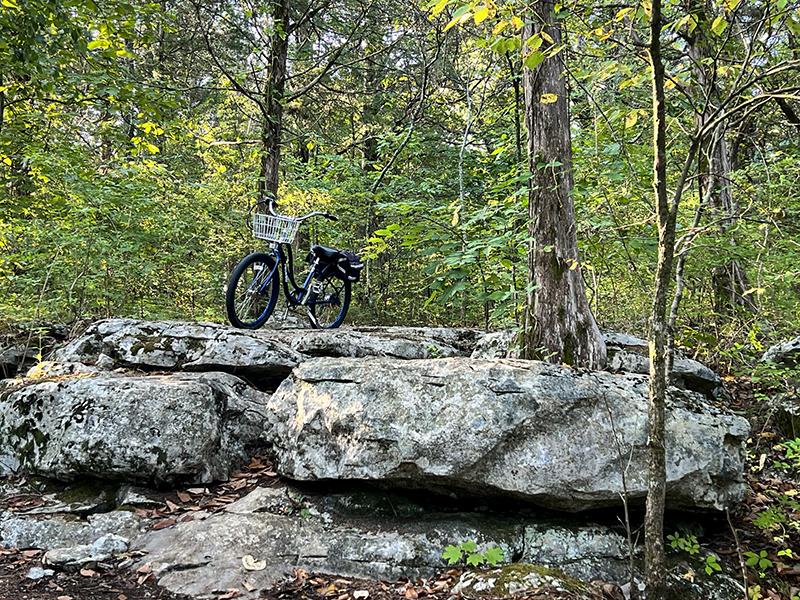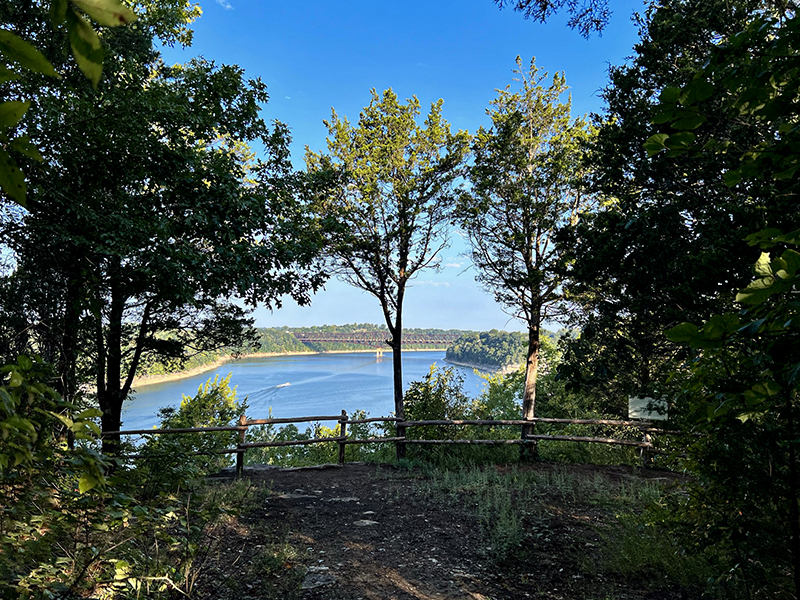 We had our own BBQ at the campground that night. Not too exciting, but hey, we ate.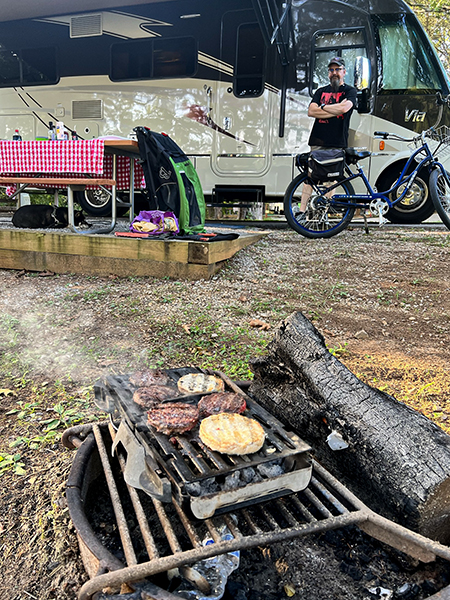 The next day Tim tried to inflate the patched tire. It exploded in his face with a terrific bang that sent me and the dog running for cover.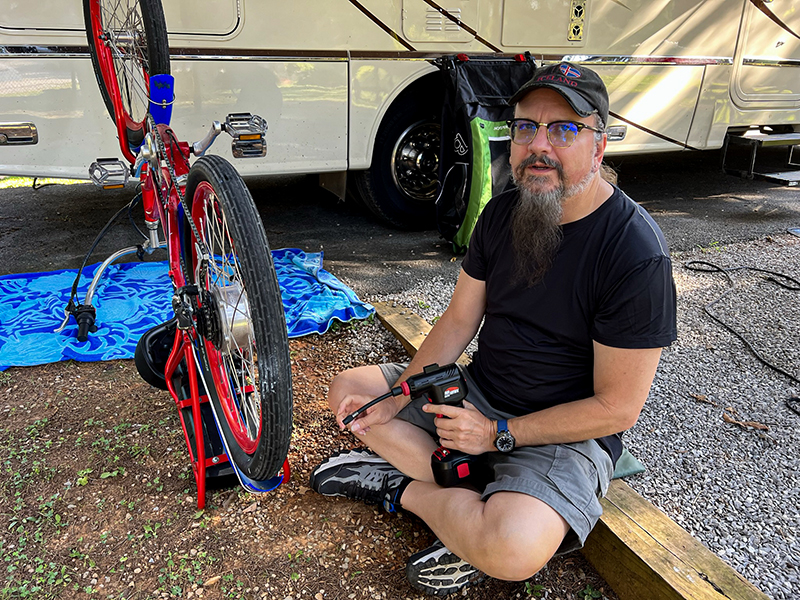 Stuck without transportation for half our party, the weekend started to look like a bust. I scrambled around, found a rental car place, and begged a ride into town from a fellow camper who took pity on our situation. I got to the car rental place right before they closed. Holiday rates applied, which tripled the cost of the car. Drove back to the campground, threw the flat tire in the trunk and headed to a bike shop, again, right before they closed. The bicycle guy knew what he was doing and had us fixed up in a flying minute.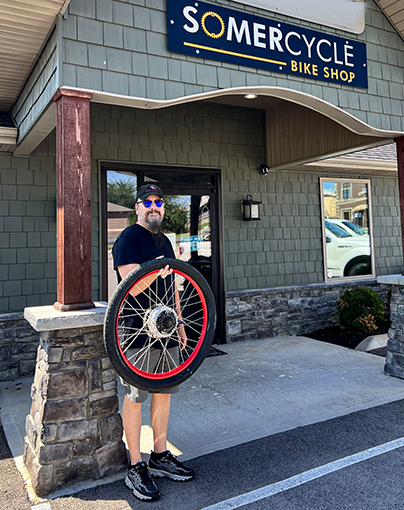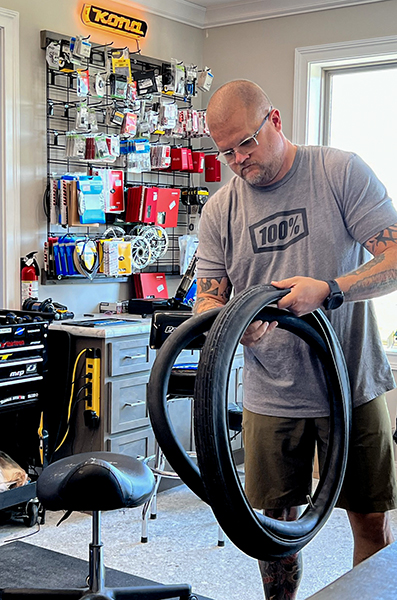 The afternoon was about gone by the time we finished up at the bike shop, and neither one of us wanted to walk around a festival in weather that suddenly turned oppressively hot and sticky. We landed at Guthrie's Grille, possibly the only place in town that has a slim view of the lake.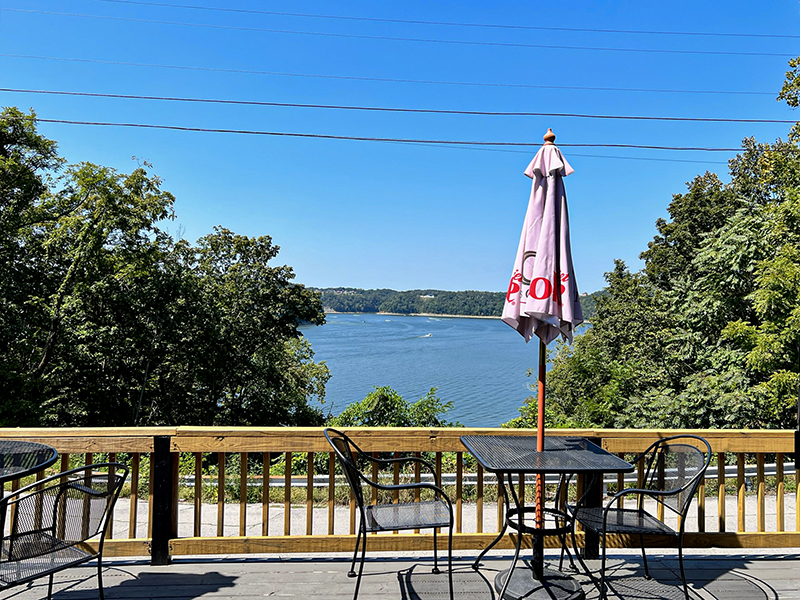 Had a lovely meal until I discovered the center diamond had dropped out of my ring. Good grief. It could have been lost anywhere! As I sat there stunned, not knowing whether to laugh or cry, I spotted the diamond between Tim's feet, a millimeter from slipping through the deck boards. "Don't twitch a muscle," I said breathlessly. He plucked it from the floor with the steady practiced hands of a jeweler.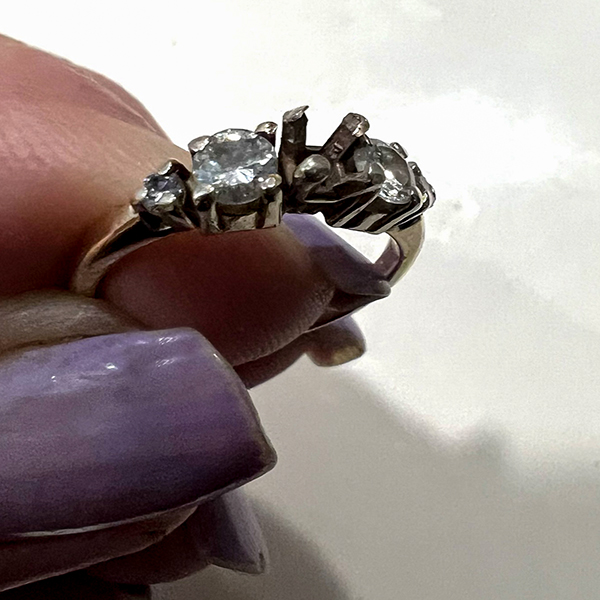 A fireworks show, Thunder Over Burnside, was scheduled that night. But there was no room at the waterfront to park. Boat trailers were parked triple wide on every shoulder of grass. Instead we found a hilltop on the golf course where we could see most of the show. The dog, however, wasn't happy at all when the big booms started.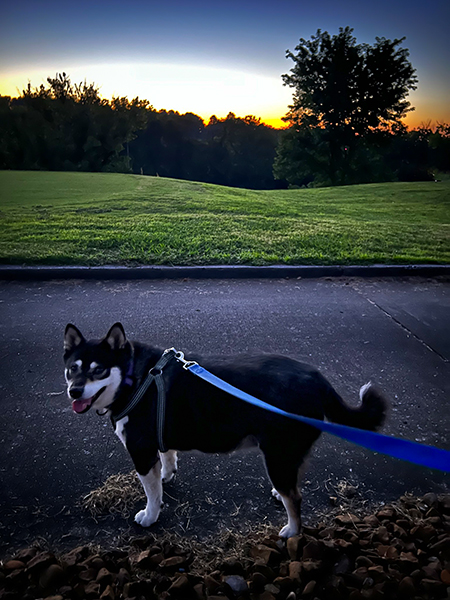 Monday, Labor Day, found us without plans. We'd missed the BBQ festival and there wasn't anywhere to sit and enjoy Lake Cumberland, now filled with pleasure boats noisily zooming in every direction. I checked the map and found Mill Springs Battlefield National Monument nearby.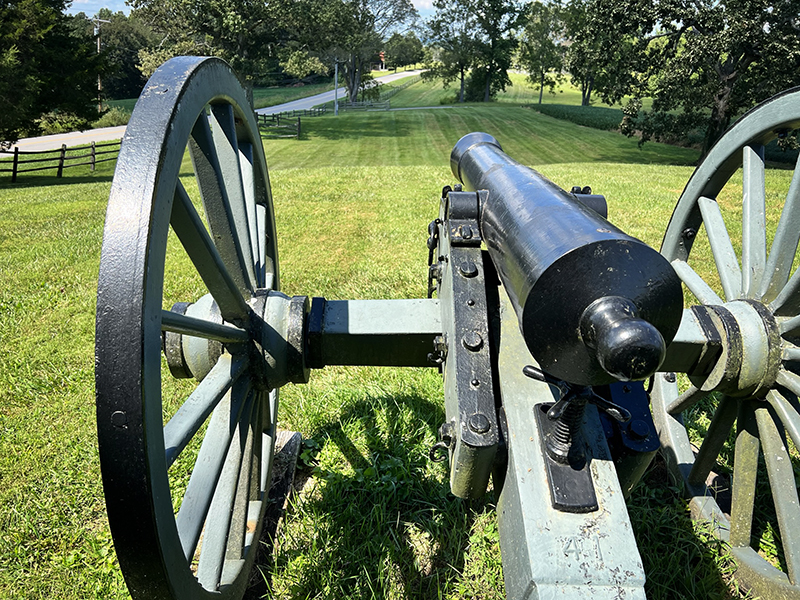 Mill Springs was the site of a decisive Civil War battle, where Union forces scuttled Confederate plans to invade Kentucky. There was a national park museum and a 12 mile self-driving tour around the battlegrounds.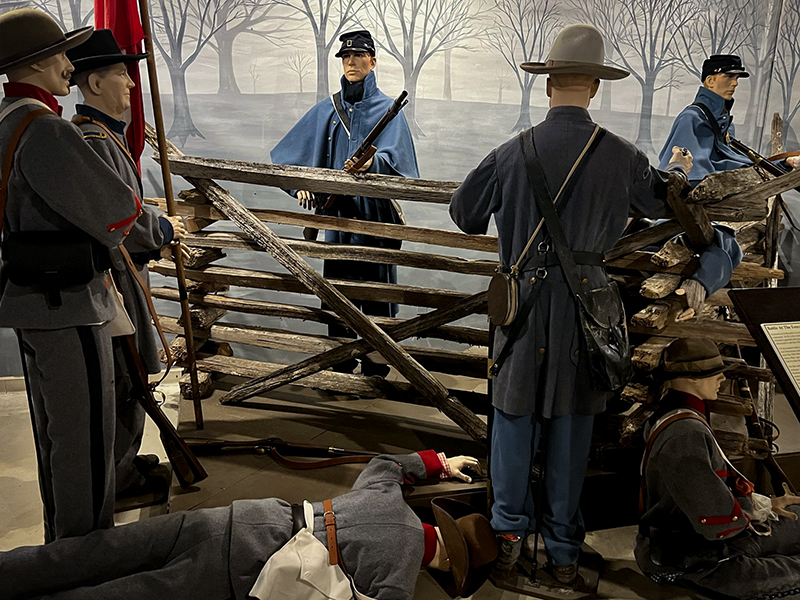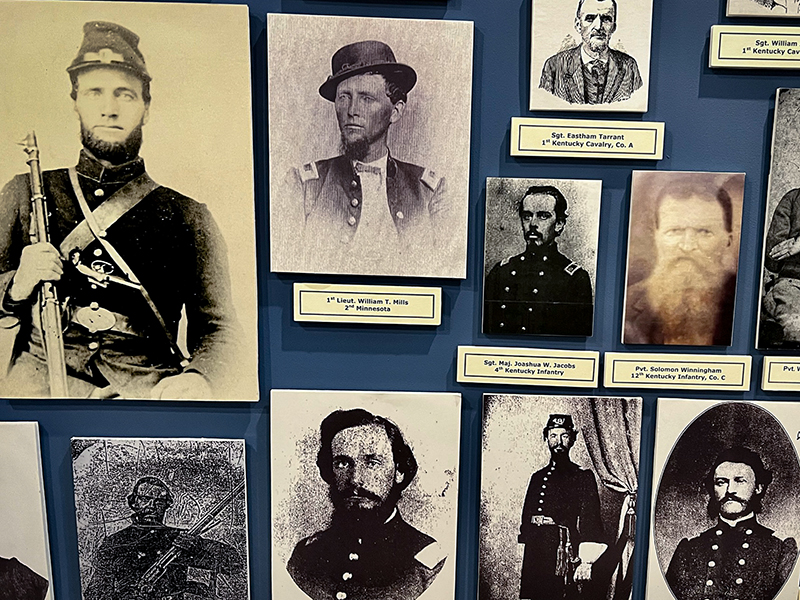 Part of what makes this battlefield so notable is the South lost an important general here. In the confusion of winter mist and thick smoke of cannon fire, CSA General Felix Zollicoffer rode up on horseback to the wrong side of battle and shouted orders at a stunned line of Union troops. They shot him immediately, and a monument is placed where his officers laid him under an oak tree to die. Thus began the Confederate retreat out of Kentucky.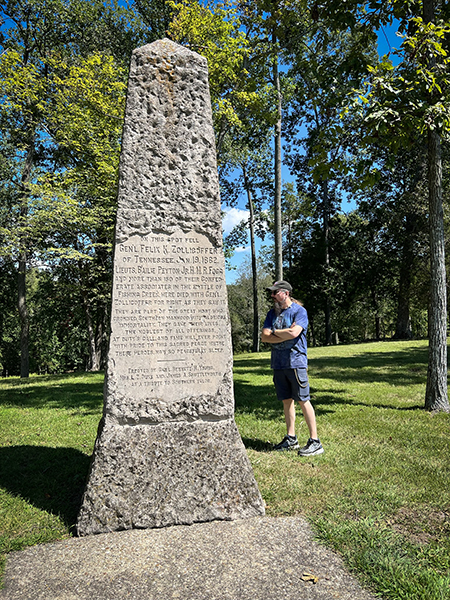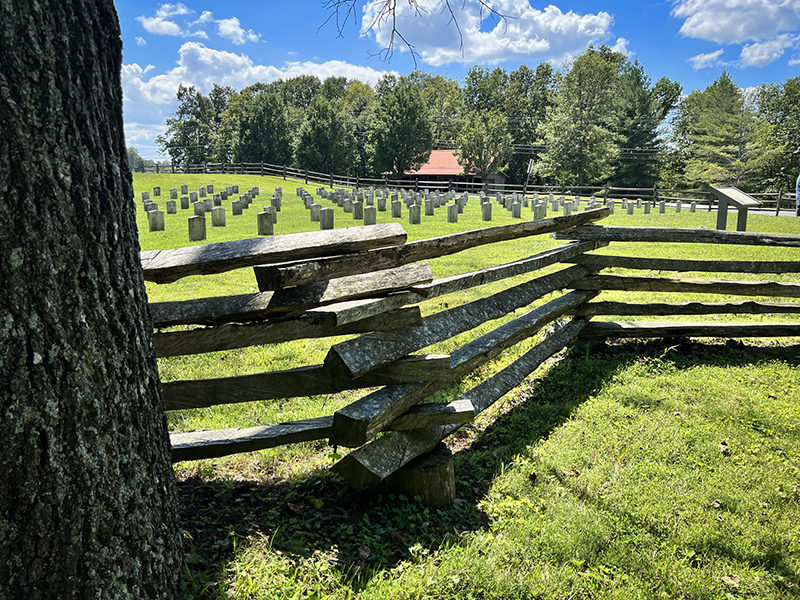 The Confederates were pushed back to a ferry crossing over Lake Cumberland, and escaped during the night. And here, at what's left of that ferry landing, is where the driving tour ended.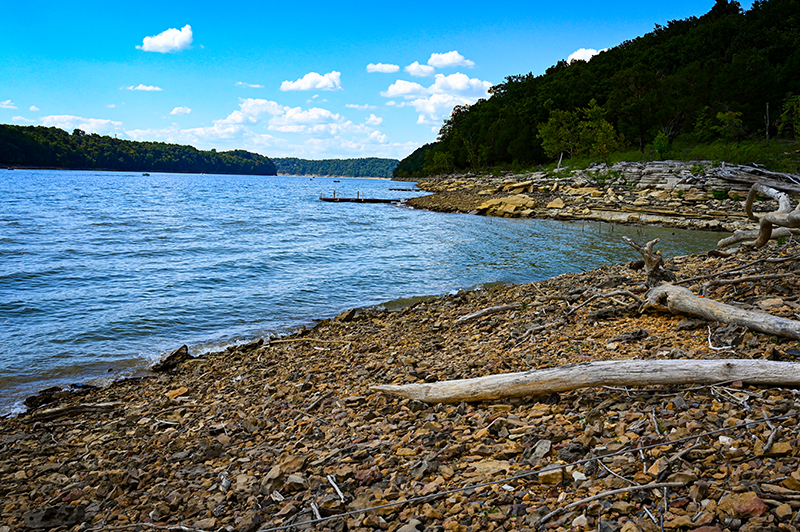 On a happier note, we ended the holiday weekend at the splendid Haney's Farm roadside attraction. They offered a frozen apple cider drink that was possibly the best thing I had all weekend.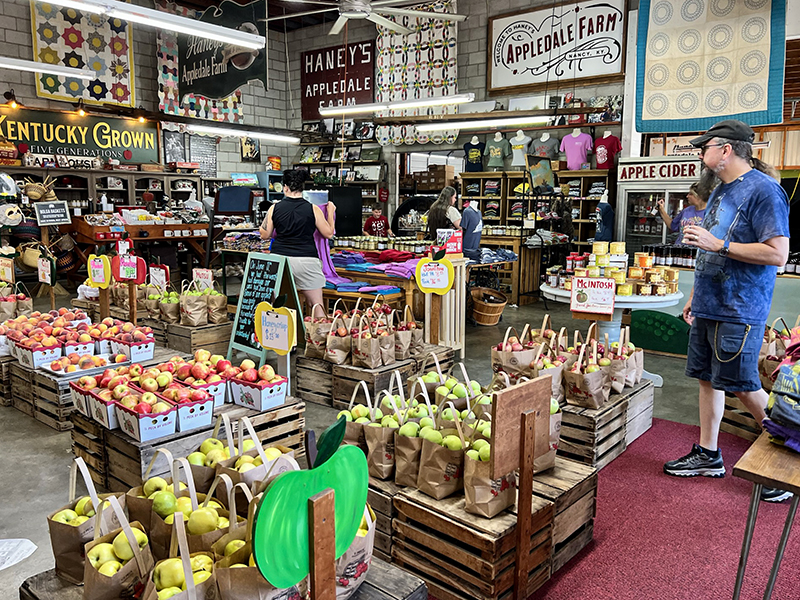 Hope your Labor Day went a little smoother than ours!