They say that getting there is half the fun. But when you hate driving your RV, it's no fun at all.
Go ahead and put us in the Chicken Driver category – we're not embarrassed.  We tried valiantly for three years to get comfortable driving a Class A gasser, but it never happened.
Our Thor Ace was only 30 feet long, which is considered "entry level" in the Class A Motorhome world. And really, it wasn't the length that ever bothered me. It was the high center of gravity that made the Ace pitch and roll uncontrollably.
I'll say that Thor makes a fine product just so we don't get sued, but really the Ace has some drivability issues. Even after we added expensive after-market stabilizers, the thing was a booger to keep on the road. You had to hold a death grip on the wheel to keep it from rocking and rolling. It got to the point where I'd get a stress headache as soon as the engine started and there's a permanent knot between my shoulders from driving this beast.
But did I mention that Thor makes a fine product? Actually, the coach was great once we got to a destination and parked. But driving it anywhere was a big buzz kill. And we drive the RV a lot.
We've owned several RVs on different chassis types trying to find the perfect combination of form and function. Our two Coach House models were on the Ford E Series chassis, and we'd probably still own the last one if it didn't have that pesky tire blow-out issue. 
The Thor Ace was on a Ford F53 chassis, which was a quieter ride, but it yawed and pitched terribly on any uneven or curvy road. I think they got the height ratio wrong on that model because nothing would stop it from bobbing side to side like a boat on a stormy sea.
Which led us to our latest purchase – a Winnebago Via. It's built on the Mercedes Sprinter chassis and she's a nimble and peppy ride. Just like driving a big car. I can actually relax behind the wheel now instead of having chest pains at the turn of every corner. 
The Winnebago Via is a smaller motorhome but a big upgrade in quality from the Thor Ace. The Via's cabinets and furniture are first quality and Winnebago has designed all the water and electric systems to be simple and convenient to operate. It's a refreshing change from the cheaply made Thor, which, in case their lawyers are listening, is a fine product.
We had to give up some living space to downsize to the Via, and divest a few extra possessions, but so far it's been well worth the trade. All that extra stuff we hauled around wasn't used much anyway. I doubt we'll miss that third barbecue grill or the set of giant hair curlers.
We drove all the way up to Iowa to buy the coach. There was a small window of good weather right before Christmas and I'd done all the trade-in negotiations over the phone. So we drove Old Roll-y up to Winnebago County, Iowa and made the trade.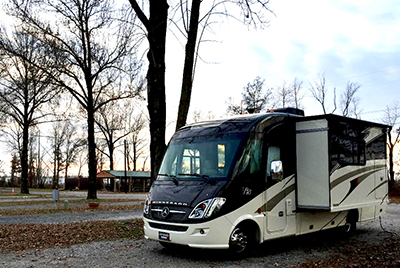 In the last couple of weeks we've put about 1200 miles on our Via and every mile was a pleasure to drive. It's a wonderful feeling to arrive relaxed and fresh after a whole day on the road. None of my fingernails are gnawed down and that knot between my shoulders is gone. The coach is cozy and comfortable to live in, and we're pretty happy about going back to a smaller RV.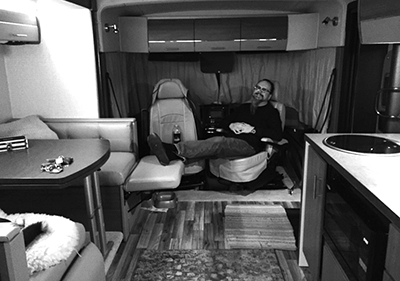 So the moral of this story is to buy what suits you. Drive whatever size RV you're comfortable with. Tow the easiest trailer.  Don't worry about downsizing if it means it will handle better on the road. 
Because it's not the destination. It's the journey.