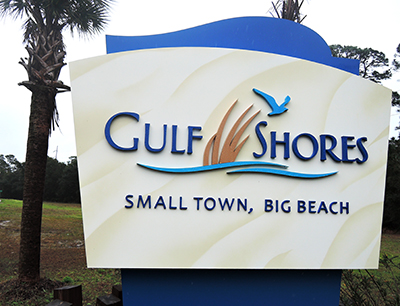 Gulf Shores, Alabama
View Map
It's February, so that means it's time to escape to the beach! This was our first visit to Gulf Shores and it was a great choice for a winter getaway. Their motto is Small Town, Big Beach and that really sums it up. Gulf Shores is the right size town with not a lot of traffic or crowds, especially in the off-season. But there's plenty to see and do here.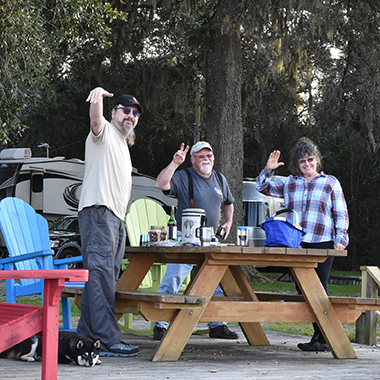 As in past years, we traveled with our cousins Mark and Wanda and found a sweet little campground on the peninsula. Bay Breeze RV Park has only a couple dozen sites and folks usually stay here for the whole season. Live oak trees draped with Spanish moss decorate the main courtyard which opens to a lovely view of Mobile Bay. The regular group of campers were welcoming and generous to us interlopers on their little haven. Fresh baked coffee cake was delivered to our door and Coco had a dog biscuit waiting on the step every morning. Early evenings were spent around the campfire in the courtyard and Tim entertained with his guitar to appreciative applause.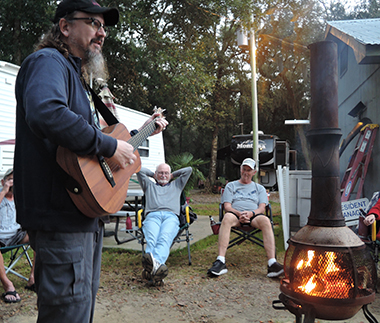 Bay Breeze campground has a long pier and big viewing deck – an excellent lounging spot to watch the water. Sunsets on the pier were a good way to wind down at dusk.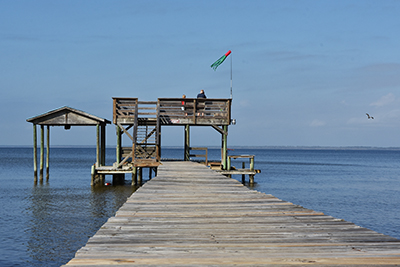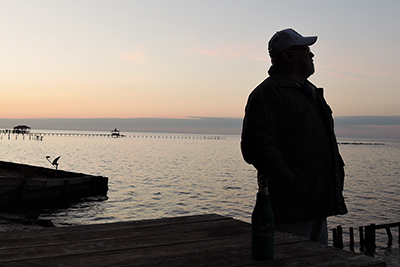 The beach at Gulf Shores is every bit as pretty as the Florida Panhandle with its sugar-white sand and easy rolling waves. We caught a few sunny days and a few rainy ones. I found a dog-friendly beach near Fort Morgan where Coco and I spent an hour or so every morning.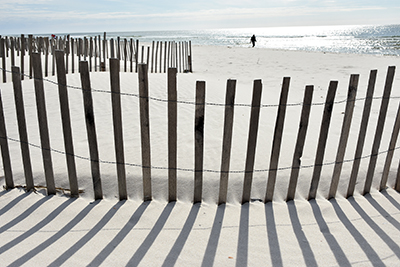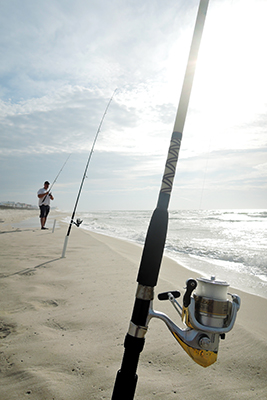 At the far end of the peninsula from our camp was Fort Morgan. This fort protected Mobile Bay for about 100 years, starting with the War of 1812, all the way through to WWI. Cannons were mounted on the top of arched batteries to fire at enemy ships entering the bay. In modern times the projectiles weighed over 1000 lbs. and could be lobbed eight miles away.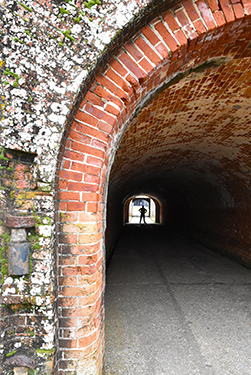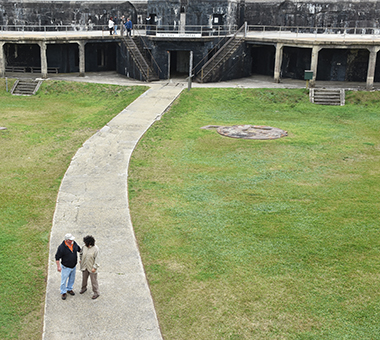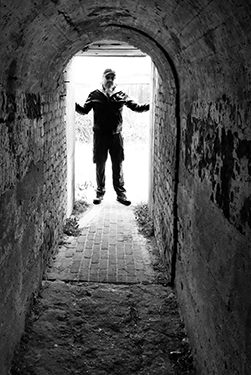 Mobile Bay has a surprising number of oil drilling platforms and they're quite close to shore. I got a good look at the oil rigs from the ferry to Dauphin Island. They're pretty impressive even from a distance. So next time you're at a Mobil gas station think of Mobile Bay on the gulf.
The rest of Golf Shores is a mix of pretty beach houses and cool little shops. This isn't the big glitzy shopping destination like Destin, but more of a homey feel with great local restaurants on every little block.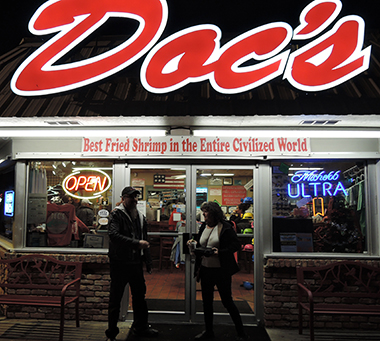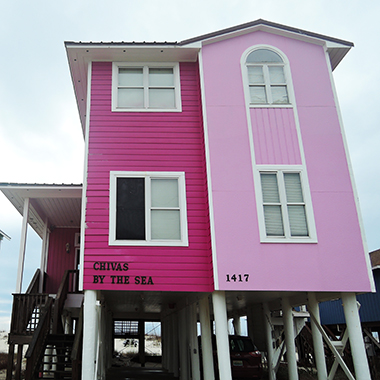 Much of Gulf Shore's beach is state park land. About 2-1/2 miles of prime beachfront property is still undeveloped and pristine thanks to the protection of Gulf Shores State Park. For a small charge we walked the park's pier one afternoon when it was warm and almost sunny.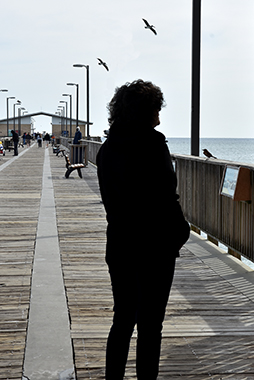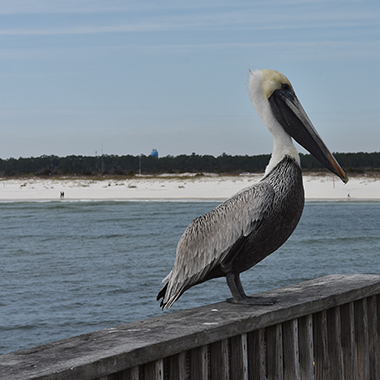 There's a long promenade along the shoreline in the center of Gulf Shores. It was a good stroll and we stopped for lunch at the venerable beachside restaurant, The Pink Pony, which prides itself on surviving every hurricane since 1956.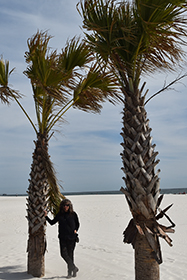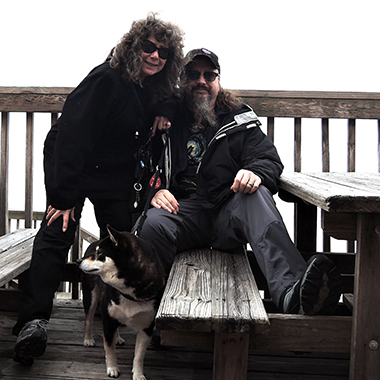 We sure liked the small town feel of Gulf Shores and it will be worth another visit to explore the area again. See ya next winter!