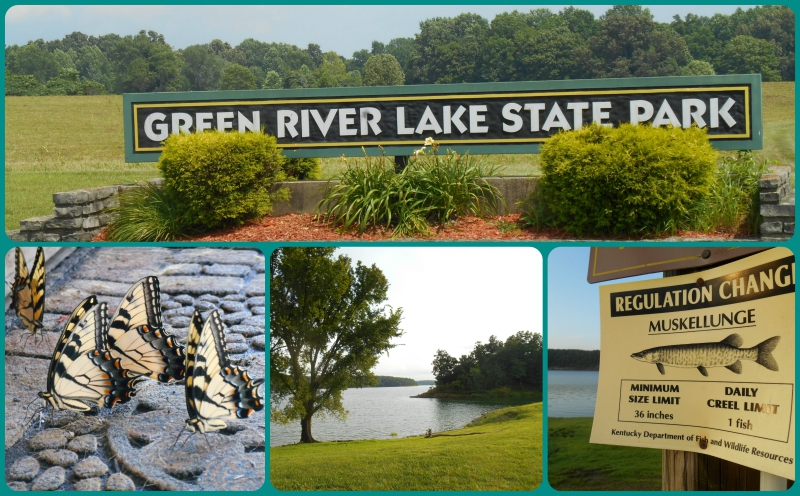 Green River Lake State Park
Campbellsville, KY
View Map
We settled into Green River Lake State Park for a few days hoping to enjoy some time floating in the water. However, we encountered a few challenges along the way.
There was a kerfuffle when we arrived. Someone was squatting in our lake-view site (for which I paid extra). They were told by Park Officials to vacate in the morning, but Mr. I-Don't-Care Redneck opted to jump in his truck and head into town for the afternoon to rotate his tires at Walmart, have lunch, and probably down a few more beers. He left his young wife and kids behind to deal with me sniping at them to move out of our space. It was a four-hour delay, chewing up the best part of the afternoon and cutting off any hope of floating in the lake that day. Just rude, dude.
Early evening found us finally set up in our campsite, just in time to hunker down as the tail of a humongous storm, stretching from the Great Lakes to Memphis, whacked us with monsoon rain, hail, and dire tornado warnings screaming from all channels. I thought the storm was rather thrilling but Tim was nervously searching for the closest tornado shelter.
A day later the weather improved long enough for us to cruise around the state park in the afternoon. We found the dam and tail waters that form this large lake and a surprisingly good nature museum at the Corps of Engineers main office. The nearby marina is quite large, with many swanky pontoon boats moored under cover, and it also offers floating cabin rentals for a hefty cost.

The rains returned again for a second evening, turning the sky a wicked orange color with dark, looming clouds. It's been a summer of record rain, and while we were there Green River Lake swelled to flood stage and jumped its banks. The campground was already soggy and muddy, and then a few campsites disappeared under water along with the designated swimming beach – making it far too dangerous to attempt a dip.
So we hung out at our campsite with the lovely view for another day. And then the crowds arrived with their motor scooters, dogs, boats, jet skis, and smoky fires. Sigh. It was time to leave. Never did get that relaxing float in the water.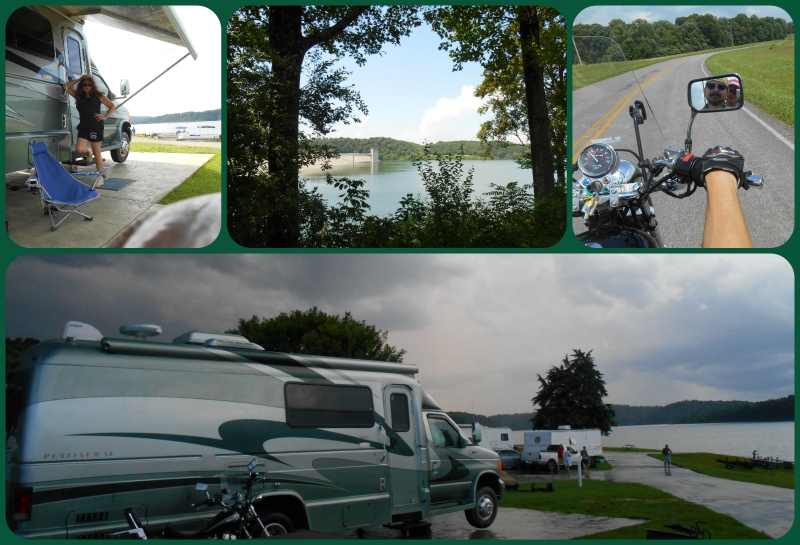 – – – – –
The Rant
On the off chance any State Engineers are listening, here's some suggestions for planning a campground at a state park…
The most popular campers and trailers are 35′ long or bigger. Don't make the parking pads only 20′ long.

RVs come with slide-outs, which means they extend 4′ on both sides. Don't make the sites only 8′ wide.

Most trailers are hauled by huge pickup trucks. Don't cram campsites so close together that there's no room to maneuver a vehicle. Or park it.
I've got plenty more suggestions, Mr. Engineer, so feel free to check in with me. Or better yet, grab your buddy's big honking 5th wheel trailer and his giant-ass diesel truck and try camping at the nearest State Park. You'll see.