Lake George, NY
View Map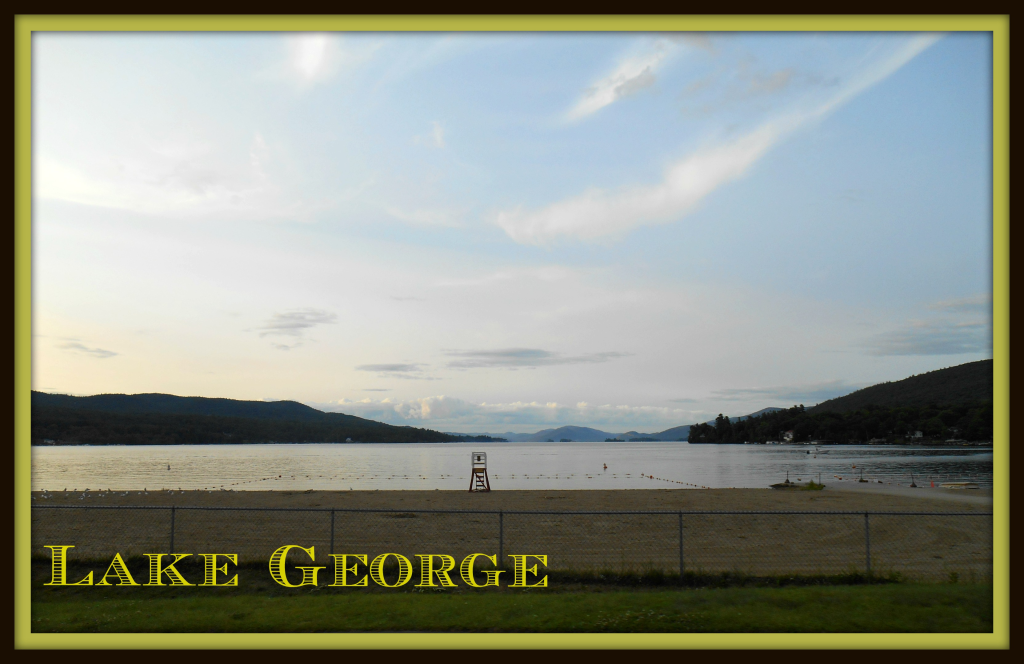 We have been climbing through the mountains this vacation – the hill country south of Pittsburgh, the Alleghenies, the Poconos, and now we are settled in the Adirondacks. 
The drive has been more strenuous than usual, given all these mountains to chug up and then freefall down. And being summer, all manner of road construction is underway. So much attention must be paid to the road and tight grip kept on the steering wheel, which makes us a bit worn out at the end of the day. 
We've landed at King Phillips RV Resort in Lake George, NY and made a cozy camp. The awning is out and a comfy patio has been outfitted with rug, chairs, table, and tiny solar lamp. Our mascot, Wendell the Chain-Saw Carved Bear rests alongside, and the hammock is strung between two towering elm trees. Our campsite is outfitted with water, electricity, cable TV, and a sewer hook-up, which we are finally taking full advantage of after 5 years of carrying around a "donut" fixture that connects the sewer hose to the inlet.
This resort campground is an interesting mixture of transient campers, like us, and seasonal renters who have RV's but with elaborate patios and gardens which are showy evidence that the owners return here year after year. We've seen this type of New York lake park before in Chautauqua, and it still charms.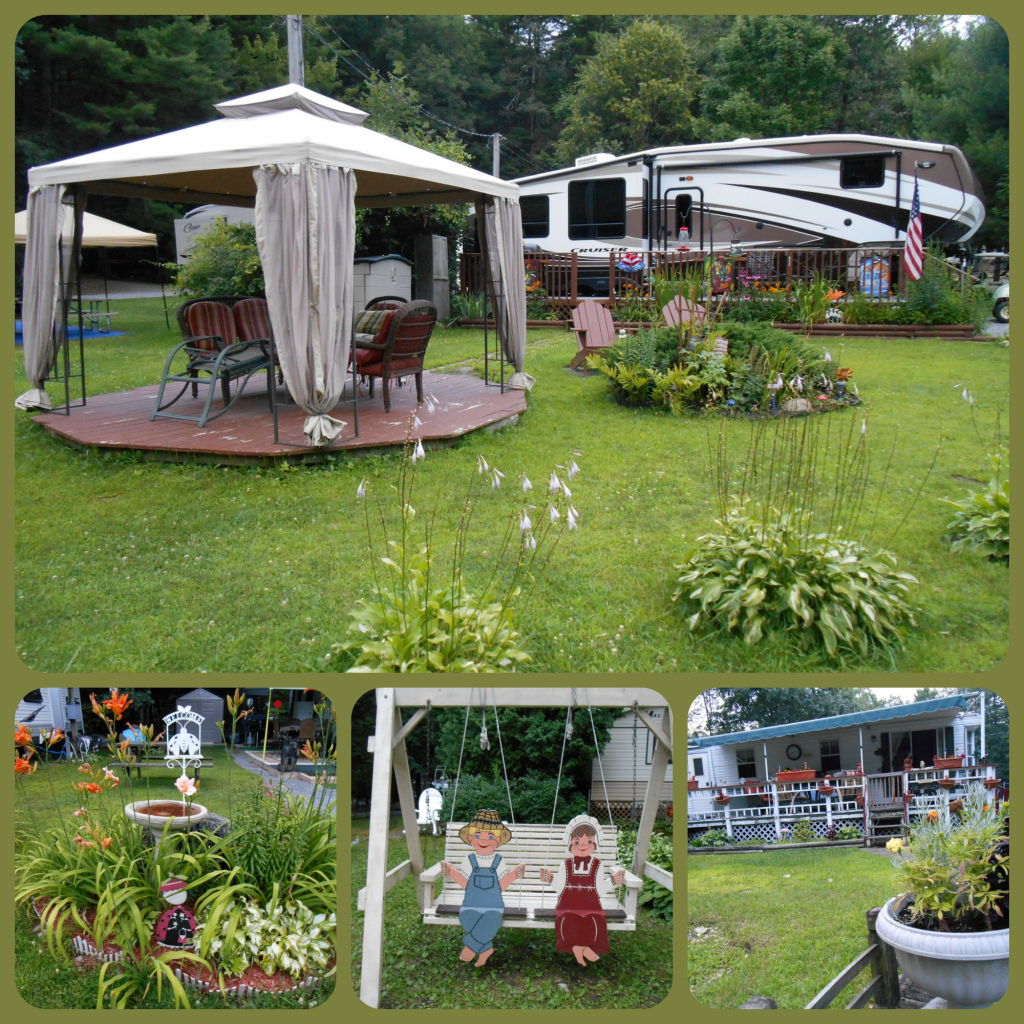 Tonight we hopped on the motorcycle and cruised the main drag on Route 9 to the Prospect Diner for a great dinner that I didn't have to cook. The short drive required a sweater plus jacket and gloves as it's been unseasonably cool this week – something I won't grumble about too much after escaping the humidity and heat of the Ohio Valley.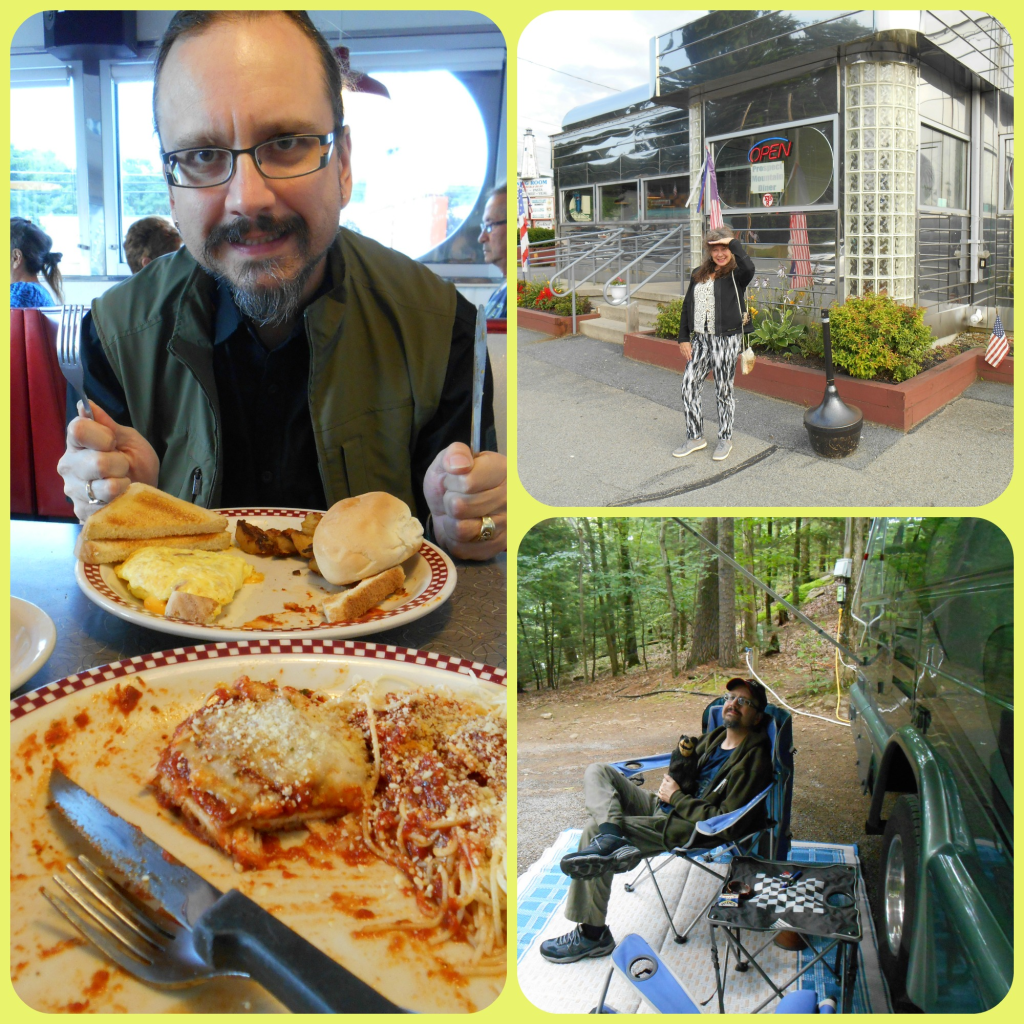 Our campground is located on Bloody Pond Road (ewww!). Heading back from dinner we drove past the camp to find out if there really is a bloody and haunted pond. Instead we found a lucky shortcut to Lake George and the main shopping district. We'll take this route tomorrow to explore the downtown area.