It's a time honored tradition – the Derby Party. So we went to the track to celebrate. But not at Churchill Downs and not in Louisville. 
Over in Lexington the crowds are just as enthusiastic. This is the horse capitol of the world after all, and the racetrack at Keeneland is a crown jewel. The horses don't run at Keeneland on Derby Day, but it's a big party at the track with simulcast betting and Jumbotron broadcasts of all the races at Churchill. Plus you get the run of the place all day long – the box seats and grandstands are wide open.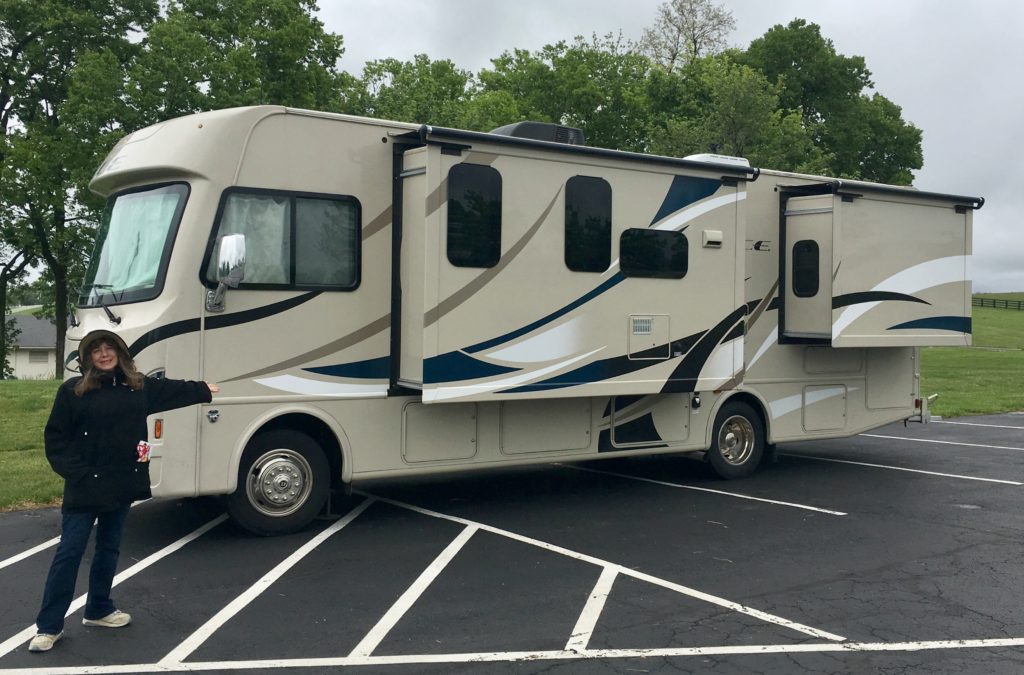 Keeneland has a special parking lot reserved for RVs. Come on in and set up camp right next to the horse stables. Services aren't provided, you've got to bring your own power and water, but there's no cost and it's hassle free. Mighty nice of them to offer this space.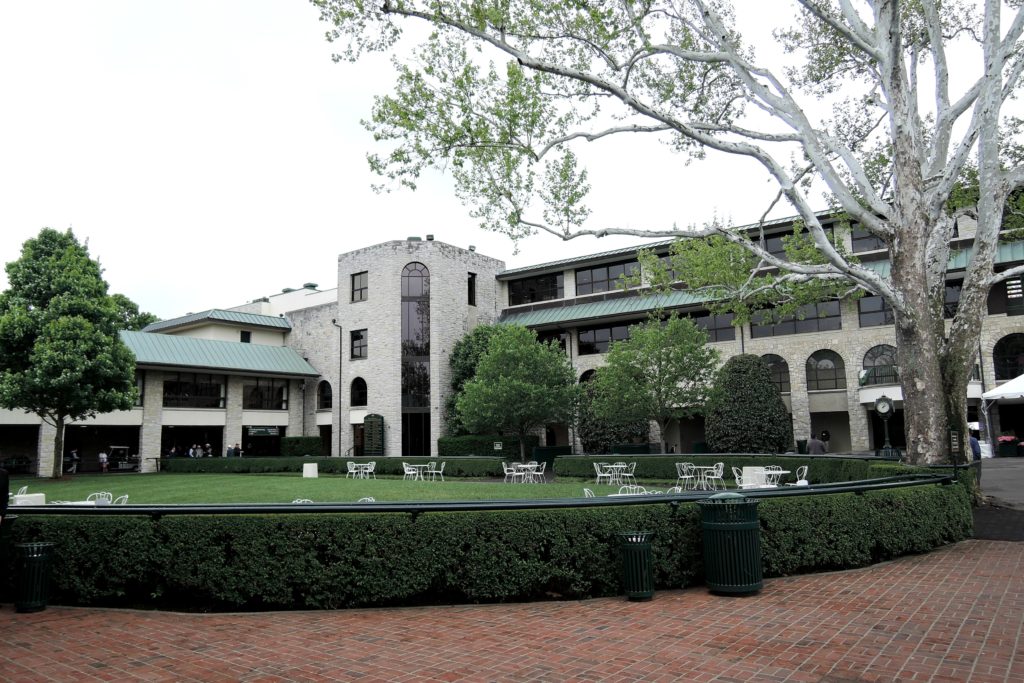 We arrived on Friday, Oaks Day, and the weather was frigid, rainy, and damp. That kept a lot of folks at home. We made a few losing bets and then spent the rest of the afternoon huddled in the coach with the furnace blasting.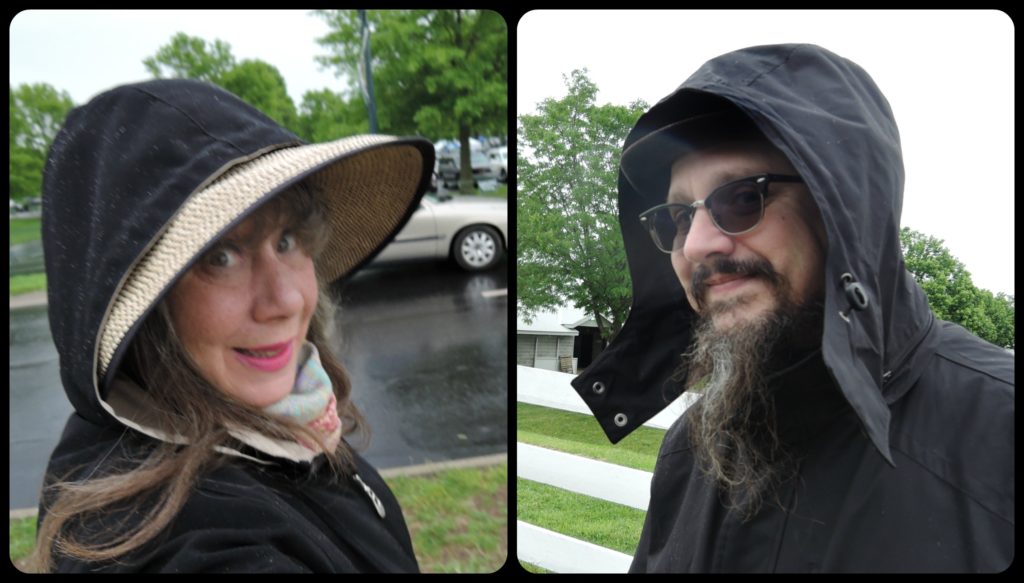 Our friends Mike & Kelly picked us up in the evening for dinner at Pepper Distillery. This was an old whiskey-making complex that has been reconditioned into a hip hangout with restaurants, bars, and a hand-made ice cream salon. I'd love to come back in better weather.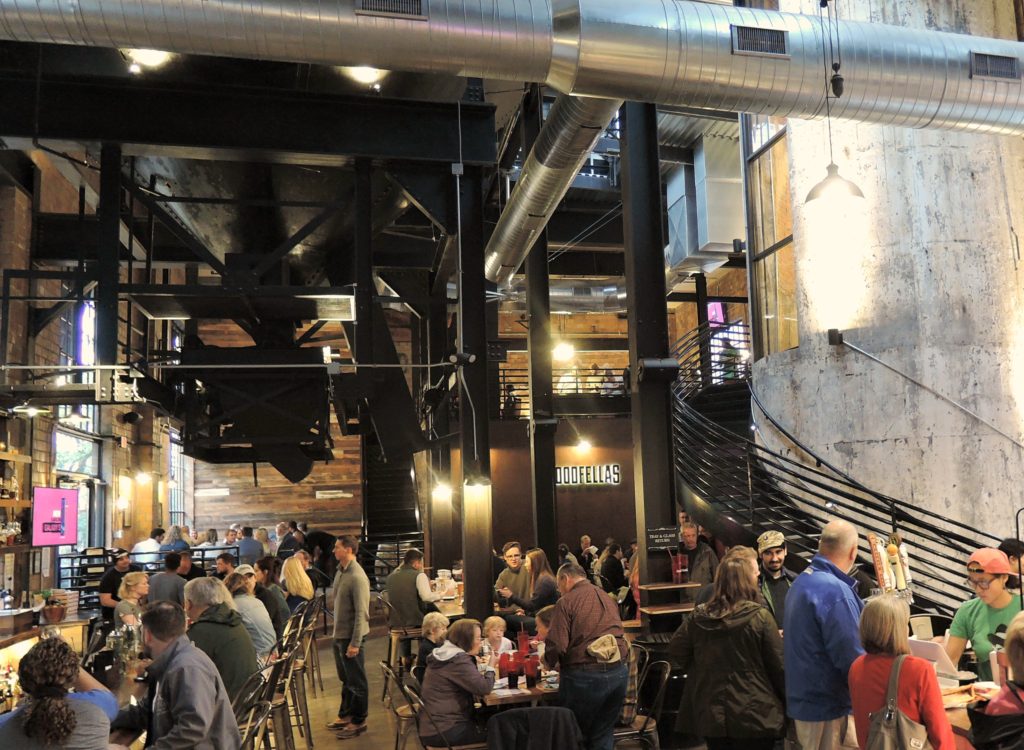 Early Saturday morning, Derby Day, the sun was shining for a brief time. This was the magic hour when trainers were out exercising their horses. It was pretty cool to see a hundred race horses put through their paces. All the riders made a point to shout "Good morning!" as they trotted by.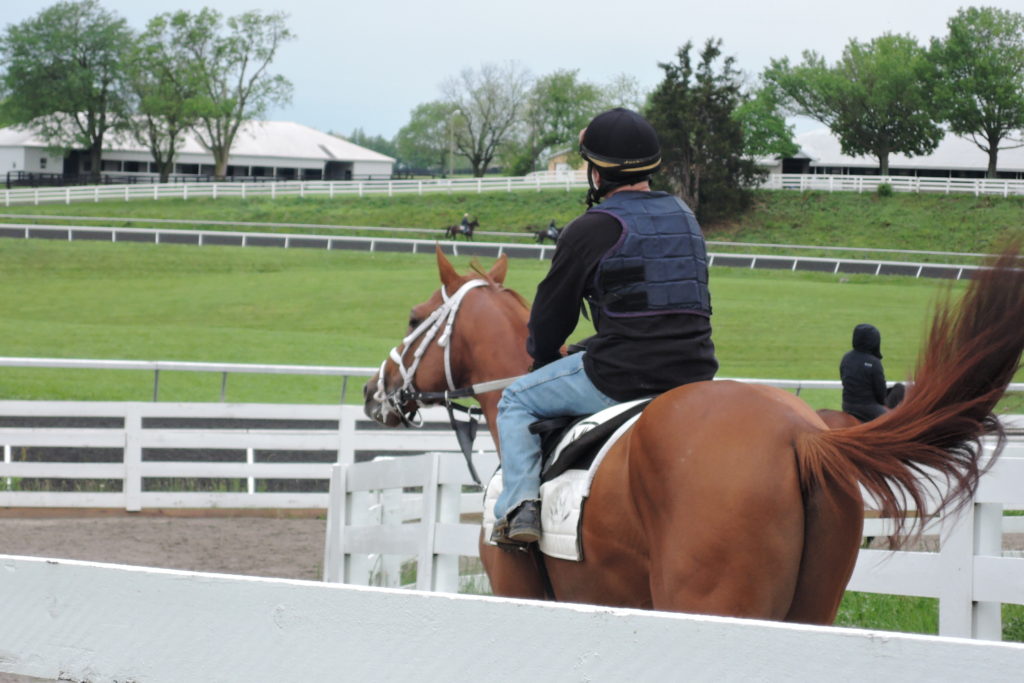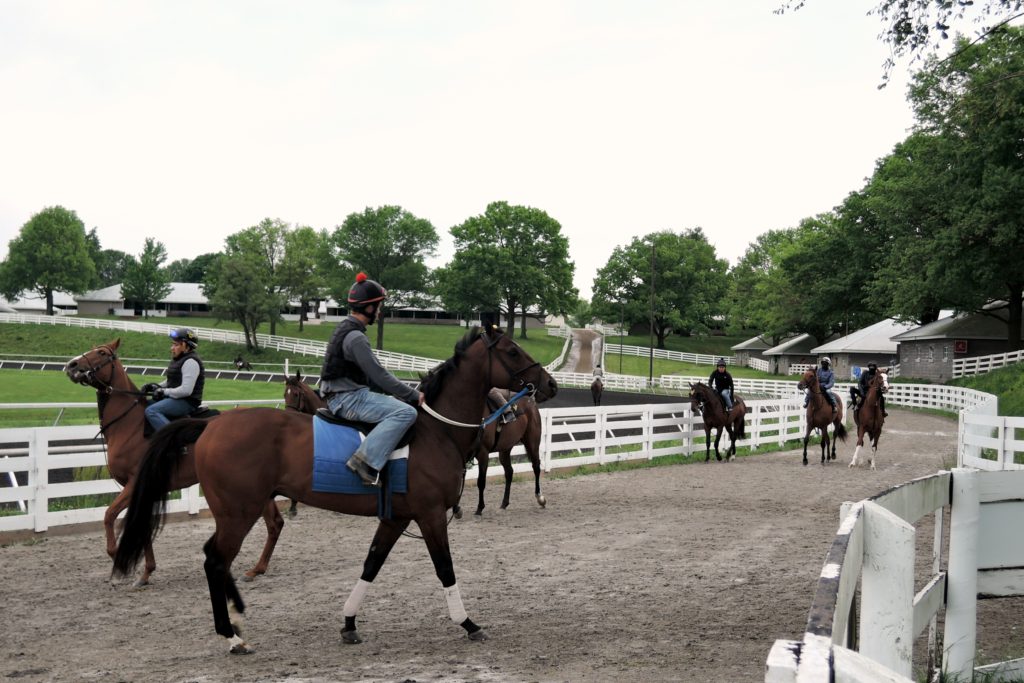 In fact everyone was super friendly this weekend, from the security guards to the hot dog vendors and betting clerks. The rain and chill didn't dampen their spirits at all. 
Showers continued on and off Derby Day. We suited up in our rain gear for the short walk to the track to catch some of the early races. There wasn't much of a crowd in early afternoon, and even the big partiers down in the RV section were laying low. Really, the weather was too awful to hang outside much.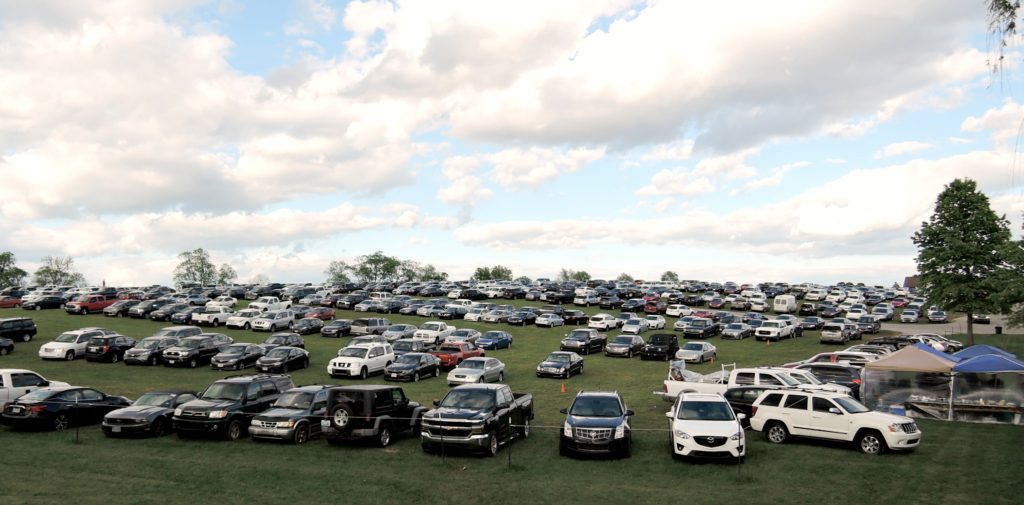 But late in the day the sun finally came out and it warmed to a balmy 58 degrees. That's when the crowd finally arrived. Cars parked in all the grassy knolls, barbecues got fired up, and serious partiers had to make up for lost time by getting drunk right away.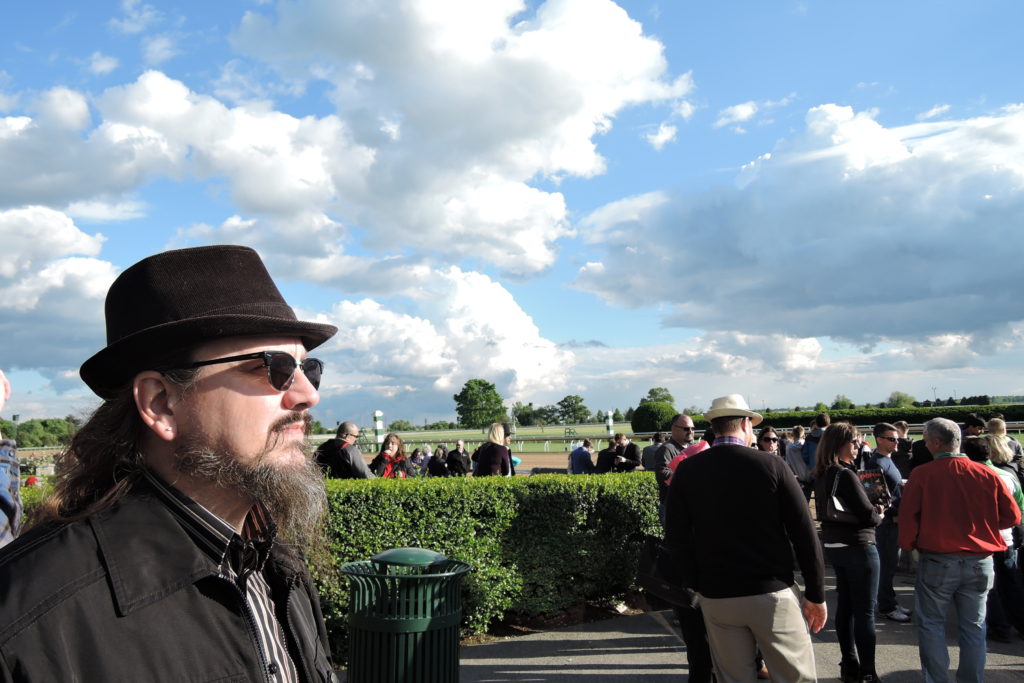 There were a lot of silly women who pretended it was summer and showed up in sundresses and sandals. The rest of us were smug and snug in our warm coats and sensible shoes. To heck with Derby fashion!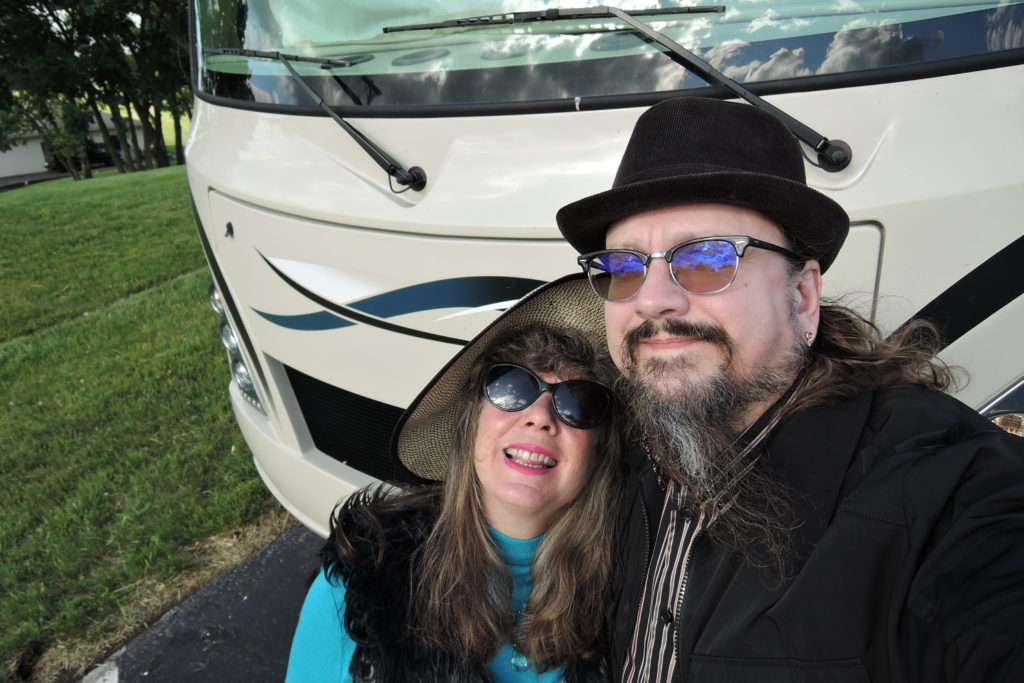 True to form we didn't pick the Derby winner this year, aptly named Always Dreaming. But we did cash tickets for some lucky friends. There will be a small surcharge for this bookie service, ya'll.