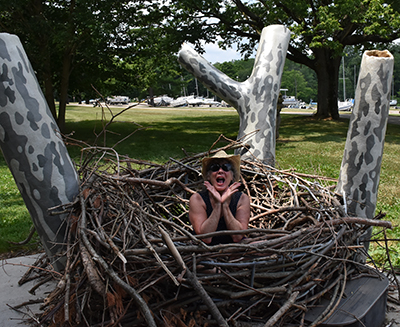 Oxford, Ohio
View Map
What a surprise to find a good place to nest for a couple of days!
We don't judge state parks too harshly – they do the best they can. Many were planned decades before giant RVs became popular, most are sorely underfunded, and we're just happy the land has been dedicated to recreation at all. But Hueston Woods State Park was a delight in every way. We weren't expecting a whole lot, but found a whole lot to do and see here.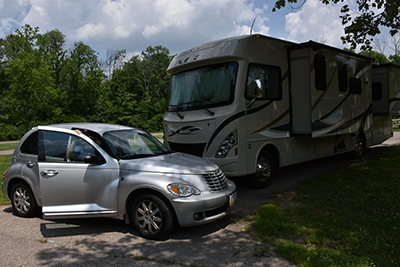 We borrowed mom's cool PT Cruiser for the trip and headed out caravan-style to Hueston Woods. I'm glad we brought the car because this park was huge! Miles of roads ring around Acton Lake and there's plenty of deep forest between each attraction. There's hike, bike, and horse trails, golf and boat rentals, and the splendid lodge on the lake.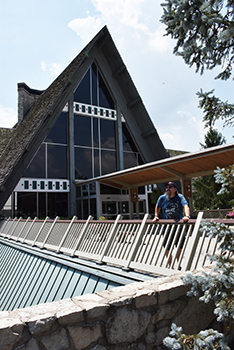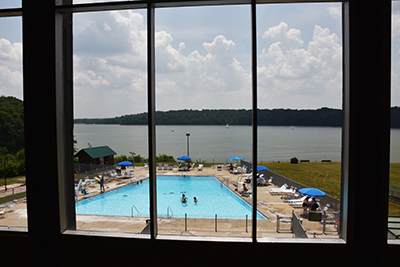 The lodge at Hueston Woods was built in 1967 and shows tender loving care. It's well maintained, sports a great view of the lake, and has a good sit-down restaurant on the lower floor. No mediocre luke-warm buffet here – it was a real restaurant menu of steaks, chops, and chicken. Tim had the pot pie and declared it delicious.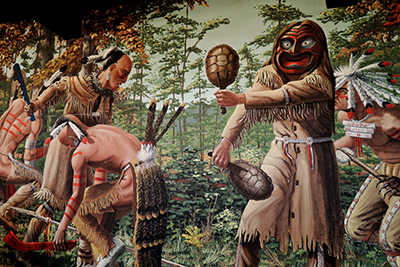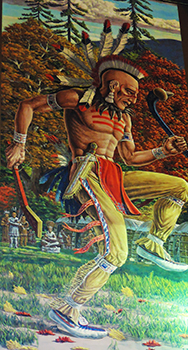 The theme of the lodge is to honor the Miami Indian tribe that once lived on this land. Huge murals were commissioned when it was built and the artist based his paintings on eye-witness accounts of the Miamis by early white explorers.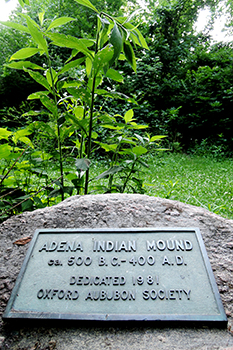 Just a short walk from our campsite was an ancient Indian Mound. The mound has been covered over by a millennia of dirt and sports old growth beech trees and new growth scrub, so there's not much to see. You can barely discern some kind of hump in the woods that indicates this was a special place. Like so many other archaic sites, archaeologists are stumped as to the real meaning of these mounds and tend to lump them all together as "ceremonial sites."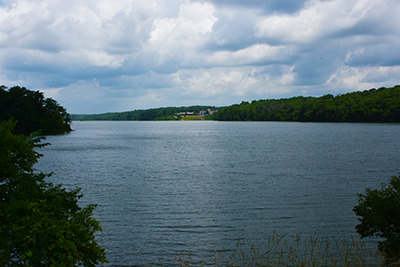 In the center of Hueston Woods State Park is Acton Lake. It's a good size body of water, clear and clean, and has an excellent swimming beach with a sandy bottom that wasn't slimy at all. We spent part of a hot afternoon floating in the cool water.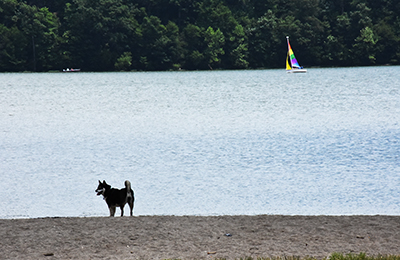 A big bonus was the large, shady dog park where Coco ran herself silly for an hour. And there's a super rare dog beach where you can let your pooch loose to swim. Our dog had big fun wading in the water without anybody yelling at her.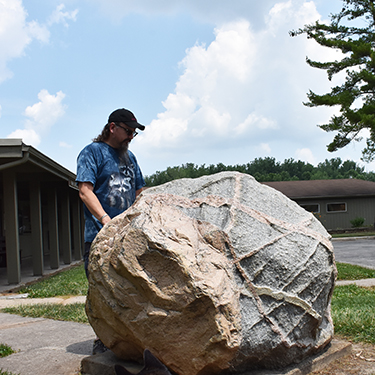 A small Nature Center is located near the marina and we spent some time looking at the live snakes and turtles on display. Also on display was slice of an ancient sycamore which had the rings marked showing the tree started growing in the 1600's and lasted more than 300 years before succumbing to old age.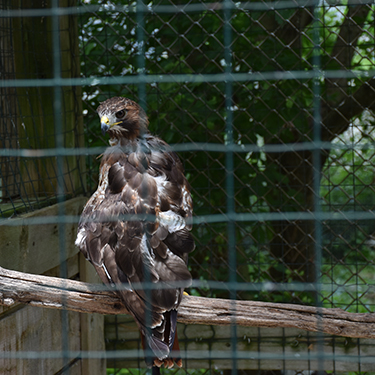 The Nature Center also serves as a raptor rehab home where bald eagles, barred owls, and hawks can recover from injuries or live out their lives after a mishap, like this proud guy who only had one wing.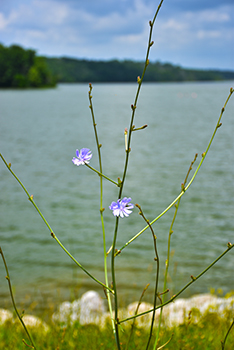 We spent a swell couple of days at Hueston Woods and found the campground to be quiet and uncrowded in the middle of the week. What a treat to find a state park that really does everything right!