St. Andrews State Park
Panama City Beach, FL
View Map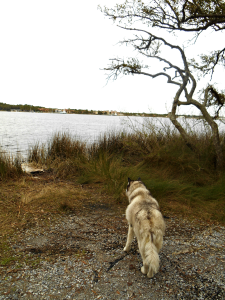 Hoo Betty – it's cold here.
I came to Florida to stop shivering in the cold, and got no relief today. After last night's storm, it took all day to warm up to only 49 degrees. I actually wore my big parka – hood up with mittens – to walk the dog this morning. Shadow was in a lively spry mood, so the day was spent taking lots of walks, with me wearing multiple sweaters and the dog happily trotting in the chilly wind.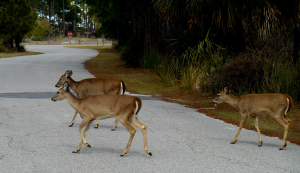 Between the lagoon (where the campground is located) and the beach is an area called Gator Lake. It's a brackish pond that's home to large white egrets, blue herons, googly-eyed frogs and a good population of alligators.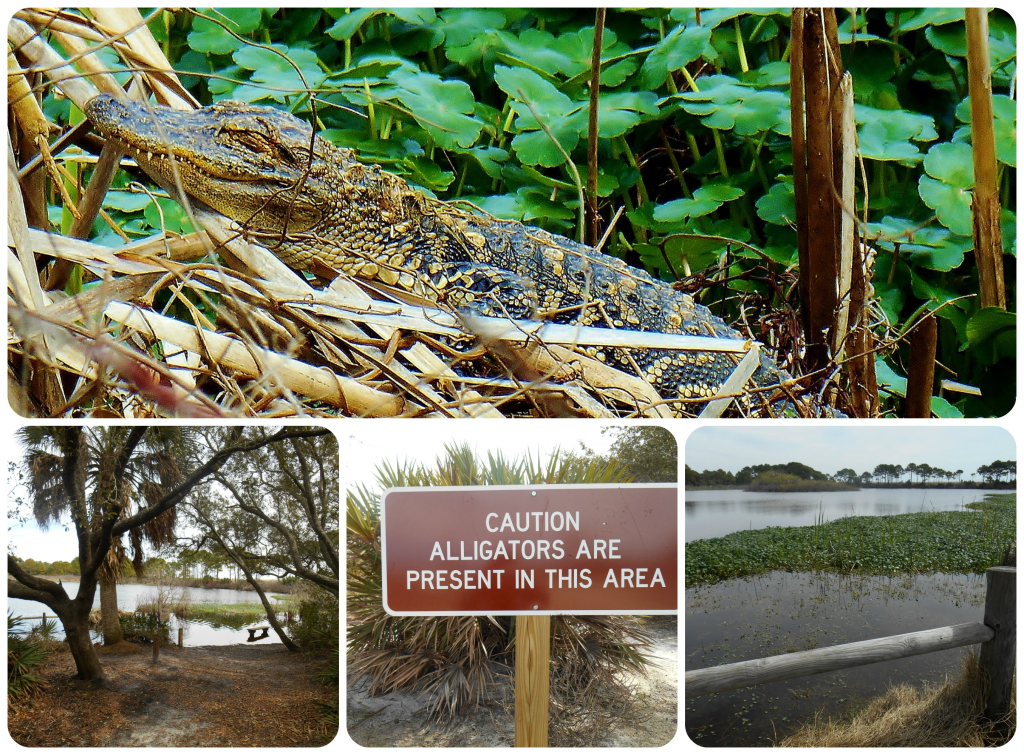 I stood some time on the visitor boardwalk checking for gator-like movement in the pond before I was brave enough to venture out on the nature trail. Hearing a quick rustle in the margin, I stood still until a small gator about two feet long revealed itself. He looked puny and unlikely to attack, but I did give him a wide margin.
I'd been looking forward to a swell seafood dinner all week – had my mouth set for scallops – so tonight I perused several restaurants up on the main drag, Thomas Drive. Couldn't find a scallop in town. But there's lots of fried shrimp and "market price" oysters, which turned out to be about a buck apiece.  
I ended up at a little dive called Scampy's and had their signature dish which was mealy shrimp on top of overcooked angel hair pasta. Disappointing. But the key lime pie was fresh, local and sublime.
Speaking of fresh and local, in the booth behind me sat a couple of goofy gay guys, gelled hair and inked up and talking really loud. I heard one of them say: 
"That's like asking me what the color of number nine smells like."  
It was such a stoner thing to say and I laughed out loud, which of course made them even louder and more outrageous. Dinner and a show. It was the best part of the evening.
 Camp Cam